Canberra's Australian Dance Party has announced some upcoming events/performances for 2017.
Shake it will take place on 18 March in the courtyard of the National Film and Sound Archive as part of the Art Not Apart Festival. It will feature, in addition to Party dancers, a mixologist and a DJ.
Autonomous will be played out in a carpark in Canberra's CBD as part of the You Are Here Festival and will investigate 'laziness, disposability and pollution of our cities'.
Mine! scheduled for August (depending on funding). A site-specific work set in a Canberra warehouse with a great line-up of dancers. Richard Cilli, Olivia Fyfe and Jack Riley will join Alison Plevey for this show.
Check out ADP's promo with a message from Alison Plevey and brief scenes from Strings Attached at this vimeo link.
Plans for the BOLD Festival, which I mentioned in the January diary, are moving ahead speedily. I will be giving a talk on the Saturday (11 March) entitled 'The Search for Identity. Australian Dance in the 1950s'. I have especially enjoyed where my research has taken me on this one.
I discovered a little more about the composer Camille Gheysens, who wrote music for several of Gertrud Bodenwieser's works, including Central Australian Suite and Aboriginal Spear Dance, footage of which, danced by Keith Bain, will be shown during my talk. Investigating material relating to Gheysens led me to artist Byram Mansell who designed a record cover (amongst many other items) for some of Gheysens' compositions. I am still trying to unravel various threads relating to Aboriginal Spear Dance, but in many respects my talk is a forerunner to another session on 11 March, which will feature a 1951 documentary about Rex Reid's Corroboree and Ella, a film about Ella Havelka.
I will also be discussing briefly Wakooka, a ballet choreographed by Valrene Tweedie for the Elizabethan Opera Ballet Company in 1957. This section of the talk will include an audio extract from an oral history interview recorded with Tweedie in 2004. In the extract she explains how, with the help of John Antill who wrote the score, she came to call the ballet Wakooka. In looking for a portrait of Tweedie from around the time she made Wakooka to include in my presentation, I came across one I had not encountered before, which she has dated on the back of the print as '1952-ish'. She was 28 or 29.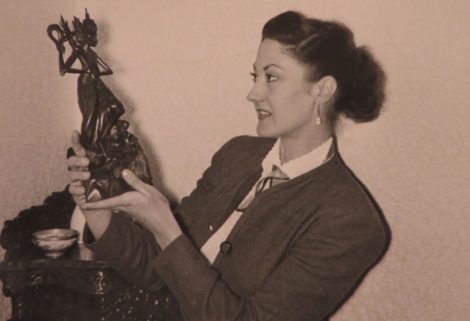 Here is a link to a promo video showing some of the amazingly varied dance that can be seen during BOLD.
Australian Dance Awards 2017
Just announced: the 2017 Australian Dance Awards will be held on 24 September 2017 at Arts Centre Melbourne. Save the date.
Michelle Potter, 28 February 2017
Featured image: Scene from Strings Attached. Australian Dance Party, 2016. Photo: © Lorna Sim