10 October 2015 (matinee), Roslyn Packer Theatre, Sydney
Sydney Dance Company's latest offering, Triptych, pays homage to English composer Benjamin Britten, whose compositions, Simple Symphony, Les Illuminations and Variations on a Theme of Frank Bridge, are at the musical heart of the program. All three works have choreography by artistic director Rafael Bonachela, and the dancers are joined onstage by singer Katie Noonan in Les Illuminations, and throughout the program by musicians of ACO2, the Australian Chamber Orchestra's string ensemble.
Simple Symphony looks a lot different on the stage of the Roslyn Packer Theatre. In its earlier outing in 2013, at the Studio Theatre at the Sydney Opera House, it was performed on a T-shaped catwalk with the dancers using the whole of a fairly narrow, if long, T-space, and with players from the Sydney Symphony Orchestra providing the accompaniment from a position at the cross bar of the T. This time the musicians sat on a dais at the back of the stage, a ploy successfully used by Bonachela in his exceptional creation, also made in 2013, Project Rameau. In addition, the dancers had a relatively large, rectangular space in which to perform and, all in all, the work was easier to see and to my mind, therefore, more interesting choreographically.
In the 2013 production of Simple Symphony I noticed Bonachela's use of lifts in particular. This time, although I was still taken by the lifts, I was entranced by the moves in which the female dancers were swept up into the arms of their partner and dipped and swirled melodiously around, and by the beautifully playful endings to the first two sections, which brought gentle laughter from the audience. Nevertheless, 'Sentimental Sarabande', the third section, remained my favourite. It was sensuously performed, a lovely duet.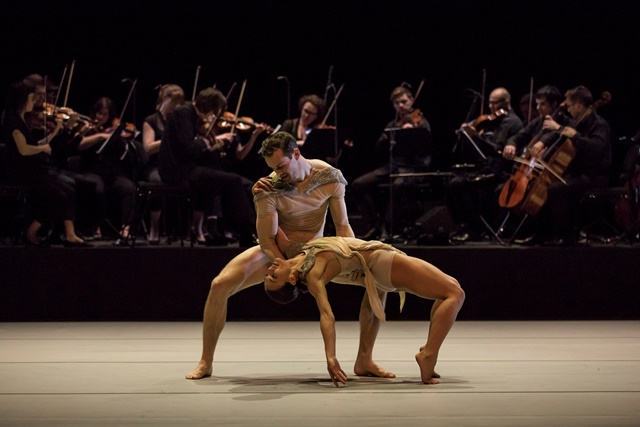 Simple Symphony is perhaps Bonachela's most balletic looking piece, and is light and joyous. In contrast, Les Illuminations, with its background of 19th century French Symbolism via the poetry of Arthur Rimbaud, has a more moody quality. Its opening scene shows the four cast members, two men and two women, standing in pools of dark light, looking like mysterious figures from a Symbolist painting. As with Simple Symphony, Les Illuminations was easier to enjoy in a more regular space and Katie Noonan's rendition of Britten's songs resonated beautifully throughout the theatre.
The most exquisite of the duets that comprise the choreography for Les Illuminations was, for me, the final one, 'Le départ', between the two male cast members, Richard Cilli and Cass Mortimer Eipper. It was tender, sensual, and filled with moving moments such as those where palms touched and then arms were pushed upward. The final sculptural pose was an emotional ending.
Bonachela's new creation for this season, Variation 10, was danced to Britten's Variations on a Theme of Frank Bridge. In particular it showed Bonachela's skills in group work as opposed to the duet structure that characterised Simple Symphony and Les Illuminations. I especially enjoyed a quintet for five ladies and as usual was staggered at how beautifully they moved individually and as a group.
There is nothing like the passion for movement that Sydney Dance Company has, nor the choreographic passion that characterises Bonachela's work.
Michelle Potter, 11 October 2015
Featured image: Jesse Scales and David Mack in Variation 10. Sydney Dance Company, 2015. Photo: © Peter Grieg