28 July 2016, Canberra Theatre
Bangarra Dance Theatre has had what artistic director Stephen Page calls a 'bitter sweet' year so far. On the one hand the company has had to face the death in April 2016 of David Page, much loved and admired composer, Bangarra's music director, and brother of Stephen. On the other there have been successes in so many areas. Most recently, Bangarra—the company, its dancers and its productions—has been short-listed in six categories for the 2016 Australian Dance Awards.
Bangarra's major production for 2016, a triple bill with the title OUR land people stories, has to be counted as a sweet moment. Although it is dedicated to David Page and it is impossible not to be moved hearing his music, which features in the program, OUR land people stories moves forward proudly and is sweet as much as anything because it showcases the work of three emerging choreographers from within the company ranks.
First up on the program was Macq, choreographed by Jasmin Sheppard to a score by David Page. Macq takes as its starting point a confrontation in 1816 between white settlers in the Appin region, south of Campbelltown, New South Wales, and Aboriginal inhabitants of the region, the D'harawal people. As the confrontation over territory escalated and tensions mounted, Colonial forces, under instructions from Governor Macquarie, began what has come to be known as the 1816 Appin massacre. Sheppard researched Macquarie's diaries and consulted with descendants of the D'harawal and portrays Macquarie as a conflicted man who, on the one hand appeared to have good intentions towards First Nation peoples, but on the other who went to extreme lengths to maintain territorial control of areas under his jurisdiction.
One especially challenging sequence occurs between Macquarie, danced powerfully by Daniel Riley, and Beau Dean Riley Smith, also outstanding in his role as one of the D'harawal men killed in the massacre. As they dispute territorial boundaries, they interact on, under, and around a long table. The movement is fast, dramatic, determined and confronting and makes astonishing use of the table. Another compelling scene shows Riley acting out Macquarie's conflicted state of mind as he frantically scribbles down his diaries. It is a courageous statement by Sheppard.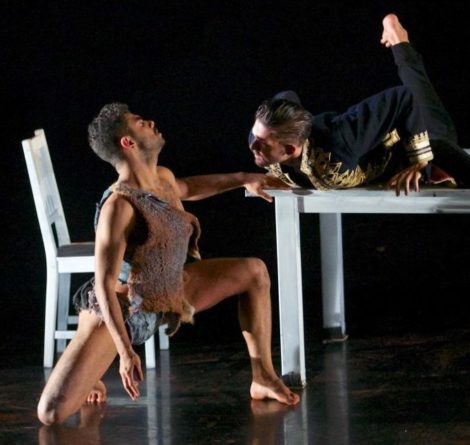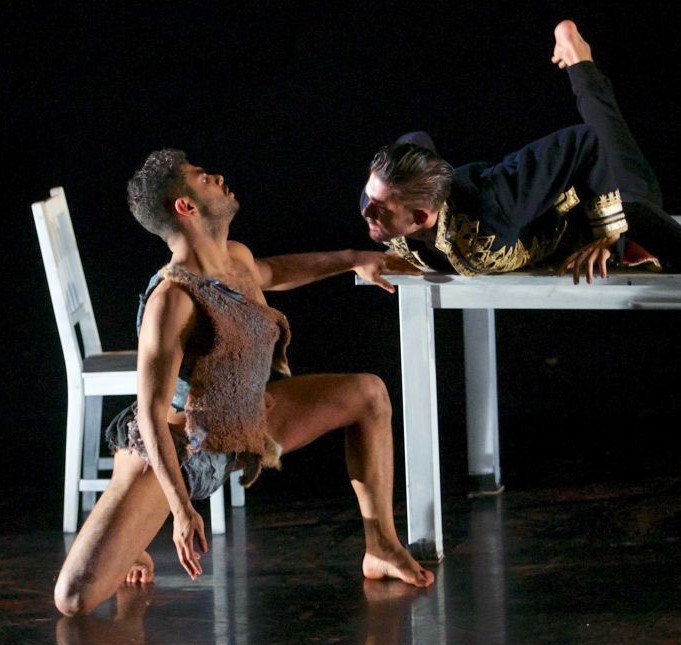 But what I found especially powerful about Macq was the way Sheppard had structured the work so as different moments in time were visible even as the main story was unfolding before us. As the work began, for example, in a kind of half light we could see the aftermath of the massacre as D'harawal people mourned the death of their kin. In fact the work moved backwards and forwards in time in a well developed and emotionally satisfying way.
The second work on the program, Miyagan (meaning 'our family' in the language of the Wiradjuri Nation) was choreographed by cousins Daniel Riley and Beau Dean Riley Smith. It was structurally complex with sections referring to the matrilineal nature of Wiradjuri system, and to moiety, clan and family, although the the work also referred to life in the early 1900s on the Talbragar Reserve in Dubbo, where Riley and Smith had a common ancestor in Jack Riley. Choreographically the work was vibrant and moved along smoothly to a soundscape by Paul Mac. The intricate web of kinship relationships and responsibilities was highlighted by Jacob Nash's spectacular hanging sculpture which served as the set for Miyangan.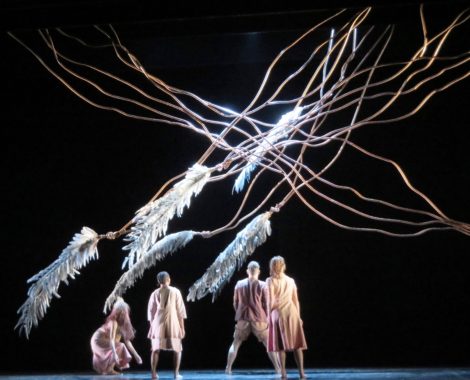 Page said, in a pre-show forum at the Canberra Theatre, that his aim in curating OUR land people stories was to give an opportunity to Sheppard, Riley and Smith to create main stage works for Bangarra—to nurture emerging choreographers from within the company. He added, however, that he thought perhaps he should also do a work! The result was the closing piece, Nyapanyapa, a work inspired by the art of Yolngu woman, Nyapanyapa Yunupingu. At the heart of the work is the story of Nyapanyapa's encounter with a water buffalo, which left her badly injured. But we are given insight into many other aspects of her life, and see reproductions of her work as background. Elma Kris is at her charismatic best as Nyapanyapa and the Bangarra dancers show off dancerly skills that range from full-on rock 'n' roll to sublimely meditative moves.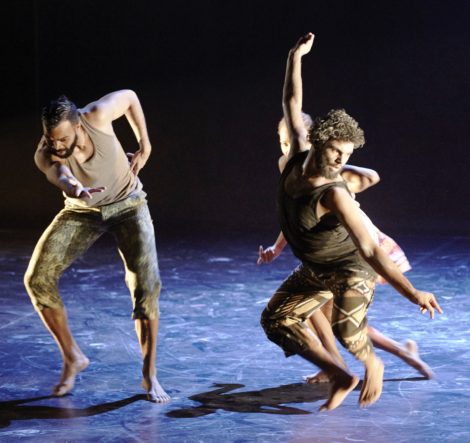 OUR land people stories once again shows Bangarra as a company where dance meets theatre, meets art, meets music. After its Australian season of this program, Bangarra moves on to New York for the Fall for Dance season and then goes on to Paris to perform in the splendid, ethnographically-oriented venue, Musée du Quai Branly.
Michelle Potter, 5 August 2016
Featured image: Waangenga Blanco in 'Miyagan' from OUR land people stories (detail). Photo: © Edward Mulvihill