Comment by Jennifer Shennan
The proposed Bubble between Australia and New Zealand for health, travel and trade purposes sits comfortably on the Anzac matrix in our common history. There's a long weave of dance exchanges and interactions between Australia and New Zealand over many decades—tours from the 1950s by the Melbourne-based National Theatre Ballet of the first full-length Swan Lake here (with Lynne Golding and Henry Danton); the years of Borovansky visits; the Australian Ballet; Sydney Dance Company; productions mounted on New Zealand Ballet by Peggy van Praagh, Ray Powell, Jonathan Taylor, Graeme Murphy; the major directorship of the Company by Harry Haythorne; Douglas Wright works in Sydney Dance Company—and numerous other visits and exchanges in both directions—most recently by New Zealand Dance Company.
The appointment of the new directors to NZDC, including Australian James O'Hara, thus has an inbuilt thread which could see further weaving between performers and audiences in the trans-Tasman Bubble.
Chances to view the global wealth of streamed dance videos has been most welcome during Lockdown but all of us are surely looking forward to the introduction of live performances in the not-too-distant future. Safe lift-off to the new team at NZDC.
An excerpt from the media release announcing the changes is below.
THE NEW ZEALAND DANCE COMPANY APPOINTS WORLD CLASS NEW LEADERSHIP TEAM
The Board of the New Zealand Dance Advancement Trust today announced the appointment of former Nederlands Dans Theater chief executive Janine Dijkmeijer as The New Zealand Dance Company's (NZDC) Executive Director; and renowned dance artists and directors Victoria (Tor) Colombus and James O'Hara, as Co-Artistic Directors.

Board Chair Sharon van Gulik welcomed the new team saying the company was well placed for its next phase of development, building on the incredible artistic and organisational legacy of cofounder and former Chief Executive/Artistic Director, Shona McCullagh.
"The Trust was founded on the ambition of creating a full-time contemporary dance company for New Zealand by bringing together a high-calibre community of dancers, creative collaborators, arts managers and supporters dedicated to creating inspiring new dance. In appointing Janine, Tor and James, we believe we now have the talent to grow the artform of contemporary dance, and take the company into its next era", van Gulik says.

Janine Dijkmeijer, currently living in the Netherlands as an advisor in the performing arts, say one of her missions in life is to be an advocate for the language of dance.

"I come from a family of researchers, innovators and doctors. I understand why I have come to be passionate about dance, because dance is deeply healing and always tells a true story. This language is nonviolent and global. Communicating through dance is playful and is never judgmental. The New Zealand Dance Company is a jewel. I have known Shona through her films and it feels we are family. Shona's wide vision of what is possible within dance and communication has always been close to me. I have seen the company perform in the Netherlands and always been impressed with the high quality of dancers. I'm very much looking forward to working with the new artistic directors and the team in New Zealand – the possibilities are unlimited", she says.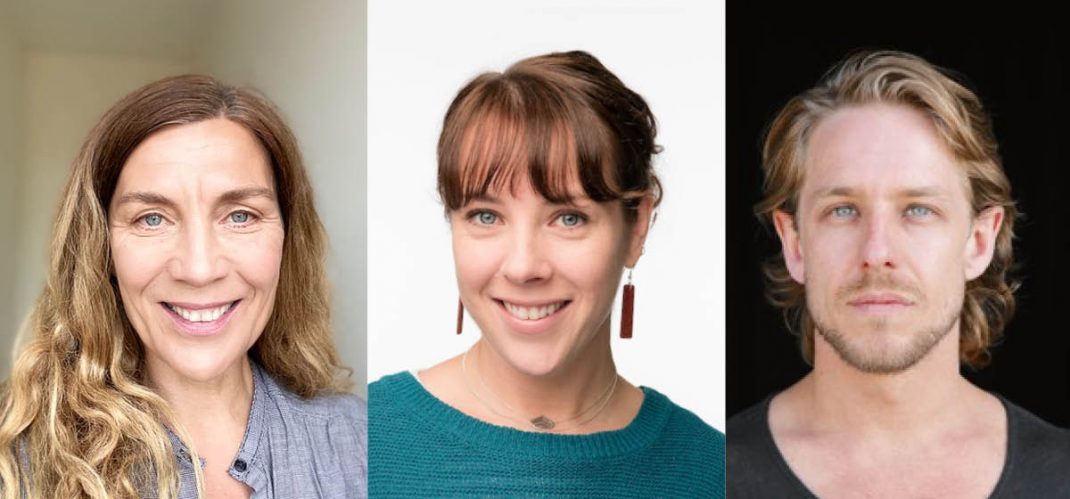 The full media release, which includes further news and biographies of the artists involved is at this link.
Follow this tag link to read posts relating to NZDC on this website.
Jennifer Shennan, 3 June 2020
Featured image: Chrissy Kokiri of New Zealand Dance Company, 2018. Photo: © John McDermott