Paris Opera Ballet's 2021 opening gala began with Le grand défilé, a defining item for the Paris company in which simply attired dancers from across the ranks of the ballet company, along with students from the Paris Opera Ballet School, proudly present the company and school to an audience. I have discussed the origins of the grand défilé in an earlier post (see this link). But on this occasion all the dancers wore masks; the beautiful Palais Garnier was completely empty of an audience; and the dancers made their reverences without applause of any kind. It was a shock to begin with, but ultimately it was such an incredible statement on how events have shaped our lives over the past year. I am sure the footage of this unusual and remarkable défilé will speak forcefully to future generations.
The défilé was followed by Victor Gsovsky's Grand Pas classique danced by étoiles Valentine Colasante and Hugo Marchand, both wearing elegant, sparkling, deep blue costumes designed by La Maison Chanel. This grand pas followed the Petipa structure of pas de deux, variations and coda, which we know so well. But it was especially interesting to see it because Gsovsky's choreography was uniquely his own with beautiful balances in a range of positions for Colasante and magnificent combinations of beats for Marchand. There was also a strong emotional connection between Colasante and Marchand, even when they took their applause-less curtain calls.
Following the Grand Pas classique there was an inspired performance of Jerome Robbins' In the Night, with its three pas de deux exploring three different kinds of male/female relationships. In the first, danced by Ludmila Pagliero and Mathieu Ganio, we saw a couple in the early stages of a relationship. So much of their young love was expressed with Robbins' choreography for the arms. They touched, reached, enveloped, moved in unison, always lyrical. But there were of course some gorgeous lifts and individual moments of expressive dancing.
The second section of In the Night, with Léonore Baulac and Germain Louvel, showed a couple secure in their love for each other, confident in how they acted together, proud even of their relationship. Baulac was especially impressive with her poised upper body and beautifully placed arms. Anthony Dowell's brown/gold costumes added a special glow to this section.
Alice Renavand and Stéphane Bullion danced the third section, in which the movement was less lyrical and more strident. Here was a couple about to break up, although did they end up separating? More than once they parted, then returned to be together onstage. Arguments and reconciliations? Their relationship was tempestuous and that feature was shown well in the choreography and in the performance of it.
We met them all again in the finale when they acknowledged each other, sometimes performed the same steps, but eventually left separately. But for me the mystery of the third couple remained. Great work from Renavand and Bullion to maintain the mystery of this relationship.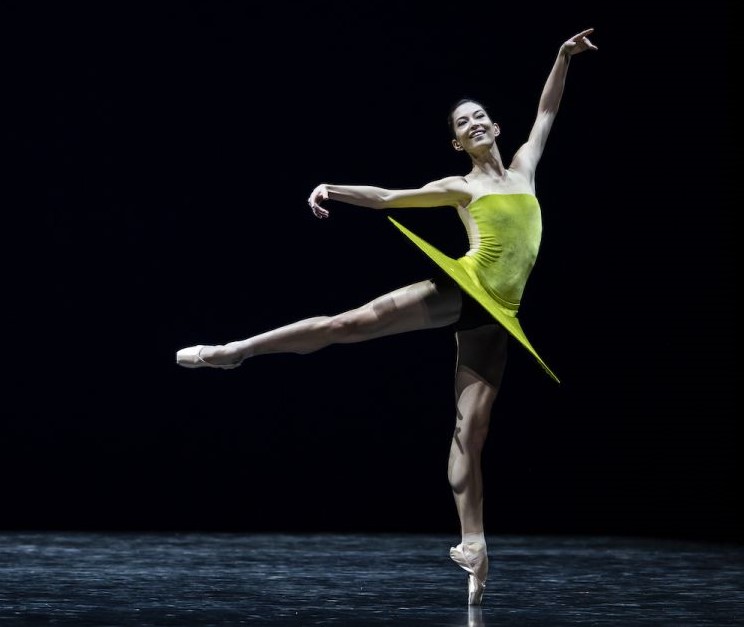 Completing the program was William Forsythe's The Vertiginous Thrill of Exactitude danced by three étoiles, Amandine Albison, Ludmila Pagliero, and Paul Marque, and two premiers danseurs, Hannah O'Neill and Pablo Legasa. It was just plain exciting to see this work again with its fast-paced choreography that focuses on bringing every part of the body into play, and with its fascinating, ever-changing groupings of just five dancers. And what a thrill it was to see O'Neill so at home in the company and dancing so incredibly well.
I loved the selection of short works that followed Le grand Défilé. It showed such a beautiful range of balletic choreography, from the classicism of Gsovky's work, to the lyricism and emotional underpinnings of Robbins' approach, and on to the contemporary exploration of classicism by Forsythe. Congratulations to POB's director, Aurélie Dupont, for her foresight and of course congratulations to the stunning POB dancers who presented the program so magnificently and to the orchestra, especially the solo pianists for In the Night, for their musical support.
Michelle Potter, 11 February 2021
Featured image: Valentine Colasante and Hugo Marchand in Victor Gsovsky's Grand Pas classique. Paris Opera Ballet, 2021. Photo: © Julien Benhamou/OnP