15 September 2015, State Theatre, Arts Centre, Melbourne
On a day when Australia got a new Prime Minister, dance-goers also got a new production of The Sleeping Beauty from David McAllister and the Australian Ballet, with McAllister being credited with 'Production and additional choreography'. I don't know how our new PM will fare but, as for Beauty, there was good and not so good.
The good things first. The narrative flows clearly and smoothly. Bringing in Lucas Jervies as dramaturg clearly paid dividends, especially as this Beauty is a little different from what many of us have become used to watching. Act II, for example, is somewhat changed from other productions, of which more later. And Carabosse is 'the ancient fairy of Wisdom' according to program notes, so she doesn't display as much evil intent as we have seen in previous productions, although of course she is furious at being left off the invitation list to Aurora's christening party.
Which brings me to the second good thing. Lynette Wills as Carabosse is outstanding, just as she was as the Godmother in Cinderella.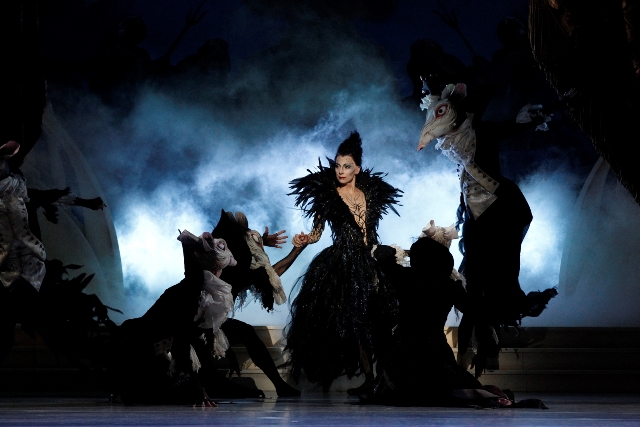 Wills is powerful yet restrained. Nothing is overplayed and yet we sense her presence and her impact on the unfolding story. And all this despite having a very strangely dressed entourage of rats who wear giant puppet-like heads and sport collars and black bow ties.
After that there isn't much else that I found exhilarating. Benedicte Bemet as the Fairy of Musicality gave a distinctive interpretation to this role and brought a gorgeously lively quality to her exceptional technical capacity. Kevin Jackson as Prince Desiré made every effort to appear human. His two solos in Act II were mostly well performed, and there were moments when, as he looked at the spirit of Aurora, which the Lilac Fairy has conjured up in this Act, he sent shivers down my spine, such was his look of longing.
As for the Bluebird and Princess Florine, Chengwu Guo and Ako Kondo could scarcely be faulted technically. Guo's beats and turns are astonishing, as I have said many times before. But how I missed the fluttering hands that are so often part of the choreography for Princess Florine. She is meant to be listening to the Bluebird who is teaching her how to fly, and the listening bit was all there. But in other versions, beautiful fluttering movements of the hands show her attempts to fly, to put into practice what she is hearing. This fluttering has been part of the Australian heritage of Beauty for decades. Let's be proud of our heritage. Why leave it out now even if it is (maybe) an addition from the era of Soviet realism?
Which brings up the question of the other fairy tale characters who usually appear at the wedding of Aurora and her Prince. It was a lovely touch to include various fairy tale characters, properly disguised but recognisable, in Act II, which in McAllister's production is a kind of picnic rather than a straight out hunting party, with the Prince joining in the excursion carrying his book of fairy tales. But what happened to the variations of Puss in Boots and the White Cat and Red Riding Hood and the Wolf in Act III? If these characters appear, somewhat in disguise, in Act II why do they have such a tiny role in Act III (and yet turn up in the final mazurka as if they had danced major parts)? It doesn't make sense to me to leave out their pas de deux and variations. Where was the dramaturg at this point? Apart from anything else they are also part of our Sleeping Beauty heritage and I missed them.
Lana Jones as Aurora missed the youthfulness that I think gives the early part of Act I so much of its charm. She looked beautifully elegant and performed everything with aplomb, but she wasn't a sixteen year old princess. The grand pas de deux, despite being soundly performed, lacked the excitement that this part of Act III should bring.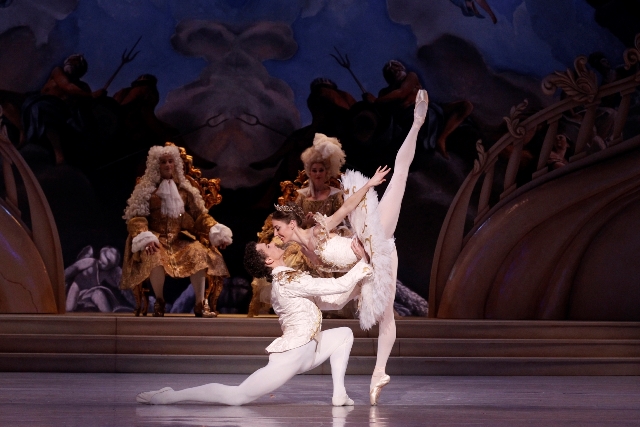 Other choreographic features, especially in Act II, seemed to me to be a little too close to parts of Swan Lake and Nutcracker. The woodland nymphs, who inhabit the overgrown forest in Act II, often split into small groups, link hands à la Four Little Swans, and perform various piqué-style movements. And there is a scene, also in Act II, where Carabosse's rats fight with the Prince in an attempt to extract from him the key that will open the glass-domed casket in which Aurora has slept for 100 years. Shades of a certain part of Nutcracker?
Gabriela Tylesova's designs for costumes and set are extraordinarily lavish and, for me, they are the most curious mixture of Baroque extravagance and Rococo excess, with a Louis XIV party thrown in at the end, which occasionally looked like Carnevale in Venice, complete with a Tiepolo-style ceiling as an added attraction. And why did those three massive chandeliers start on the floor and majestically rise to the ceiling at the beginning of Act III? The audience greeted this strange chandelier behaviour with applause, although I'm not sure why. And what was the most disappointing feature of all this excess across the prologue and three acts? The dancing became secondary to the visual appearance.
Tylesova's choice of colours for her costumes was also unattractive to my eyes. It shouted excess once again. As for those large wings worn by the fairies, they just got in the way of the dancers' line, which is such an important part of the ballet technique we associate with Petipa and classicism.
In a feature published in the September 2015 issue of Vogue Australia, McAllister is quoted as saying: 'With big classics like Sleeping Beauty, I really believe it's around the staging, the look of it.' Well, yes, he is right that the staging is important in a narrative ballet. But when the staging is such that it overwhelms the dancing it simply doesn't work.
The audience was wildly enthusiastic as the curtain went down amid much gold, including shimmering gold leaf floating in the air, and a huge gold sun that descended over the Tiepolo ceiling. I went home dejected that such a beautiful ballet could be turned into an event like some kind of football grand final. The dancing was lost in a world of visual excess and technical invention.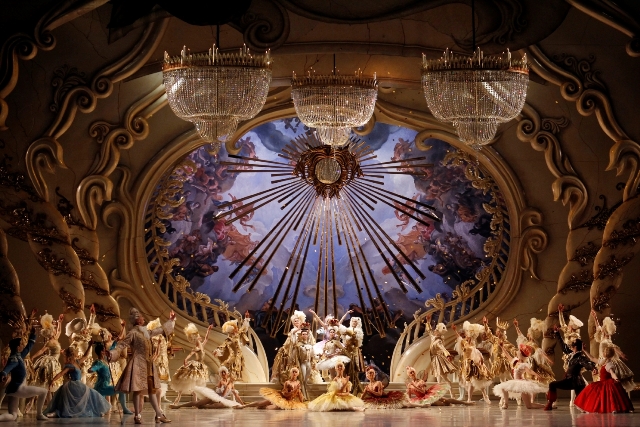 Michelle Potter, 17 September 2015
Featured image: Chengwu Guo and Ako Kondo in The Sleeping Beauty. The Australian Ballet, 2015. Photo: © Jeff Busby