I have to admit that I shed a tear when I heard that Ronne Arnold had died. It was he who added jazz dance to my movement vocabulary when, aged about 17, all I knew was the vocabulary of classical ballet. His classes were an eye-opener and I especially loved the little routines on the diagonal that he would give towards the end of the class. He was a beautiful man and caring teacher and his impact on my life remains to this day.
Ronne Arnold was born in Philadelphia—he maintained he was not sure of the year; it could have been 1938 or even 1939 he suggested at various times. His African American family was large (it included six older sisters) and everyone danced. His early teacher was Nadia Chilkovsky. At Chilkovsky's Philadelphia Dance Academy he took classes in classical, modern, and primitive dance. He also attended the Philadelphia Musical Academy, from which he gained a B.A. in music, majoring in dance. Later he worked with Alfredo Corvino and other New York teachers.
Arnold first came to Australia for Garnet H. Carroll in 1960 to appear in the musical West Side Story in which he took the role of Jose, one of the members of the Puerto Rican gang, the Sharks. He arrived on a six month contract and fully intended to return to the United States. But at the end of the run of West Side Story he was offered a job in the Carroll production of The Most Happy Fella and stayed a bit longer. A bit longer turned into years, and then decades, and he eventually became an Australian citizen.
Arnold went on to teach jazz and modern dance in Australia, beginning at the studio of Joan and Monica Halliday in Sydney. His classes were conducted with a tambourine as rhythmic accompaniment. But the tambourine was minus its 'jingles' so the beat was more like that of a drum. His teaching was inspirational. Arnold asked for huge, space expanding movements and his classes were quite unlike what most Australian dance students had experienced before.
During the 1960s and 1970s Arnold choreographed the dance sequences for shows at Sydney's famous nightclub/theatre restaurant, Chequers. At that time, international cabaret acts at Chequers included Dusty Springfield, Dionne Warwick, Sammy Davis Jr., Liza Minnelli and Shirley Bassey.
Arnold founded the Contemporary Dance Company of Australia in 1967 and was its artistic director until the company's demise in 1972. The repertoire was choreographed almost exclusively by Arnold and included I've got Rhythm, New Blues, Boy with Umbrella, Feeling Good, and Song of Hagar to music by John Antill. Programs often finished with Spirituals, a collection of dances made to Negro spirituals, of which the crowd favourite was perhaps He's got the whole world in his hands.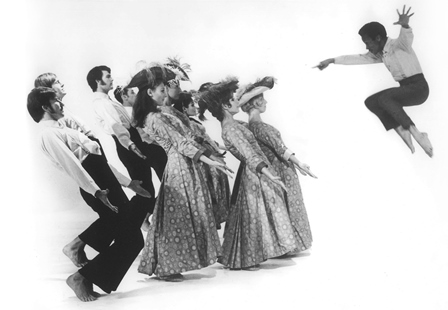 Slowly Arnold's choreography began taking on an Australian flavour. He made Bittersweet about Australian male/female relations and Platform based on observations made at the Sydney Domain with its lively political spruikers. He also continued to appear in musicals and television shows throughout his life and his television credits included roles in Number 96 and Holiday Island and appearances in Cop Shop, and other shows.
Arnold's teaching activities eventually came to encompass commitments at the National Aboriginal and Islander Skills Development Association (NAISDA College) in Sydney. He was academic course director at NAISDA from 1986 until 2003. Although Arnold had first become aware of Australia's indigenous communities as a result of meeting political activist Bob Maza, once he began teaching at NAISDA he became fascinated by the visits to NAISDA of elders from indigenous communities. His interest resulted in a Master's degree from Sydney University in which he undertook a comparative study of American black jazz dance and the dance of the Wanam people of Cape York Peninsula. On leaving NAISDA, Arnold taught for several years in Sydney at the Wesley Institute.
Arnold was awarded a Lifetime Achievement Award at the Australian Dance Awards of 2013. The award honours the achievements of an outstanding senior figure in the Australian dance community who has dedicated at least 40 years to dance as a performer, choreographer, advocate, educator, administrator or visionary. Ronne Arnold was all of those.
Arnold's interview with Michael Cathcart on Radio National, recorded in 2013 in response to the award, is below.
Ronne Arnold, born Philadelpdia, Pennsylvania c. 1938; died Katoomba, New South Wales, 13 February 2020
Michelle Potter, 23 February 2020
Featured image: Pages from Order of Service for Ronne Arnold. Courtesy Jan Poddebsky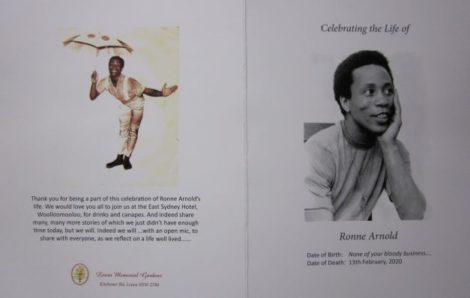 This obituary is largely based on an oral history interview I recorded with Ronne Arnold for the National Library of Australia, TRC 3626, and on a conversation I had with him when writing about him for The Canberra Times in 2013. The oral history is not currently online and The Canberra Times article is no longer part of that newspaper's online material.