5 & 6 October 2017, Q Theatre, Auckland, Tempo Dance Festival
Reviewed by Jennifer Shennan
Tempo Dance Festival is an energising fortnight every October at the Q Theatre complex and surrounds, when Aucklanders have a sea of performances and workshops to navigate. This year's theme marked important anniversaries in dance—Limbs Dance Company at 40, New Zealand School of Dance at 50, Northern Dance Network at 20. I'm a starter for that, since everything that happens is caused by what went before.
Limbs was formed in 1977 and directed by Mary Jane O'Reilly from 1978 so good to have her back as Artistic Director of this retrospective program. The first work, her own Poi, to music commissioned of Jack Body, is sustained and serious and beautiful and evocative and green. No actual poi are used but the curved and circular arm gestures at a range of rhythms and tempi bring them close. There are evocations too of the bird life in shaded fern and dappled bush (I remember a lovely lighting design in the original season). This work from 1983, reworked and extended in 1987, is available on dvd and makes an excellent educational resource. It was here well performed by seven dancers from Unitec Performing and Screen Arts program.
Next, from 1980, Melting Moments by Mark Baldwin, to Dvorak's American string quartet is a rich and very red dance. Six dancers in three pairings—deep and slow, contained yet erotic, sensual and gorgeous—just as I remember it. It was here well performed by students from New Zealand School of Dance.
Talking Heads, by O'Reilly, to Seen and not seen from 1980, is a goofy hilarious quartet of wobbling robots who nod and jiggle their way around the stage. It needs a tight command of movement isolations, and sense of humour from all of us.
Then came Knee Dance, one of Douglas Wright's classics, from 1982. To music by Laurie Anderson, this is a compelling work that dances out the magnetism and interdependence among three dancers—the invisible bonds of relationships made visible. In Wright's choreography, each move grows out of the one that went before, so is both parent and child of itself. A miracle of a dance, here exceptionally well performed by Unitec dancers.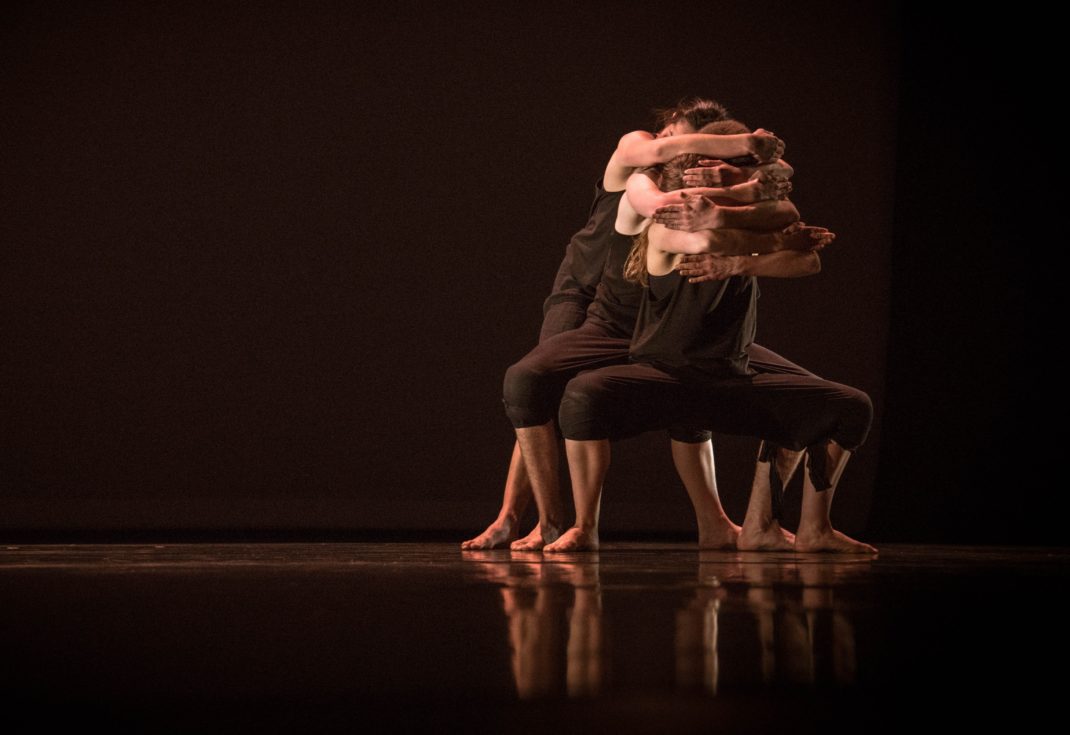 Perhaps Can is a sensuous solo for a skirted woman who does a kind of slow motion flamenco number to Miles Davis' The Pan Piper. A reverie, made in 1979 by O'Reilly.
There's a view which might see each of Douglas Wright's works as talisman. Nonetheless, that would be a fair claim for Quartet, to Vivaldi, first performed in New York and in 1987 set on Limbs. I have colleagues in New York who still remember that early performance, and everything else Wright put on that program on the eve of his departing from the Paul Taylor company. It will always be New Zealand's arts administrators and funders biggest, saddest mistake that they consistently failed to provide Douglas Wright with the resources to sustain a company and his repertoire produced over the decades. Instead we have provided many more dollars for much less talented choreographers. It is too late now, Wright has turned to literature and visual arts, so although no longer choreographic, his output continues to pour forth. (An interview on www.RadioNewZealand/Saturday with Kim Hill, September 2017, is a remarkable portrait of the artist as a middle-aged man—insightful, compassionate and well worth listening to).
Quartet, here performed by students from New Zealand School of Dance, perhaps needed more rehearsal time? Nonetheless we saw perfectly well what the work is, but it is additionally something to be truly grateful for—that Marianne Schultz, formerly a dancer with Limbs, and in the original cast of this work, has published a book on the history, repertoire and context of the company, in time for this 40th anniversary. It is her considerable achievement to include a close-up, gesture-by-move, limb-by-leap description of Wright's choreography. That is a demanding and pedestrian task to set oneself and she does it faithfully and with great aplomb.
[Marianne Schultz, 2017. Limbs Dance Company—Dance for All People. 1977–1989]
Let the record stand. Audiences today can see what they missed. A Maori whakatauki or proverb has it that we walk backwards into the future. Despite the ephemerality of dance performance, we can see, to a degree and depending on our vision and our memory, what went before. We cannot see what hasn't yet happened. History is not bunk. It's all there is. It's now two minutes in the past that I wrote that sentence. Your reading of it lies, one hopes, in the future, except that by the time you've read that, it too is past. Well done, all of us.
Jennifer Shennan, 14 October 2017
Featured image: Emily Hancock, Oliver Carruthers and Atalya Loveridge in Douglas Wright's Knee Dance. Photo: © Amanda Billing