On my recent visit to Brisbane to catch a performance of Greg Horsman's Sleeping Beauty by Queensland Ballet, I was especially taken by the designs of Gary Harris. In particular, I loved his sets with their sweeping sense of space, which is clearly evident in the image below from the Queensland Ballet season.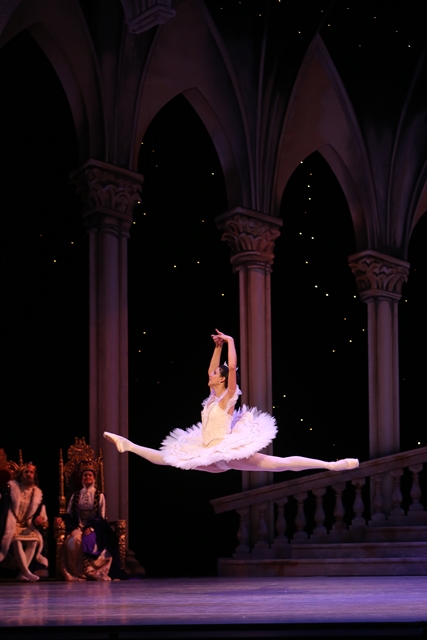 I recall talking to Harris, over ten years ago now, while he was artistic director of Royal New Zealand Ballet and I recently came across the text of the article based on that interview. I wrote it for ballet.co in the UK, where it was published online in May 2003. As my ballet.co articles are not presently available online due to a server change, and also because I only recently found the text of the ballet.co article, which I thought was lost, I am re-publishing it below.
****************
'Oh he's wearing a shirt with Mambo written all over it today,' the theatre usher tells me as I wait in the foyer of the Princess Theatre in Launceston, Tasmania. Gary Harris, artistic director of Royal New Zealand Ballet, is running late (or has forgotten our appointment?). He arrives, Mambo clothes and all, full of apologies. It's the final day of performances for the sixteen dancers of Royal New Zealand Ballet who are on tour to Tasmania for the biennial festival, Ten Days on the Island. It's just a short season, four performances in three days—3–5 April 2003. The rest of the company, another sixteen dancers, is touring back home in New Zealand. We find time for our interview over a meal between the late afternoon matinee and the evening show.
London-born Harris, a warm and engaging man, first visited New Zealand in 1996 as guest teacher for Royal New Zealand Ballet and kept returning over the next few years. In 2001 he was appointed artistic director of the company and is full of enthusiasm for his job and his dancers.
'I loved the honesty I found amongst the New Zealand dancers,' he explains. 'They are so versatile too. They work beautifully with what they've got and respond to the space they're in. I want the company to keep that honesty and to have a real understanding of the rules of classical ballet and of correctness of presentation.'
Watching his dancers in the repertoire they have brought to Tasmania—a mixed bill comprising four works—there is certainly a distinctive quality to the way they move. Dancing on the tiny stage of the Princess Theatre is not an enviable task. There's not much space to fling oneself around and Harris' staging of Paquita Variations, the opening work on the program, perhaps suffers most. The formal quality of its choreography, which Harris based on that of Petipa for the original Paquita of 1846, really needs a bigger stage to do it justice. But the delicious freedom that the dancers have in the upper body makes up for the feeling that things are a bit cramped. The sense of the body moving through rather than in space is also quite noticeable, as is the turn-out of the feet and legs. There is real teaching going on behind the scenes of this company.
'I really like teaching,' Harris says. 'And I love getting together with the dancers for the process of rehearsing. The New Zealand dancers here are very responsive and I love getting an energetic atmosphere going.'
In addition to showing the classical strengths of the Royal New Zealand dancers, Paquita Variations shows up Harris's talents as a designer. The costumes are his design, with the women's tutus inspired, he says, by a Degas sculpture of which he is very fond. The softness of the skirts is beguiling. A blouse-like top and a corset-like bodice, which fits closely from the top of the rib cage to the hips, completes what is a beautifully old-fashioned costume. Harris says he loved to draw as a child and also mentions that his father made him a play theatre, complete with working lights. So his wide-ranging involvement in all aspects of getting a show on stage is something he accepts as a perfectly normal part of an artistic director's life.
Harris's international connections are clearly evident in the company's repertoire, although he is quick to mention that nurturing New Zealand artists is part of his plan. Nevertheless in Launceston, along with Paquita Variations, the company danced two works by Mark Baldwin, Melting Moments and FrENZy, and one by Javier de Frutos, Milagros.
The de Frutos piece, a commissioned work and de Frutos' first for Royal New Zealand Ballet is the surprise package. Milagros takes its name from the Spanish word used to describe both miracles and votive offerings, and the work is danced to Stravinsky's Rite of Spring recorded on a piano roll. Played on a pianola the music sounds distorted and lacks the orchestral colour that the ear expects. But the drama is still there, the rhythms are still frenetic and the new and unexpected sound sets the scene for a work that is far from ordinary. Both the men and women wear long white skirts that swirl and swing with the motion of the dancers. On top both sexes wear flimsy, white, straight-cut shirts with long, loose sleeves. On the back of each shirt, quite hard to see but definitely there, is a number. The costumes, designed by de Frutos, give a clue to the piece. There is uniformity yet diversity. There is calmness and purity yet an eddy within.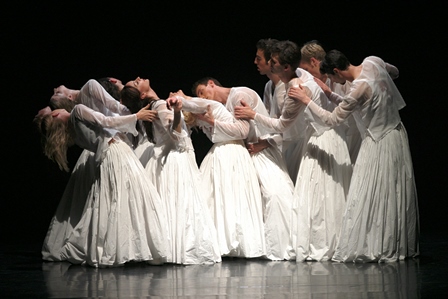 Choreographically de Frutos juxtaposes highly sculpted sequences—long lines of dancers, clear circular formations for example—with phrases that appear to be wildly individualistic. This dualism is accompanied by other sets of opposites. Some movements flow expressively, others look quite stilted. At times the dancers react with restraint to their colleagues; at other times they appear to be absolutely fired with passion. The light changes back and forth from a stark white to a soft gold. The work also has a few unusual phrases of movement that keep occurring and remain in the memory afterwards. There is a limping step. There is another where the dancers thrust the chest out, fling the head and one arm back and move purposefully forward by transferring the weight on and off one heel. And another where a woman in a deep plié in second position with hands on hips propels herself in a circle, again using the heels to give the momentum. Sometimes dancers make their exit by walking on their knees as if doing penance. It's absolutely mesmersing choreography.
Milagros on the one hand discomposes the viewer. It never answers the questions that it seems to present. It suggests both vodoo activities as well as organised religion. But it is also an incredibly satisfying piece that speaks to the viewer on an intuitive level. There is something inevitable about the way it unfolds and something fulfilling about its unexpectedness.
The two Baldwin pieces look a little tame by comparison. While Melting Moments is a lyrical and seamless duet, a serious piece, first made for New Zealand's Limbs Dance Company in 1980, its vocabulary seems dated, almost contrived, by comparison with the de Frutos work. FrENZy on the other hand is great fun. Danced to a selection of top of the pops songs from the band Split Enz, it was first performed by the Royal New Zealand Ballet in 2001. It has a contemporary edge that recalls, without appropriating, the vocabulary of William Forsythe. There's lots of movement that's upside down, off centre, racy. There's lots of glamour, lots that's out there and in your face. It's a real crowd pleaser. How often does a contemporary ballet have an audience whistling and shouting with enjoyment at the end? Twyla Tharp's In the Upper Room has that effect and so does Baldwin's FrENZy.
Royal New Zealand Ballet has lots to offer, not the least of which is its own, unique repertoire. Its dancers are unpretentious, technically capable and move with a real freedom. It's history is fascinating too. The company is fifty years old this year having been founded in 1953 by Poul Gnatt who trained at the Royal Danish Ballet School and was a principal with the Royal Danish Ballet. Gnatt is also fondly remembered in Australia as a principal with the Borovansky Ballet and as a teacher in the 1960s at the Australian Ballet School.
Christopher Hampson's Romeo and Juliet is Royal New Zealand Ballet's next work. It opens in Wellington on 6 June 2003. And the company has been invited to appear at Sadler's Wells next year. Plans for a five week tour include visits to Manchester, Edinburgh and Glasgow. Next year Adrian Burnett, a New Zealander by birth who is currently a senior artist with the Australian Ballet, will be making a work for the company. And Harris mutters about wanting a Nutcracker in there somewhere. He wants a repertoire that is solid but that also challenges and educates and he's well on the way to having it.
Michelle Potter, 4 November 2015
(originally published in the May 2003 edition of ballet.co magazine)