Sue Healey has been making dance films since 1997. However, her latest production, Virtuosi, is different in a very major way. At around 80 minutes in length Virtuosi is a documentary, whereas until now Healey has focused on making short films. Virtuosi is eight stories in one, dance portraits of eight New Zealanders, 'artists from the edge of the world', who have made careers beyond their homeland: Mark Baldwin, Craig Bary, Lisa Densem, Raewyn Hill, Sarah-Jayne Howard, Ross McCormack, Jeremy Nelson and Claire O'Neil. And of course both Healey and the composer of the film's music, Mike Nock, fall into the same category. They too are New Zealanders whose careers have taken them well beyond their homeland.
Healey says when the opportunity arose she was ready to take on the challenge of a full-length film. She says she always enjoyed making short films, using what she refers to as 'the distillation approach, honing the idea to its essence', but that it was time for her to investigate 'a different duration and its inherent qualities and demands'. Not that it was all smooth sailing, apparently. Healey says that finding a structure for the documentary was a huge challenge and that she was more than fortunate to work with an expert editor in Lindi Harrison and with Judd Overton as director of photography. Of Overton, Healey says: 'Judd's shooting style is extremely improvisatory—he is willing to solve problems in the here and now, rather than having pre-conceived notions of shot and frame. This is an extremely exciting way of making film and art'. This approach fitted nicely with Healey's own strategies.
'As a filmmaker', she says, 'I am still very much influenced by the choreographic approach, preferring to allow the structure to find itself organically through the process. Now, this goes against the usual film canon and can land you in very hot water when you realise you don't have the necessary shots and logic to fully render an idea. However, I was extremely confident that I had more than enough material to create a range of outcomes'.
Specifically, Healey set a range of tasks for her eight subjects asking them, for example, to create movement sequences in iconic locations in their 'new' homes. Each of the artists created an outdoor 'public' dance (stills and production shots from some of these dances are in the mosaic below). Each also created a 'still life' solo in an interior location. And each created an intimate, close-up hand dance.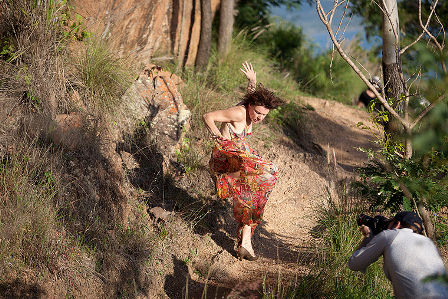 Scenes from the filming of Virtuosi. Images courtesy of Sue Healey
Virtuosi has already been shown at festivals from New York to Tasmania (and of course in New Zealand where it premiered in 2012). Healey has recently heard that is in competition in the Golden Prague International Television Festival, and also that it will get a theatrical release throughout New Zealand. In addition, Virtuosi exists as a 3 channel installation for gallery spaces.
Canberra audiences have the opportunity to see Virtuosi as part of Scinema: Dance science and dance memories, a week-long program of dance films at the National Film and Sound Archive. Virtuosi screens on Thursday 15 August at 7 pm in the ARC cinema at the National Film and Sound Archive and is preceded by one of Healey's short films called Once in a blue moon.
Virtuosi is short listed at the 2013 Australian Dance Awards in the category Outstanding Achievement in Dance on Film or New Media. Recipients of awards will be announced in Canberra on 5 August 2013.
Michelle Potter, 19 July 2013
Featured image: Film maker Sue Healey with performer Sarah-Jayne Howard. Courtesy Sue Healey