7 May 2016 (matinee), Joan Sutherland Theatre, Sydney Opera House
The Australian Ballet's triple bill, Vitesse, was not so much about vitesse (FR: speed) as about the look of ballet over the past thirty years or so. It began with Jiri Kylian's Forgotten Land, moving, dramatic and emotion filled, continued with William Forsythe's fiercely uncompromising In the Middle, Somewhat Elevated, and closed with Christopher Wheeldon's DGV (Danse à grande vitesse), an attempt to capture the essence of speed and referring to France's TGV (Train à grande vitesse) and Michael Nyman's score MGV (Musique à grande vitesse).
Forgotten Land, a Kylian work from 1981, is in essence a series of duets expressing a yearning for past memories and events. I particularly enjoyed the dancing of first couple, Leanne Stojmenov and Andrew Killian, who brought a delicious lyrical quality to their pas de deux and who brought out so well Kylian's choreographic focus on bending bodies and swirling, extended arms. I also admired the performance by Rina Nemoto and Joseph Chapman as the last couple. Their delicacy and gentleness stood in contrast to some of the more fast-paced duets. The work is such a joy to watch and has a particularly emotive ending as the female dancers, backs to the audience, stretch their arms upwards, heavenwards, as if pining for what has been forgotten.
In the Middle left something to be desired, at least for those who remember it from 1996 when it first entered the Australian Ballet's repertoire. It made a huge impression then with its high-energy choreography, its extraordinary off-centre poses, and its stunning performances in which the dancers missed no opportunity to draw the audience into the work. Not so much this time when it seemed a little tame. Although the dancers (again) executed the steps admirably enough, I missed (again) the physicality and the passion that needs to be added to the steps, to be the essence of movement, to make any ballet, but especially this one, have one on the edge of one's seat with excitement. Surprisingly too, I also missed the Sylvie Guillem-style wig that was worn by Nicole Rhodes (as the leading female dancer) in the 1996 production. Not only did that wig have its own movement, it also set the work, which was made on Guillem and the Paris Opera Ballet in 1987, in a particular context. It had a definite role.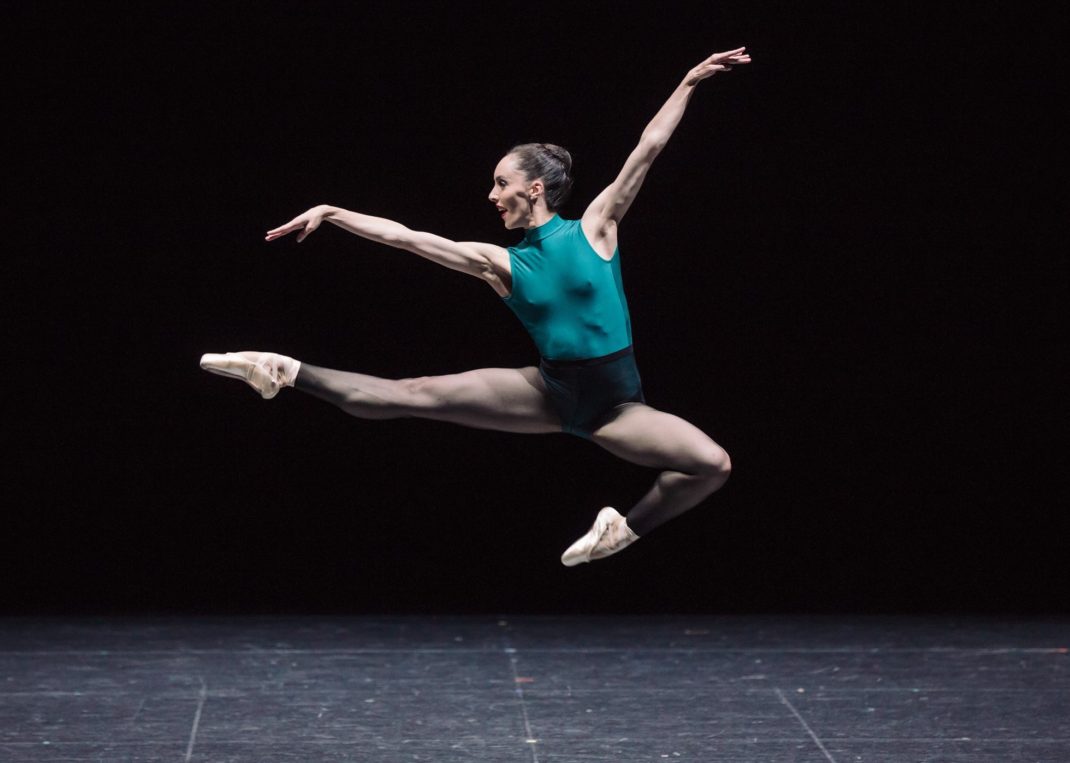 The leading trio of artists, Amy Harris, Nicola Curry and Ty King-Wall, danced admirably enough. But for me, the most interesting performance came from Chengwu Guo, who at the last minute replaced Jarryd Madden. I am used to seeing Guo throw himself around the stage, executing spectacular beats, turns and jumps (sometimes inappropriately as happened in Giselle). So it was a pleasure to see him dancing differently. I wondered whether he felt held back by the Forsythian choreography, which is spectacular in its own way of course, but which does not ask for excess in the old Russian manner? Without losing any of his technical skills, there was a certain austerity to his approach on this occasion and I enjoyed his performance immensely.
Wheeldon's DGV is an interesting work but never seems to have the excitement that its name suggests. It's interesting too that Australian Ballet publicity says that 'Wheeldon hurtles his dancers through a high-speed journey'. What drew my attention, on the other hand, was the extent to which Wheeldon seemed to create static poses, especially in the several pas de deux that are sprinkled throughout the work. I started to look on DGV as a kind of series of travel posters rather than a comment on a fast train and speed. It is not my favourite Wheeldon work and a review of another performance is at this link.
Despite my various reservations, it was an experience to have the work of Kylian, Forsythe and Wheeldon on the one program. Kylian rarely fails to move, Forsythe sees the body in movement differently from most, and Wheeldon … well I'm still making up my mind.
Michelle Potter, 9 May 2016
Featured image: Leanne Stojmenov and Andrew Killian in Forgotten Land. The Australian Ballet, 2016. Photo: © Daniel Boud