Crystal Pite's Flight Pattern premiered in London in 2017 and it was a revival from 2019 that was streamed for the Royal Ballet's 2020 digital season. Danced to a movement from Henryk Górecki's sombre Symphony of Sorrowful Songs, it has a cast of 36 dancers and is ambitious in both scale and concept. It is also immensely moving and choreographically absorbing.
Flight Pattern draws on Pite's thoughts about the plight of refugees, and the humanitarian crisis that their plight generates and that affects us all in one way or another. But its focus is strongly on the emotional plight of these people and it is Pite's skill that we too are emotionally drawn into the work.
It begins in a darkened space with the dancers looking up, around, down, in all directions really. It is choreographed so that it is varied unison dancing we see. As one group looks one way, another may look in another direction. This varied unison continues throughout the piece and gives us the feeling that while these people are united in their plight they are also individuals. They bend their bodies up and down; they rush forward, lurch and stumble together. But at one stage we see a single dancer lying on the ground, alone, perhaps dead? And individuals start to become more apparent when we see, for example, a duet between two men.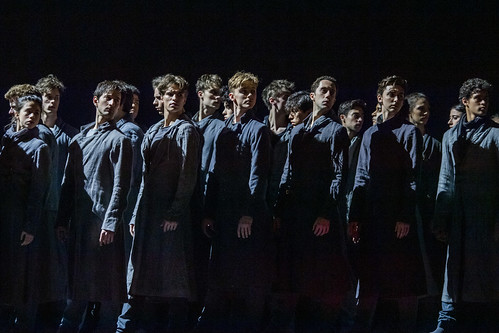 Eventually the refugees reach a certain stage in their flight and remove their coats. They lie down as if to sleep, but it is fitful and interrupted. Their individuality then becomes clear again in a duet between Marcelino Sambé and Kristen McNally. It begins with McNally dancing with a folded coat in her arms, as if holding something precious, but the choreography quickly moves into a duet that is full of swirling lifts and stretched limbs. The duet comes at the moment where a soprano voice (that of Nigerian-American singer Francesca Chiejina) becomes part of the score and her beautiful voice adds another emotional element to the unfolding drama.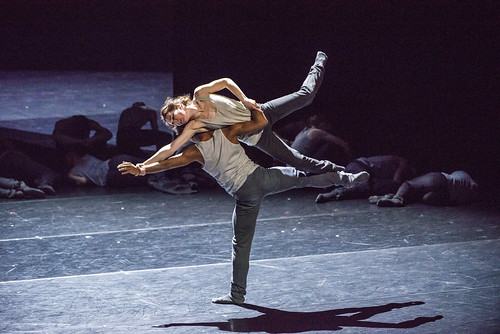 Group dynamics become stronger again and snow begins to fall. As the stage darkens and a black curtain begins to close off the space, McNally cannot face her situation any longer and stays sitting downstage, rocking and shaking. Sambé stays with her dancing out his feelings until the end. What is their fate?
Flight Pattern is a stunning, affecting work. For me its essence is contained in its title. 'Flight' draws us into the humanitarian crisis that is at its heart, but also makes sense of its choreographic focus on arm movements that recall flying. 'Pattern' reflects Pite's exceptional manner of filling the space of the stage. But none of this matters really. What matters is the incredible way Pite is able to draw us into the work.
Watch below for Pite's discussion of the making of Flight Pattern.
Michelle Potter, 11 November 2020
Featured image: Artists of the Royal Ballet in Flight Pattern. © ROH 2017. Photo: Tristram Kenton