18 April, 2018, Royal Opera House, London
It would be hard to think of a more diverse triple bill than the most recent from the Royal Ballet: Wayne McGregor's intellectually clinical Obsidian Tear, Frederick Ashton's emotionally captivating Marguerite and Armand, and Kenneth MacMillan's joyously entertaining Elite Syncopations. There is, as ever, little to fault technically with the dancing by this incredible company so my thoughts are largely guided by other matters.
The absolute standout work of the evening was Marguerite and Armand, which occupied the middle position on the program. Yes, it is so closely associated with Fonteyn and Nureyev, and perhaps Sylvie Guillem and various partners, but Alessandra Ferri and Federico Bonelli gave an absolutely stunning performance that brought out every bit of Ashton's wildly free and exciting, and beautifully musical choreography. And what a grand performance of the Liszt Piano Sonata in B minor, to which the work is set, we heard from the accomplished pianist Robert Clark.
In my mind I continue to have a vision of Bonelli standing upstage about to rush forward to sweep Marguerite up in his arms and begin the main pas de deux. He took an arabesque on half pointe, arms flung upwards and outwards. And there he stood, balancing perfectly, body filled with passion and daring. Brilliant, as was the pas de deux itself with Ferri being flung from pose to pose and both artists projecting the ravishing excitement of what their love could be. And so it continued with the narrative flowing so clearly to the very end. I'm not sure how long this ballet is—twenty five minutes maybe—but it was over in a flash so captivating was it.
The opening work, McGregor's Obsidian Tear, left me a little cold and its choreography seemed stark and emotionless—but then I guess obsidian is a hard substance. Everything seemed to happen suddenly. Lighting cut out rather than faded and movement, while it showed McGregor's interest in pushing limits, had little that was lyrical.
The most interesting aspect for me was the set, designed by McGregor. It resembled a black box theatre space but looking closely it reminded me of an Ad Reinhardt painting. At first Reinhardt's paintings look monochromatic, as did McGregor's set, but a closer look reveals small, intimate details, as also happened with the set for Obsidian Tear. Of the dancers, I especially enjoyed the dancing of Benjamin Ella and Marcelino Sambé. But Obsidian Tear did not engage me the way so many others of McGregor's works have.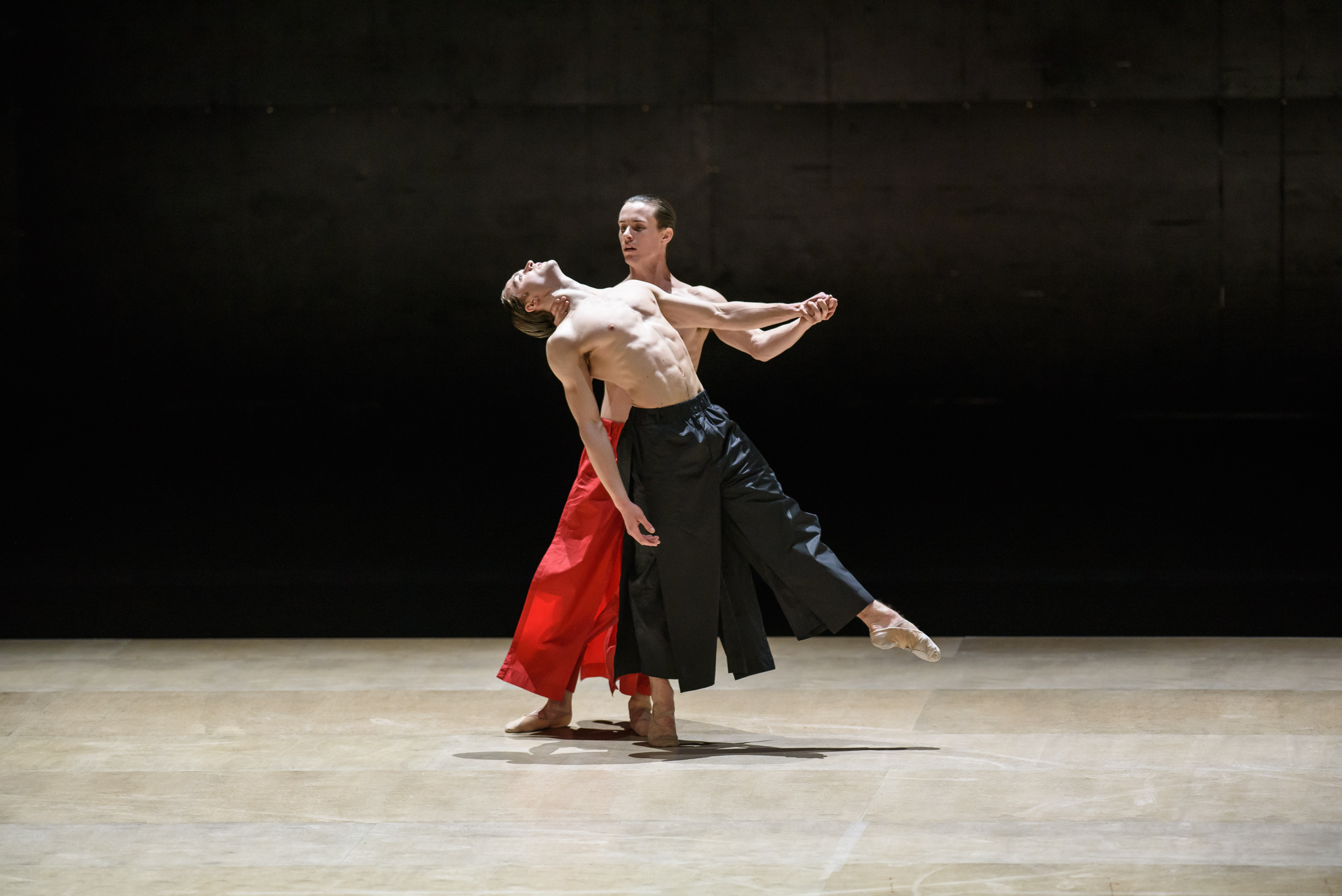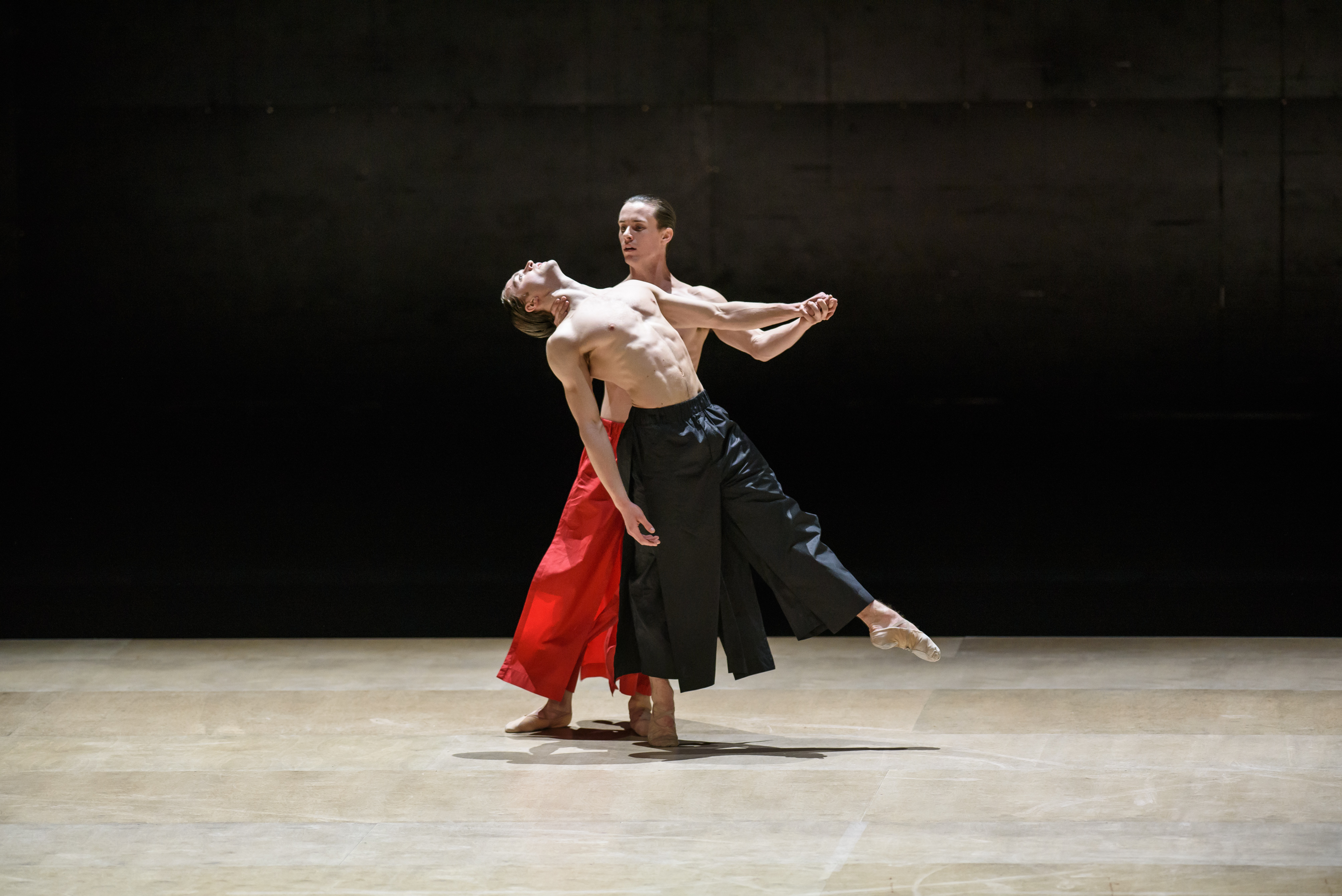 The final work on the program was Kenneth MacMillan's Elite Syncopations, danced to a selection of music by Scott Joplin and other ragtime composers, and played by an onstage band. Beautifully set on a stripped-back stage space with the dancers and band members in spectacular costumes by Ian Spurling, it was a buoyant, joyous, even reckless show.
Without wishing to detract from any of the twelves dancers who gave us such pleasure, stars were Sarah Lamb and Ryoichi Hirano. Hirano in particular knocked me for six. I have always seen him in more classical or dramatic roles (and have enjoyed his work in such ballets) but in Elite Syncopations he showed another side of his skills. He was smooth, persuasive, suave, flirtatious and a great partner. And he never stepped out of character.
As a conclusion to a decidedly mixed triple bill, Elite Syncopations sent us home smiling.
Michelle Potter, 19 April 2018
Featured image: Alessandra Ferri and Federico Bonelli. in Marguerite and Armand. The Royal Ballet. © ROH, 2017. Photo: Tristram Kenton