14 April 2018 (matinee), Joan Sutherland Theatre, Sydney Opera House
I had the pleasure of seeing Murphy for a second time, this time in Sydney at a mid-season matinee and in a top-notch seat (as a result of many years of subscribing and slowly moving forward into a great position).
Much, if not all, that I wrote after the Melbourne opening still stands. One or two performers, however, stood out for me on this second occasion. In Grand, 'Alligator Crawl' by Fats Waller was wonderfully danced by George-Murray Nightingale and Lucien Xu. Xu in particular made the most of the opportunity and looked smart and sassy, as was appropriate in the jazz situation that the music demanded. Then, Yuumi Yamada and Andrew Killian danced beautifully in the duet to the Beethoven 'Lento e mesto' from his Piano Sonata in D major. There was a certain vulnerability in the way Yamada moved and yet technically her dancing was strong. Killian was a perfect partner in this situation.
I also omitted to mention the work of filmmaker Philippe Charluet in my previous post. His Reflections, the opening  filmed monologue from Murphy, and his introduction to Grand, which showed the incredible Wakako Asano from the Sydney Dance Company production of 2005, were fine examples of Charluet's work and nostalgic reminders of how exceptional Sydney Dance Company was under Murphy and Vernon.
Shéhérazade, however, remained a disappointment without its silk tent. It might be one thing to perform an excerpt without the full set, which if I recall correctly was the case in Body of Work (2002) when just the opening pas de deux was performed. But the Murphy program presented the full work and it truly lost its mysterious and erotic quality without the original set.
Here is part of what Kristian Fredrikson wrote about the set: 'Blue silk tent with applied gold patterns, a silk sling, a rope, 4 watchers on illuminated perspex—glittering gauze.' And here is his description of one highlight where the silk plays a significant role in the choreography: 'A girl arises from her silk trapeze and dances a yearning solo … at two points of the solo the girl is mirror-imaged by the first girl who slips in and out of the gauze.' It would have been respectful, as well as giving audiences a true picture of what Shéhérazade was really like, had there been some effort to reproduce the original set.
Michelle Potter, 18 April 2018
Featured image: Brodie James, Lana Jones, Leanne Stojmenov and Jarryd Madden in Shéhérazade. The Australian Ballet 2018. Photo: © Jeff Busby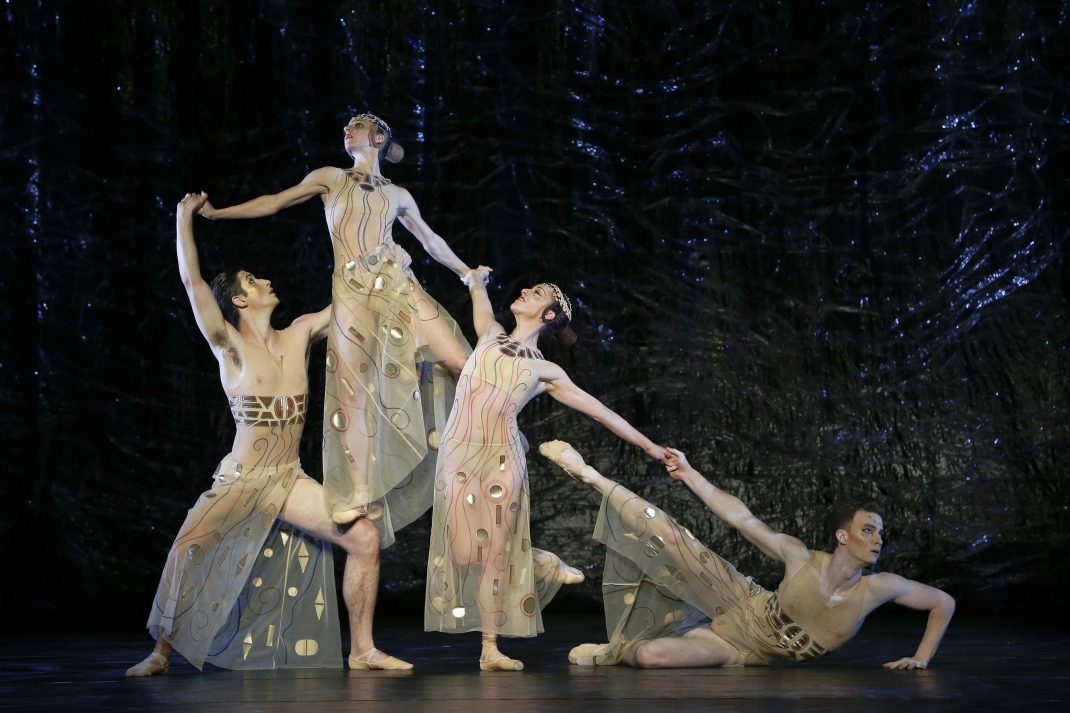 Note: The National Library of Australia holds some colour photographs from the first performances (1979) of Shéhérazade taken by Don McMurdo, which show the blue tent with its gold designs. I have made concerted and repeated efforts to get permission to use them but I have had no response from the copyright owner. The National Library holds them in trust only and Don McMurdo's permission is not sufficient. I still hold out hope that one day the Sydney Opera House's legal team will respond.
UPDATE June 2020: It turns out that the National Library's images are not from 1979 but from a revival in 1987. I have Janet Vernon and Chrissa Keramidas to thank for this information. One of the images appears in my book Kristian Fredrikson. Designer (with permission from and payment to the Sydney Opera House Trust).