9 March 2023. Kiri Te Kanawa Theatre, Aotea Centre. Te Ahurei Toi o Tamaki/Auckland Arts Festival,
reviewed by Jennifer Shennan
Revisor is created and directed by Crystal Pite and Jonathon Young, both highly original and hugely prolific theatre makers, movers and shakers, of Canadian provenance but now widely internationally acclaimed. The work is a knock-out tour-de-force of theatre, developed from Revizor, aka The Inspector General, the work of Russian playwright Gogol, which premiered in St. Petersburg in 1836.
The story goes that the five-act play was performed before the Czar who laughed and applauded throughout, not realising the play was satirical farce, 'a comedy in disguise'. The Czar claimed to have 'got it', though one might add 'in the neck'—it's just that it took decades of Russian history for that to (continue to) reach dénouement. The play deals with themes of ambition for power, of greed and bribery, confidential lies and cover-ups that echo with painful relevance in many times, then and now, and places, there and here.
There's a finely chiselled program essay from which I quote …
Since the 1830s, the play has been translated and adapted countless times. We approached the original text as a matrix for both voice and body, and found it to be malleable and resonant. Our quest has been to locate and portray a glimpse of the soul within this most unlikely frame: a well-worn farce about corruption and deceit.
Underneath the superficial subject of mistaken identity there were of course deeper subjects such as deceit, tyranny, greed and corruption; willful blindness and complicity; bureaucracy and officialdom; human suffering; the coming storm; the promise of change; imminent overthrow; salvation on the horizon; retribution at the corner; justice at the gate.
Ambitious incompetent individuals manipulate and bribe the bureaucracy while working their way into positions of political power and authority. Corruption, duplicity and control of propaganda are found at every turn, at every crossroad. Sound familiar? —think Putin and his treatment of Navalny, think Ceaucescu and wife, think Trump and Murdoch, think North Korea, think mediocre and ambitious bureaucrats everywhere. Think of all those who believe they live in a democracy which in truth is just rampant consumerism. It's a long list.
Those who won't go to the Ballet (capital B) because they 'can't hear the words' would have 'got' this show because the playscript is pre-recorded and functions as the 'music' to which the 'dance' is performed. You know where you are because you 'can hear the words'. The trouble is the script is deliberately riddled with clichés and double-entendres, lies, interrupted sentences and contradictions, so you actually haven't a clue where you are—nor have the players—and therein lies the plot. The Inspector General is not actually The Inspector General, though some don't know that, and those who do know are paid to shut up about it.
Pite and Young share their directors' vision for the work so that boundaries between playscript, stage directions, deportment, gesture, mime, dance, plié and pause, gait and gavotte are seamlessly blurred throughout the 90 minute performance. The eight dancers make multiple entries and exits with superb timing and great aplomb, always using impeccable technique to serve the expressive needs of the dramatic action. [How refreshing to be spared the all too frequent conventions of balletic virtuosity that dancers are often required to display, thereby drowning out storyline and musical aesthetic. These are enormously skilled dancers but you won't be seeing them in The Nutcracker any time soon.]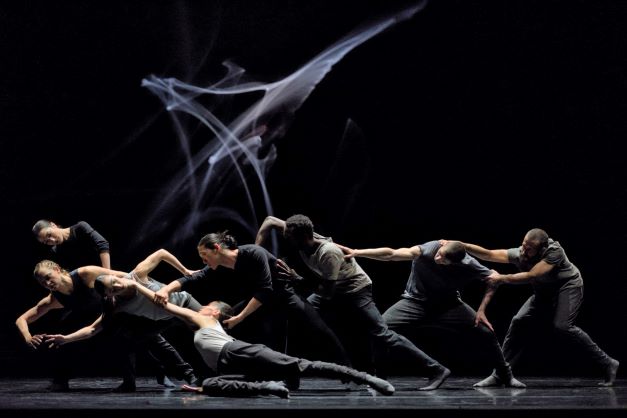 Individual performers are all outstanding but Gregory Lau as the Revisor, and Rakeem Hardy as Postmaster Wieland deserve singular mention. A number of sculptured group sequences are testament to how well these players know each other's work so can all move together as one. An enigmatic figure wearing deer antlers plays several ritualised prayerlike sequences with mystical effect. The lighting concept and design make breathtakingly beautiful imagery, ephemeral backlit smoke patterns that point to the enduring questions echoed in the script …'Why am I here? What does it mean?'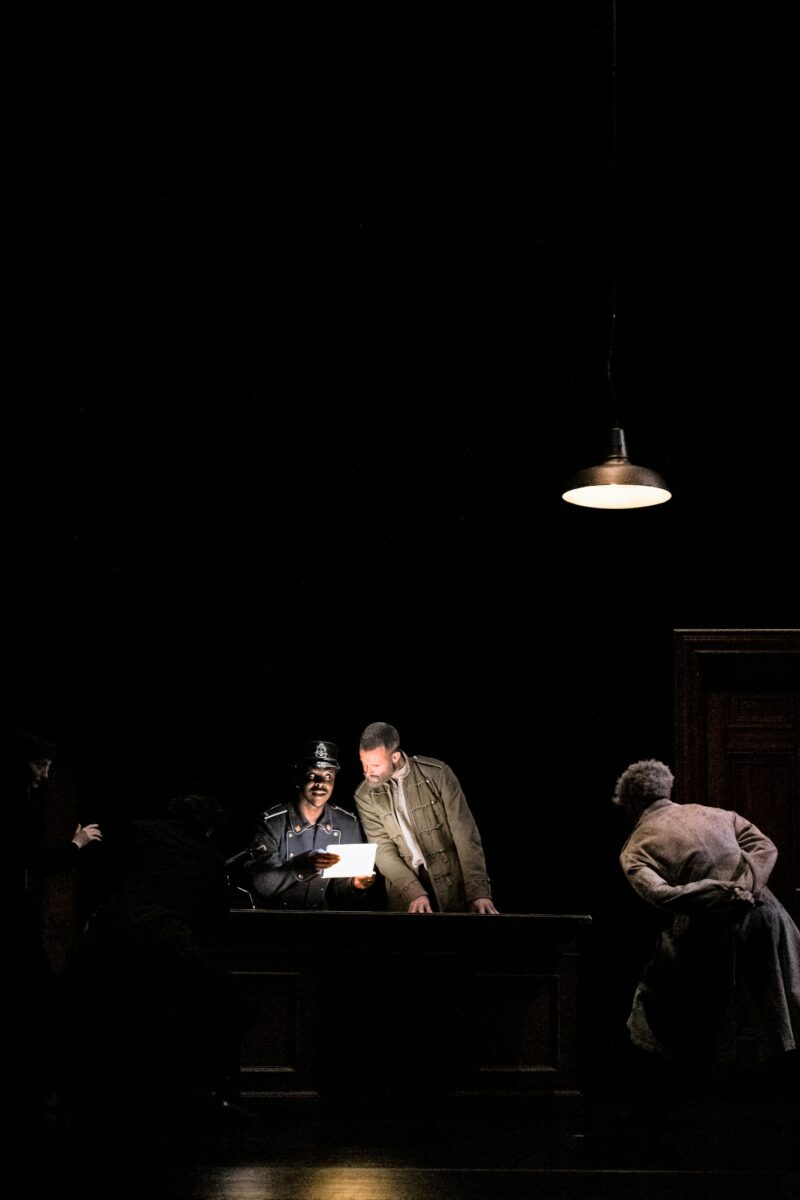 Any dance educators who think ballet (lower case b) might not be 'relevant to audiences within the changing demographic' would do well to take their students to such a production as Revisor. The relevance of the choreography could not be more present or obvious. So why were there so many empty seats, or any empty seats at all? The audience barely breathed throughout the entire performance, stunned at the tight skills they were witnessing, and come the curtain call couldn't wait to get to their feet for a prolonged standing ovation which carried a sense of appreciative urgency.
Auckland Arts Festival managed a coup in booking this act, following several years of its international touring. Those who saw Revisor here have witnessed the final season of the work. You should remember it, keep the program (a free handout—top marks again to the Festival), make notes, tell your grandchildren what you saw.
Jennifer Shennan, 12 March 2023
Featured image: Scene from Revisor. Photo: © Jinki Cambronero