20 September 2023. Opera House, Wellington
reviewed by Jennifer Shennan
This extraordinary production, (m)Orpheus, by New Zealand Opera & Black Grace, is billed as a re-imagining of Christoph Gluck's 18th century opera, Orfeo ed Euridice. The program note calls it a dance-opera collision—which it is, but it's also a great deal more than that.
Indeed, the whole enterprise is a five-point star—visionary and innovative direction and choreography by Neil Ieremia, a totally stunning set and costume design by Tracy Grant-Lord, a skilful re-orchestration of Gluck's original by composer Gareth Farr played by a chamber ensemble conducted by Marc Taddei, beautiful singing delivered by three fine soloists and a wonderful eight member Chorus, and inspired dancing by members of Black Grace contemporary dance company. They all melded into the spirit life of a production that could only have been realised in Pasifika-Aotearoa New Zealand. Some of the text was sung in English, some in Samoan. For us there were shivers, some tears, some laughter, grief, solace, and an alchemy of life and death, not as opposites but as a spectrum to be celebrated. That's some achievement for a night at the opera. It was then, it is now, it is us, we are here. Manuia lau malaga (Samoan: 'Farewell in your journey').*
Farr made much inventive use of unconventional instruments—including marimba, and saxophone in his scoring. Much pizzicato from violins, together with the softened sounds of marimba, lent a subtle percussive effect as suited the Samoan dimension of the production but also honoured Gluck completely. The guitar, beautifully played by Gunter Herbig, was Orfeo's lyre come to life.
Samson Setu singing Orpheus was a beautifully steady and centred presence throughout, his rich and resonant voice effortlessly delivered as he avoided any operatic extravagance. Deborah Wai Kapohe was perfectly cast as Euridice and reminded me of korimako/bellbird.
Madison Nonoa as Amor totally relished her role and played it to the max, hilarious and poignant by turns. In these three stellar performers the singers were greatly indebted to Tracy Grant Lord's staggeringly wonderful set design of this world/underworld, but you'll get no spoiler alerts from me.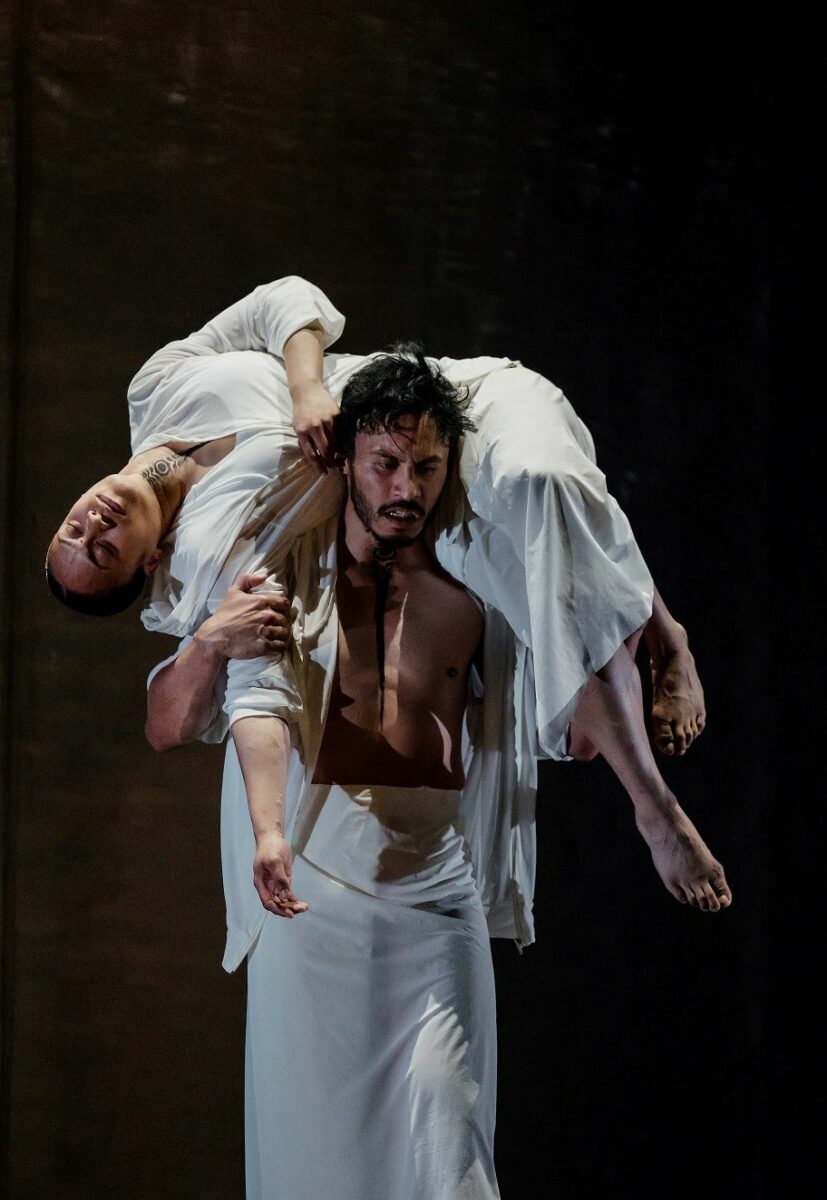 A relatively small chorus of eight singers, Samoan and Maori, nonetheless filled the stage with sounds you didn't want to end. They did Gluck proud, and also 'morphed' into Samoan dances of great grace and joy—siva was there, sasa, fa'a taupati and taualuga were there.
The dancers performed enchanting lyrical and impressively rhythmic sequences in and around the Chorus so the two arts were seamlessly joined. (In the Pacific music and dance were never separated anyway). The choreography throughout was layered—sometimes the dancers joining the moving Chorus, at other times dancing a duo to affirm in exquisite duplication the emotional journey of Orpheus and Euridice.
My only quibble for the evening concerned the printed program-no bios for the performers, and very small but shiny typeface on a black background. Impossible to read in the theatre, and quite a challenge at home too.
This production has already had an Auckland season with a different musical team. Here in Wellington is a three show season over four nights. deserves to be seen far and wide. The large audience was hugely enthusiastic, and I think Gluck would have been too
Jennifer Shennan, 21 September 2023
Featured image: Scene from (m)Orpheus, 2023. Dancers from Black Grace, chorus from NZ Opera. Photo: © Andi Crown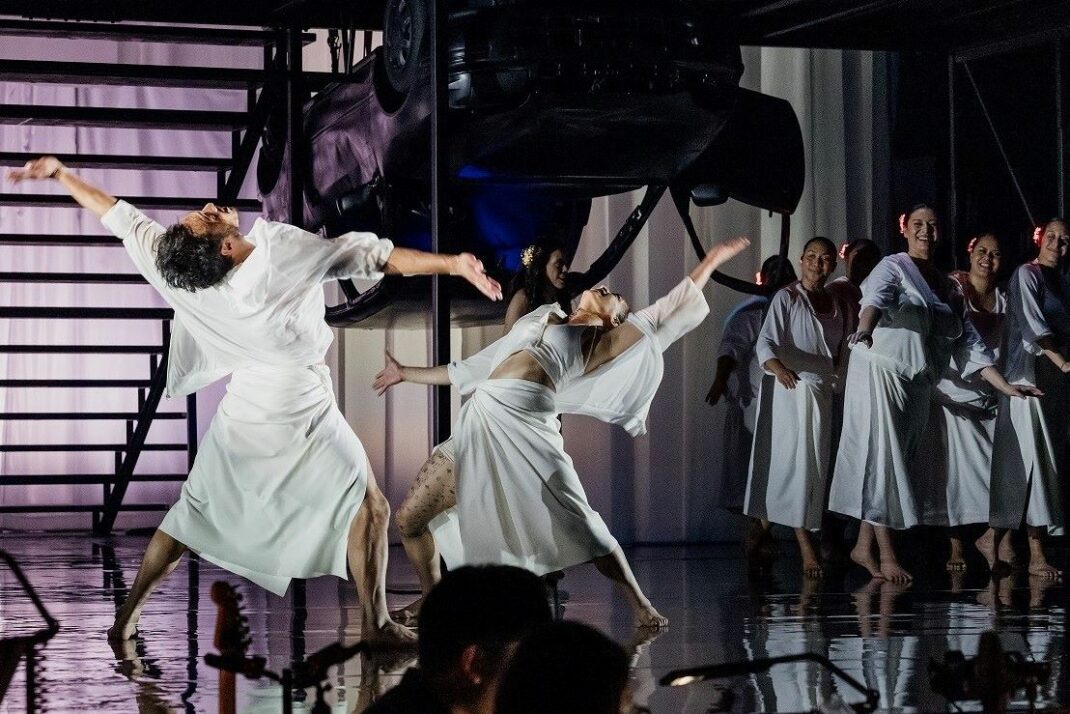 *As the dirt and flowers are tossed into the grave, sentiments of – ia manuia lau malaga; 'farewell in your journey' – are echoed by mourners as they release their beloved member. Samoan people maintain the essential belief that death is not a final ending.