10 December 2016 (matinee), Joan Sutherland Theatre, Sydney Opera House
On 10 December 2016, I saw the 258th performance by the Australian Ballet of Peggy van Praagh's production of Coppélia. A few aspects of the van Praagh production seem to have changed over the years since it received its premiere in 1979, perhaps not always for the best, but it remains a strong production and a delightful excursion into the world of 19th century ballet—the original production premiered in Paris in 1870.
At the 258th performance I had the good fortune to see Leanne Stojmenov as Swanilda. Her characterisation was engaging and beautifully maintained from beginning to end, including at those times when she was not the centre of attention but mingling with others on the side of the stage. She smiled, she frowned, she pouted, she stamped her foot, she was playful—her every thought was so clear. Her dancing was calm and assured but still technically exciting. It was a truly charming performance. She was partnered by Ty King-Wall as an attentive Franz who persisted in his pursuit of her, despite her various mini tantrums over his behaviour, and despite that ear of corn that refused to make the appropriate noise for them. Together they were the epitome of a village couple, as indeed they are meant to be.
As Dr Coppélius, Ben Davis gave a competent performance and it is always a pleasure to see Dr Coppélius minus the over the top pantomime-style characterisation that is often the way this character is portrayed. But, by the same token, Dr Coppélius does need to have a strength of character and Davis didn't quite manage to convey anything that might give us a clue to this character's personality. He was just a nice old toy-maker/magician. I also missed Dr Coppélius' appearance in Act III, when he demands and receives compensation for the destruction Swanilda and Franz have caused to his workshop in Act II. Maybe I am imagining that this scene was once part of van Praagh's production? But it is a part of many other productions and it rounds off that section of the story very nicely.
It was a good day for the male corps de ballet—Franz's friends danced exceptionally well, especially in Act I. Ella Havelka and Jake Mangakahia led the Act I character dances with good style. And I always enjoy seeing Amanda McGuigan and Ingrid Gow onstage and they stood out among Swanilda's friends, especially in the dance of the wedding couples in Act III.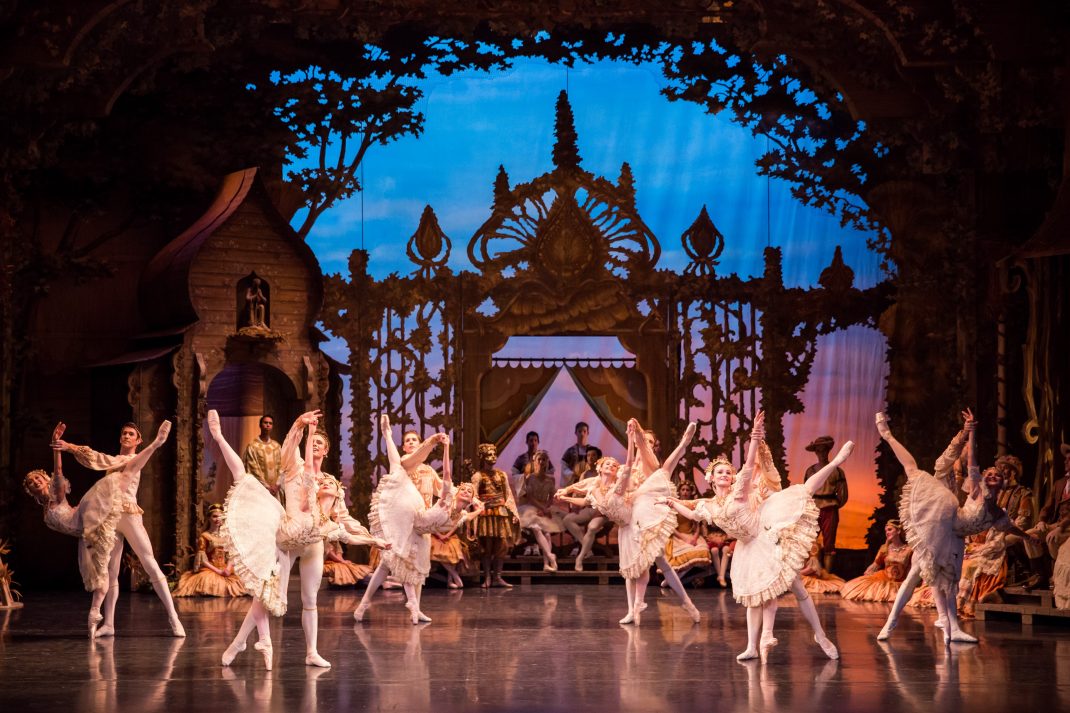 Natasha Kusen danced a lovely Prayer. She brought a peaceful quality to the role and technically scarcely faltered.
Kristian Fredrikson's designs still look beautiful, although I had forgotten how large (and often overpowering) some of his headdresses are. I had also forgotten how beautiful his all-white costume for Prayer is—so much nicer, and still appropriate, than the very drab, usually grey-ish Prayer outfits seen in some other productions.
Coppélia, and this performance in particular, was an absolutely delightful way to end the Australian Ballet's 2016 season. It no doubt benefited from input from dramaturg George Ogilvie, who worked with van Praagh and Fredrikson in 1979 on the creation of van Praagh's production, and who returned to advise on the show this year.
Michelle Potter, 11 December 2016
Featured image: Dancers of the Australian Ballet in Coppélia, Act III (Hours of the Night), 2016. Photo: © Daniel Boud