16 May 2015 (matinee), Joan Sutherland Theatre, Sydney Opera House
After feeling less than satisfied with my earlier viewing of the Australian Ballet's triple bill of Ashton works—Monotones II, Symphonic Variations and The Dream—it was such a pleasure to have a second look and come away feeling much more fulfilled.
Monotones II was danced by the same cast that I saw on opening night, Natasha Kusen, Brett Simon and Jared Wright, but all my feeling that the work was outdated disappeared. Gone too were those hideous shadows that marred my first viewing, although they linger a little on the photograph below. This time, the visually pristine quality of the work was all there. I had a much better seat, but was that the only reason? I suspect not.
There was a real serenity to the performance. All three dancers were attuned to each other's movements. There were gorgeous moments of symmetry that gently broke into asymmetry. Bodies twisted and threaded through arched shapes. Winding and unwinding. It was a truly beautiful, calm, technically satisfying performance.
Symphonic Variations too was danced in a far superior fashion to what I saw on opening night. The three women, Lana Jones, Amanda McGuigan and Ingrid Gow were well cast together. They are of similar height and body shape and it made a huge difference. The men, Andrew Killian, Ty King-Wall and Andrew Wright, were experienced enough to manage the difficult partnering without looking as though they were fumbling around. They also handled better the experience of being on stage for the entire ballet.
Technically, all six dancers showed every beautiful and often intricate detail of Ashton's choreography—the elongated fingers, the hands turned up from the wrists, the lines made between dancers, for example. The spacing and patterning of the work was also clear, and the movements flowed smoothly. A delight to watch. I loved that moment for the women when they turned chaînés around their partner, starting one after the other and with one arm spiralling upwards as if propelled by the twirling of the feet. And I gasped as the men, in a line upstage, all turned a double pirouette ending in attitude and finished perfectly, in the same line, in time, and with their attitudes at the same height. Just beautiful and surely how Ashton imagined this work would be danced.
Still something missing there though—that incredible feeling that I got from the Royal that this was an awakening from the darkness. And it was only after reading (much later) the Royal's program notes that I realised the circumstances behind Ashton's creation of the work. So I didn't set out with a preconceived idea. But thank you to the six Australian Ballet dancers I saw on this occasion. It was a lovely, serene performance, despite the medical emergency that was going on in the auditorium at the time.
The Dream looked mostly as beautiful as it did on opening night, this time with Miwako Kubota and Jared Wright taking the leading roles of Titania and Oberon. Wright stood out in his solo variation in the final pas de deux. His movements were beautifully shaped and coordinated. Andrew Wright and Christopher Rodgers-Wilson gave excellent performances as Demetrius and Lysander. Wright in particular was able to demonstrate how skilled Ashton is at incorporating humour into his works. Marcus Morelli, with his exceptional elevation, made Puck look as if he belonged in the air.
Overall, what a difference!
Michelle Potter, 17 May 2015
Featured image: Jared Wright, Natasha Kusen and Brett Simon in Monotones II. The Australian Ballet, 2015. Photo: © Daniel Boud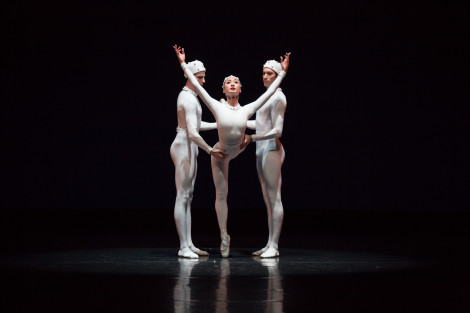 My initial review is at this link.