9 August 2017. Playhouse, Queensland Performing Arts Centre, Brisbane
It is always refreshing to see a different version of a well-known work. And so it was with Queensland Ballet's La Fille mal gardée. The version that is well-known to many Australian dance-goers is by Frederick Ashton, which Ashton made for the Royal Ballet in 1960, and which has been in the repertoire of the Australian Ballet since 1967 (although it hasn't been shown for several years). On the other hand, Queensland Ballet, in a co-production with West Australian Ballet, staged a relatively new version by French-born, freelance choreographer Marc Ribaud, which he made in 2000 for the Nice Opera Ballet.
Ribaud has retained the basic narrative. It follows the story of Lise and Colas who wish to marry, but whose wishes are thwarted by Lise's mother, the Widow Simone—she would prefer that Lise marry the eccentric and wealthy Alain whose greatest love is for his umbrella. But the overall tone of Ribaud's Fille, which is set in the south of France in the 1950s, is quite different from that in the Ashton work. The choreography for Ribaud's work is classically based but is boisterous and full of fast-paced dancing. It seems to fill the stage in an entirely different way from Ashton's work, which seems very English in its rather gentle and considered choreographic approach. Ribaud's Fille, at least with the cast I saw, also has strong overtones of slapstick. While Ashton gives us references to pantomime, his are much more restrained. Perhaps more subtle?
Ribaud has also retained some audience favourites from the Ashton version, albeit with changes. The famous clog dance is there although the Widow is accompanied by four village lads who tap away beside her as she goes through her clog routine. The chicken dance is also there but in a variant form. There are no dancers dressed in chicken outfits, just four male friends of Colas and Lise, dressed in jeans and giving us chicken-like gestures—chins poking forward as they move, hands with fingers spread to represent a chicken's comb and so on. It was hilarious and very clever.
As Lise, Lina Kim with her smooth and lyrical technique was absolutely charming—it was her first performance in the role too. She showed such a variety of emotion, depending on who else was involved at any one time, and her mime scene in the last act, when she imagines what might be should she marry Colas, was just gorgeous, as was her later embarrassment when she thought Colas had seen her. Shane Wuerthner was an ardent Colas and in the opening pas de deux set the scene beautifully for what was to follow. I was impressed, in fact, with all Ribaud's pas de deux, which often reminded me of the style of Bournonville as so often Lise and Colas danced side by side in a complementary manner rather than the man having a more supportive role. That is not to say, of course, that there were no lifts and, in fact, when they occurred they varied from soaring lifts to shapes, often with upturned feet, in which Lise's body wrapped round or curled up to that of Colas.
Despite a little trouble with his umbrella (it broke) and his hat, Ze Wu gave a strong performance as Alain and I look forward to seeing more of him in the future—his technical range looks prodigious. The umbrella and hat problems were beautifully and professionally handled by the cast, to the extent that the Widow Simone adopted the broken umbrella and stroked it lovingly! Joel Woellner as the Widow was totally outrageous. He was the slapstick hero(ine) and milked the audience at every opportunity. And of course the audience loved it and responded with laughter and cheers. And I enjoyed that Lina Kim gave back the way she did every time she was scolded.
Costumes by Lexi De Silva, sets by Richard Roberts and lighting by Jon Buswell provided a great background for the dancers of Queensland Ballet. Music was performed by Camerata—Queensland's Chamber Orchestra and conducted with his usual skill by Nigel Gaynor. This Fille is a little gem and Queensland Ballet continues to show what a terrific company it has become. Bouquets to all.
(I have no images of the cast I saw, unfortunately. But below are some from another cast.)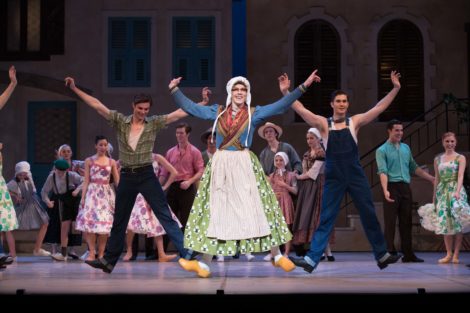 Michelle Potter, 12 August 2017
Featured image: Artists of Queensland Ballet in La Fille mal gardée, 2017. Photo: © David Kelly