23 November 2016, Canberra Theatre
Below is an expanded version of my Canberra Times review of Queensland Ballet's Nutcracker.
Across the world The Nutcracker is the quintessential Christmas experience. Children grow up knowing the story of Clara, and the Nutcracker Prince who takes her on a journey through a snowy forest to the Kingdom of Sweets. Those children (and their parents) look forward throughout the year to its annual return. It used to be a wonderful Christmas experience enjoyed each year by Australian dance audiences too, but that was long ago. Now we have occasional productions but none of the annual excitement. Recently, however, under the energetic and committed direction of artistic director, Li Cunxin, Queensland Ballet has begun to bring back the annual tradition of a Nutcracker Christmas. This year Canberra has been included as part of Queensland Ballet's season. How lucky we are.
Every Nutcracker has its own character and every production has slight differences in how the story unfolds. Queensland Ballet's production is by American-based choreographer Ben Stevenson, who currently directs Texas Ballet Theater in Fort Worth. It was Stevenson who, while directing Houston Ballet from 1976–2003, gave Li the chance to dance in the West when, while visiting Beijing, he offered Li a scholarship to appear in Houston. Since then Li has gone on from a major career as a dancer, including as a principal with the Australian Ballet, to his present position with Queensland Ballet.
Stevenson's Nutcracker has a warm and homely atmosphere to its opening scenes. Children cross the stage in excitement and anticipation. Some drag their parents behind them. Some ride a sled. Some older people slip on the icy surface. They enter a house, complete with sparkling Christmas tree, where young and old mingle, laugh, eat and drink, dance, play (and have the odd argument), and exchange presents. Clara, youthfully and prettily danced by Mia Heathcote, is given a nutcracker doll by a mysterious visitor, Dr Drosselmeyer (Shane Wuerthner), and the story revolves around this toy. There is a strong comic element to the party scene, and there are more elderly characters than is often the case. Thomas Boyd's set has a charmingly unpretentious and hospitable quality to it. It all makes for a genial gathering.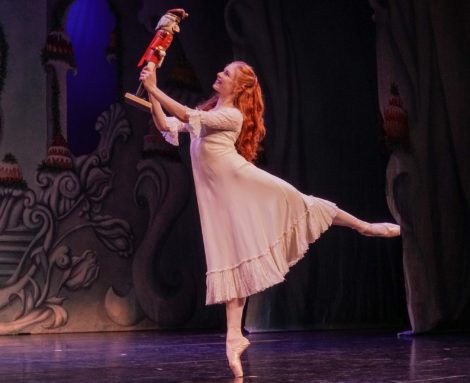 When the party is over and the guests have departed Clara is woken from her sleep by giant mice who attack her. A fight ensues and Clara kills the King Rat (Rian Thompson) with her shoe before her nutcracker toy is transformed into the Prince (Alexander Idaszak) and the journey to the Kingdom of Sweets begins. When she arrives, Clara is entertained by the inhabitants of the Kingdom, from the pastry cooks to the Sugar Plum Fairy (Yanela Piñera). Finally we find Clara and her toy nutcracker back at home. And we wonder if we, and Clara, have been dreaming?
Queensland Ballet tells the story clearly and smartly and the company dances this Nutcracker to perfection. The corps de ballet shone at every moment whether as snowflakes, life-sized toy soldiers, flowers, or other characters. The snowflakes were dazzling and the Snow Queen (Laura Hidalgo) danced an exceptional pas de deux with the Prince. Hidalgo had such a lyrical quality to her movement, and a beautifully fluid upper body. Every single movement was impressively defined, so much so that she looked as though she was dancing in slow motion. She was attentively partnered by Idaszak, who danced strongly but somehow gently and softly as well. But the flowers in the second act Waltz of the Flowers just amazed me with a series of pretty much perfect double pirouettes, moving across the stage in twos and performing in canon. They were led beautifully by Teri Crilly and Camilo Ramos. And everyone looked as though they loved dancing—no 'pasted on' smiles here. Wonderful to see.
Of the other divertissements in the Kingdom of Sweets it was quite special to see Mother Ginger (Liam Geck). This variation rarely appears in other productions but is a delightful sequence in which several children appear from beneath the huge, hooped skirt of a very tall, motherly (if somewhat outrageous) figure. The Mirlitons remained as a pas de trois but danced, instead of the usual three ladies, by two ladies and a man (Tara Schaufuss, Neneka Yoshida and Zhi Fang). The Chinese Dance (D'Arcy Brazier and Zuquan Kou) had an unusual martial arts twist; Spanish was a pas de six with the dancers dressed (by Desmond Heeley) in stunning red and black outfits; and the Russian was a solo for Vito Bernasconi. The audience favourite, however, was the Arabian Dance with Lina Kim and Joel Woellner. Their sinuous pas de deux was highlighted by a fabulous lift with Kim upside down in splits being tilted backwards while in the air.
And the choreographic highlight, the pas de deux and variations of the Sugar Plum Fairy and the Prince, was worth waiting for. I have admired Yanela Piñera in other recent Queensland Ballet productions and, as the Sugar Plum Fairy, she again showed her clean, strong technique. This time I especially admired her lovely little twists of the neck and a beautifully executed double turn in attitude that was done as a supported finger turn. She was partnered by Idaszak as the Prince, who once again was a most attentive partner.
There were so many charming, memorable moments, but in the end this evening stood out as a heart-warming performance of a much-loved ballet by a company that in recent years has gone from strength to strength. Despite funding issues, mentioned by Li Cunxin in his post-performance speech, Queensland Ballet stands tall and proud as a company that cares about the art form and its future. May they return many times to Canberra. We are ready and waiting.
Disclaimer: I had two family members in the children's cast of Queensland Ballet's Nutcracker.
Michelle Potter, 25 November 2016
Featured image: Yanela Piñera and Alexander Idaszak as the Sugar Plum Fairy and the Prince in The Nutcracker, Queensland Ballet, 2016. Photo: © David James McCarthy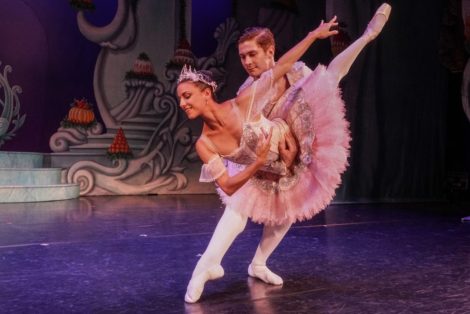 On a personal note: I was (rightly) required by The Canberra Times to include a disclaimer to my review as I had two grandsons performing in the children's cast. But I have to say that I am thrilled that these two young boys will grow up knowing the excitement of The Nutcracker as a Christmas ballet, and knowing the full ballet rather than a version downsized for children!
The online Canberra Times review is at this link.