27 November 2016, St James Theatre, Wellington
Reviewed by Jennifer Shennan
Truly, madly, deeply …
If I were to list all the good things about this pedigree production, it would amount to a catalogue of joy. And what would be wrong with that?
Ethan Stiefel, previous artistic director of RNZB, certainly knew what he was about when he invited Liam Scarlett to choreograph this full-length work, and negotiated a co-production with Queensland Ballet. By all accounts that collaboration has worked very well, so might set a happy precedent for future co-productions. All those in favour…? The work only premiered last year yet is already a classic.
Nigel Gaynor, at the time Musical Director at RNZB, found close rapport with Scarlett and made a wondrous extension of Mendelssohn's one act incidental music into a two acter by drawing on other of his numerous compositions. With motifs for many characters ingeniously set for string, woodwind and brass sections, plus of course the quijada (jawbone of an ass), Gaynor creates a seamless accompaniment. He also returns to conducts the excellent Orchestra Wellington. This is ballet musicianship at its best.
Tracy Grant Lord as set and costume designer has always known how to make this company look good (witness Cinderella and Romeo & Juliet). With Kendall Smith's inspired lighting, the ballet grows from a swirl of smoke on a front cloth into a midnight blue faerie world of phosphorescent glowworms, moonlight, madness, mayhem and enchantment.
Liam Scarlett has made a brilliant distillation of the play, missing not a trick by slanting all the poetry into different characters' experiences of love, true, mad and deep. This is a young but obviously hugely talented choreographer. And then, O my, there's the dancing…
Qi Huan, former leading dancer has returned (again) from 'retirement' to play Oberon, bringing a maturity in his interpretation of a complex character, powerful, proud, duplicit, scheming, sometimes roving into the human world, yet ultimately forgiving (maybe). You hear his every thought as it motivates his every gesture, charging the role with real theatrical power that makes Oberon the central role to the entire ballet in a way new since the premiere season last year.
Tonia Looker is a gorgeous, romantic Titania, quick to claim the Changeling child, swift to fall in love. Her adoration of Bottom the Ass is quite something to behold. The band of ten Fairies shimmering and quivering in spiky blue tutus are as mercurial as the creatures they evoke. Harry Skinner gets maximum comic mileage from his doltish Bottom and creates an endearingly entertaining Ass that invites empathy for this ambiguous role. Shaun Kelly as the dazzling irrepressible Puck is stunning in his role of wicked mischief-maker. You wouldn't trust him with your grandmother's thimble. The Lovers are played with great spirit—by Kirby Selchow and Joseph Skelton, with some deeply lyrical dancing, and by Abigail Boyle and Paul Mathews, masters of comic timing. The Rustics are a hoot and they know it.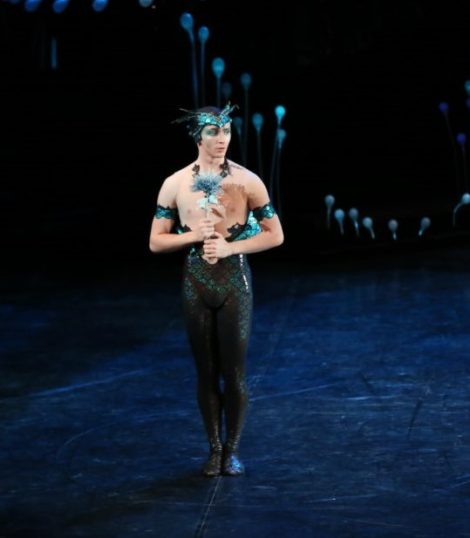 When all the mayhem is at its wildest, with Puck quaking at Oberon's wrath, the entire cast of mis-matched lovers—jilted, unrequited, confused, and with the mad rustics in tow—charge on a diagonal across the stage in a comic moment of cartoon art that captures the complexities of the entire plot into a 30 seconds drive-by stroke of choreographic genius. The audience erupts in delight, and Shakespeare the librettist would have been well pleased.
The Changeling child in a onesie, with his toy donkey and bedtime storybook, bookends the whole glorious ballet, winching it in quite close to the world where you and I know of parents who quarrel over who 'owns' a child, or who 'loves' him more, and where he should live. It is ultimately Scarlett's triumph to delve into the mystery and chemistry of where love comes from, its turns and tricks and travails that never run smooth, and to flow the faerie in and out of the human world. Take care in shady places. Puck is probably lurking.
There are many warps and wefts of New Zealand and Australia that weave the dancers from the two countries together, and the more you look the more you find. Lucy Green, in a few hours time, will dance Titania in her last performance with RNZB, before returning to Australia to join Queensland Ballet. We'll be so sad to lose this beautiful dancer, but surely glad that we had such memorable performances from her these past years. Perhaps we'll charge Puck to steal away her passport?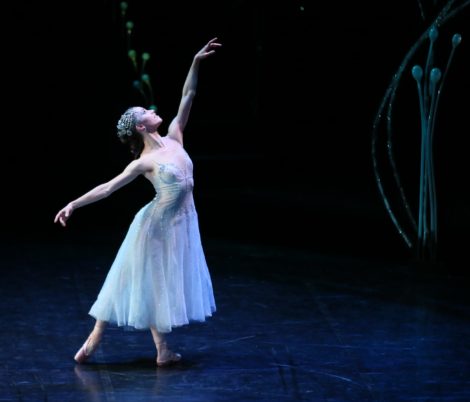 *********************************
There's an on-stage class to watch before a performance. Thoroughbreds flexing.
There's a Q&A session with dancers after a matinee; a pre-performance talk on the music; usually a forum a fortnight before; workshops where children learn the moves for the first 32 bars of Bottom the Ass. There's a solid printed program, plus complimentary cast sheets. There's a production team out back, with highest production values that put numerous tired 'imperial' visiting ballet companies well into the shade. The indomitable Friends are selling subs and t-shirts in the intervals, since that's what Poul Gnatt told them to do in 1953. A mix of Oberon and Puck, that man. All this amounts to RNZB being the best little ballet company on Earth. (The best big company, for my money, is Hamburg Ballet. What's yours?)
Only the St.James theatre wine-bar seems not to know how to uncork bureaucracy and pour a glass of bubbly for the happy punters. Another job for Puck perhaps?
Jennifer Shennan, 28 November 2016
Featured image: Tonia Looker as Titania and Harry Skinner as Bottom in A Midsummer Night's Dream, Royal New Zealand Ballet (2015 season). Photo: © Stephen A'Court