Natalie's Weir's Carmen Sweet already has an enviable performance history. It began as a commission from the Queensland Symphony Orchestra to provide a dance work to Rodion Shchedrin's 1967 score, Carmen Suite, which was to be performed as part of the QSO's 2012 season. Weir says she was especially interested in taking on the commission because she would have to consider making something to suit an audience that was not specifically a dance one.
'Our audiences have been growing,' Weir says, 'but at Expressions we are still working hard to make our repertoire accessible and to grow an even stronger audience base.'
Carmen Sweet's success with QSO audiences was such that Weir decided to develop her work a little further and to present it as a piece for her Expressions Dance Company.
Since then Carmen Sweet has toured to the Noosa Long Weekend Festival and Singapore Dance Theatre's Ballet Under the Stars event in 2013, and has had seasons in Brisbane and across regional Queensland. Now Weir's dancers are embarking on a ten week tour to seventeen different venues across New South Wales, Victoria and South Australia. And Canberra audiences just have to slip over the border to Queanbeyan to catch it.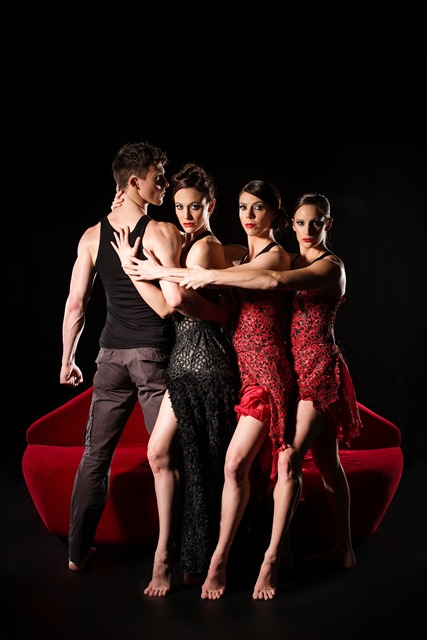 'I made it especially for touring,' Weir says. 'We had such success when we toured R & J. It was accessible in that it told a story and yet it was still a contemporary dance work. It provided audiences with a link between classical ballet and some of the more abstract contemporary works being seen in Australia at the moment. Carmen Sweet falls into a similar category.'
The work is made for six dancers. Although Weir essentially remains true to the Carmen story as we know it from the opera, in Carmen Sweet we see Carmen in three different guises, at three different eras in her life: the matriarchal, knowledgeable Carmen, danced by Elise May; the unattainable Carmen danced by Michelle Barnett; and the young, flirtatious Carmen from Rebecca Hall. Jack Ziesing dances the soldier, Don José, who falls in love with Carmen; Benjamin Chapman plays Escamillo, the matador who steals Carmen's heart; and Daryl Brandwood is the Fortune Teller who warns Carmen of her death.
There is also what Weir refers to as 'a community section'. Ten young dancers from each region will be selected to join the cast as the entourage of Escamillo. In a tongue-in-cheek reference to a popular television show each of these dancers will carry a single rose.
'It's a bit of a romp,' says Weir, although others have described Carmen Sweet as a tale of love, lust and revenge. But we can be sure of exciting and dramatic choreography—Weir is renowned for it; an unusual and thought-provoking take on a well-known story—again a characteristic feature of Weir's work; and some fabulous design from Bill Haycock, a long-time collaborator with Weir. It is the last chance, too, to see Daryl Brandwood, who will be retiring from Expressions at the end of this season.
Michelle Potter 29 September 2015