Back in 1995 I wrote an article on Hélène Kirsova for Dance Research. During the course of writing that article I came across a clipping in the Kirsova Archive held by the National Gallery of Australia, in which it was reported that Kirsova had had to postpone a Sydney season planned for September 1944 because she was unable to obtain the ration permit she needed to buy materials to make costumes. The article caused something of a stir and a rejoinder was published the following day from the deputy director of rationing, a Mr Hudson, who reported that Kirsova had in fact been given costume material far in excess of that given to any other similar company in Australia.
Recently a file held by the National Archives of Australia, Melbourne branch, in which the events are more fully spelled out became available and was brought to my attention. Perhaps the most interesting aspect of the correspondence contained in this file emerges from letters between Kirsova and the director of rationing, a Mr J. B. Cumming, written largely during August and September 1944. Cumming wrote to Kirsova early in August explaining that his advice was that the Kirsova Ballet was a non-commercial concern, similar in nature to the Borovansky Ballet and the National Theatre Ballet. Such companies, he noted, gave performances for charitable, educational or cultural purposes and as such had a maximum allowance of material imposed upon them. The correspondence pointed out that Kirsova donated the proceeds of her performances to a charity, as indeed she did. Kirsova had set up a charity to provide playgrounds for children in depressed inner city suburbs in Sydney.
Kirsova was, however, not impressed with the designation 'non-commercial' and she replied that the Kirsova Ballet 'has been conducted on an entirely professional basis from its very inception and my dancers and all other artists are paid by me in accordance with existing Awards.' She was at unhappy being classed with the Borovansky Ballet, which, she suggested, until the season sponsored by the J. C. Williamson organisation in 1944 had 'never before toured or appeared outside Melbourne' and had been conducted 'on an entirely amateur basis, confining itself to an occasional presentation of a few performances and studio club concerts.' Kirsova intimated that if she were unable to obtain the necessary permit her company would have to close down and in fact this is what happened. Although Kirsova was invited to submit a proposal for material required for the following year, in the end (after appeals to the Prime Minister on her behalf and further discussion about what constituted a professional company) the last performance by the Kirsova Ballet was the one that had taken place in Brisbane in May 1944.
There has always been speculation about why the Kirsova Ballet disbanded and this new correspondence adds fuel to the speculation that Kirsova was a determined woman and  not one to compromise. To be classed as an amateur company and to be put into the same category as the Borovansky Ballet was for her simply beyond the pale.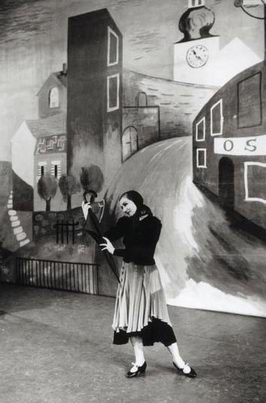 My original article, 'A strong personality and a gift for leadership: Hélène Kirsova in Australia', was published in Dance Research, Vol 13 (No. 2, Winter 1995), pp. 62–76.
See also 'Permits for Kirsova Ballet Company', National Archives of Australia, Series no. B5661.
© Michelle Potter, 19 May 2011.