As Canberra gets ready to host the 2013 Australian Dance Awards as part of the city's centenary celebrations, it is inevitable and absolutely appropriate that thoughts are turning to those dancers, teachers, directors and others who have made a major contribution to dance in the city in some way. Canberra-born Ross Stretton comes instantly to mind.
When Stretton died in 2005, following a career as a dancer in Australia and the United States, as the sixth artistic director of the Australian Ballet, and briefly as director of London's Royal Ballet, I gathered together a list of the repertoire Stretton chose for his four and a half years at the helm of the Australian Ballet. It was published in Brolga, No. 23 in December 2005. As this article is not available via the online issues of Brolga, I am posting it here ahead of the ADAs.
Stretton marked his directorship with a catch phrase, a slogan of sorts: 'Creativity, Energy, Passion'. It was often thrown back at him, sometimes with a touch of sarcasm, and it became known as the 'CEP factor'. But behind it was Stretton's passionate belief that dance was not superficial; it was an art form that in its greatest moments engaged mind, body and soul. Looking back at the repertoire list, which includes an astonishing twelve new commissions in the space of just over four years, as well as new acquisitions for the company from the existing international repertoire, it is clear that the CEP factor was hard at work.
Looking again there are a few works that haven't been seen since Stretton's directorship that I would love to see back: 1914 (despite the fact that it was not in general well-reviewed), Dark Lullaby, In the Upper Room, Theme and Variations and The Vertiginous Thrill of Exactitude are among them.
Below is a Jeff Busby shot of Elisha Willis in 2000 in William Forsythe's The Vertiginous Thrill of Exactitude, and below that is a link to the original Brolga article (with one or two corrections to the original). Other corrections if needed or comments are welcome.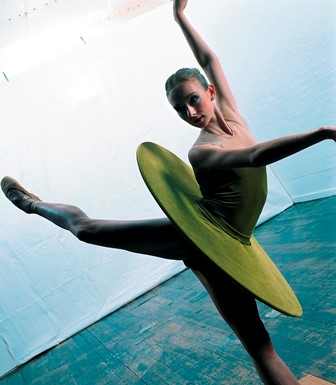 'The Stretton Legacy'. First published in  Brolga. An Australian Journal about Dance, December 2005, pp. 31–34.
Michelle Potter, 24 June 2013