Art must prevail
Very belatedly, here are my thoughts on the fourth and final week of Queensland Ballet's month of fundraising.
What a treat was the hilarious Cy-gents. And what a wonderful name! The Dance of the Little Swans from Swan Lake Act II has long been used, most often by men dressed in tutus and showing hairy legs, as a caricature of ballet. But QB's Cy-gents was something else. Dressed in male practice attire, with the addition of a couple of baseball caps worn backwards (sideways perhaps is better), Liam Geck, Ari Thompson, Luke Dimattina and Kohei Iwamato danced to an arrangement by Janette Mulligan of the Petipa choreography for those Little Swans.
Each dancer performed in a different setting but editing of the four individual performances meant that sometimes we saw different arrangements on screen—each of the four dancing separately across the screen, four shots of one dancer, or some variation of that. Choreographically it was close enough to what we know and love but far enough away that it looked (mostly) as if it were made for male dancers. And the ending! I've never seen a Swan Lake cygnet fall into the 'lake' before. A very special three minutes or so.
I was taken too by Laura Tosar's Nostalgia, which she said was danced in 'the living room of her youth'. What an amazing house that was. It had to have been a set-up? But whatever, it was fascinating.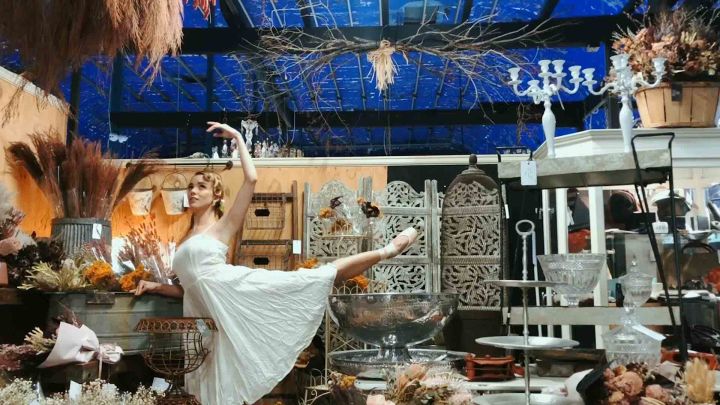 Queensland Ballet's initiative in setting up this project, and the input from the dancers, music team and other support staff throughout June was absolutely brilliant. I only managed to mention around one sixth of what was on offer, but every video clip had a special quality. The company deserves every dollar it attracted.
Michelle Potter, 13 July 2020
Featured image: Cy-gents. Queensland Ballet, 2020