From Chunky Move, 24 June 2011:
Anouk van Dijk as new Artistic Director
The Board of Chunky Move today announced that Anouk van Dijk will take over as Artistic Director following Gideon Obarzanek's departure at the end of 2011.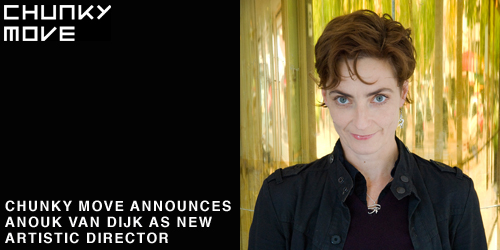 Anouk van Dijk is an internationally acclaimed choreographer, whose work has toured extensively throughout her home country of The Netherlands, and far beyond throughout Europe, North America, Asia and Australia. Her appointment builds on Chunky Move's commitment to supporting the creation of dance that surprises and delights. Anouk's work attracts broad audiences through an approach which is daring, innovative and unpredictable in both its form and context.
Anouk van Dijk began her career as a dancer, and for almost a decade was lead soloist with the Rotterdam Dance Group and Amanda Miller's Pretty Ugly Dance Company. In 1998 she formed her own company, anoukvandijk dc creating work both distinctive and unpredictable which has toured the globe attracting broad audiences and critical acclaim. Her enthusiasm for collaboration with individual artists and companies has delivered vital and exciting co-productions – she is currently premiering the site specific, outdoor work MENSCH on the island of Terschelling (Netherlands), which then relocates (and reincarnates) to the sheds of the former Dutch Dock and Shipbuilding Company in Amsterdam. This follows the presentation of TRUST (a co-production between anoukvandijk dc and Schaubühne Berlin with regular creative collaborator, writer and director Falk Richter) which opened the 2011 Festival Transamerique in May after performing at the Perth International Festival of the Arts in February. Anouk's work STAU performed in Australia at the Adelaide Festival of Arts and Sydney Opera House in 2006.
Anouk van Dijk will commence her hand-over part time from January 2012, relocating to Melbourne in June 2012 when she will assume the full time role of CEO and Artistic Director.