February's dance diary is all about what's coming up in March (and later). What a thrill it is to have events scheduled with a live audience (fingers crossed of course!).
Canberra's next BOLD Festival—the third in a remarkable series inaugurated and directed by Liz Lea—was scheduled originally for 2021. In fact two attempts were made for it to take place in 2021 and both had to be cancelled. But BOLD has weathered the storm and BOLD 22 will open on 2 March with a launch at the National Film and Sound Archive. In a manner that reflects our present environment as much as anything else, BOLD 22 will be a series of events that are both in person and online. It will feature participants from across Australia and around the world. It continues to have as patron the irrepressible Elizabeth Cameron Dalman.
I will be giving a keynote talk entitled And the dance goes on … which will begin with a discussion of Melbourne Theatre Company's 1975 production The Revenger's Tragedy and continue with the surprising dance outcome that resulted from that production.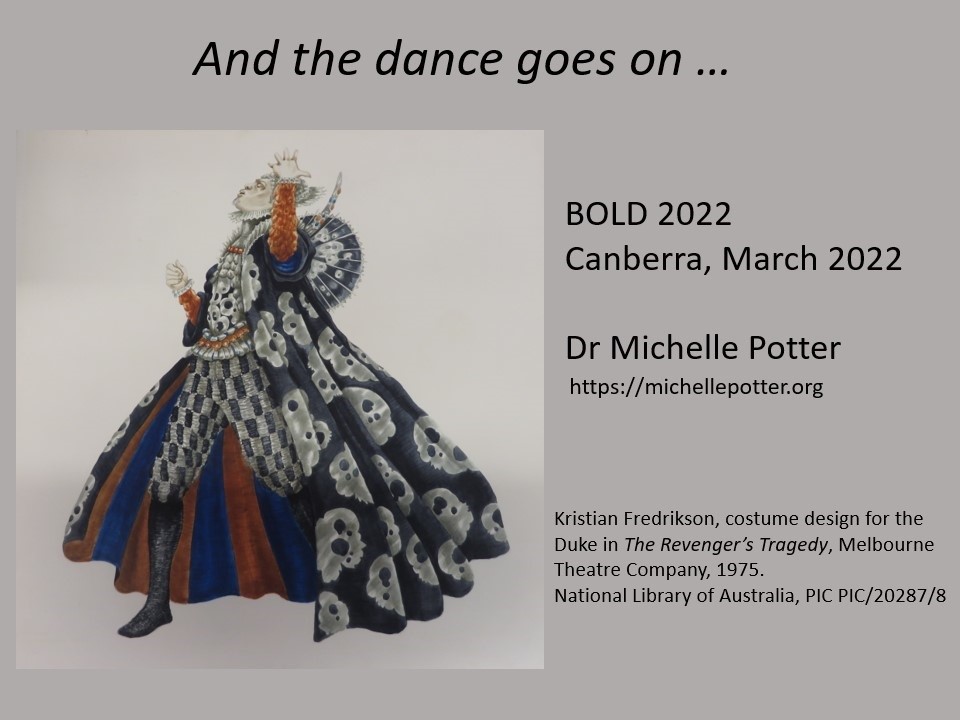 The program for BOLD 22 is at this link.
Redlands Museum in Cleveland, Redlands Coast Area, Queensland, will open its latest exhibition Redland to Russia—Lisa Bolte, my ballet career on 12 March. It will continue through April and May and focuses on the career of former Australian Ballet principal, Lisa Bolte, who grew up in the Redlands area. The exhibition will feature a collection of costumes and memorabilia from the Australian Ballet archive, along with footage of Lisa's life story growing up in the Redlands, and her subsequent career on stage.
I have many great memories of Lisa's performances over a number of years. She was a standout performer in so many ballets but I was blown away by two productions in particular, Stephen Baynes' 1914 in which she danced the lead role of Imogen, and a totally brilliant performance as the lead in George Balanchine's Theme and Variations. But below she is seen in the mad scene from Giselle Act I—a photo taken during a guest performance in Russia.
Learn a little more about the exhibition at this link.
I was scheduled to give a talk in Melbourne for the Johnston Collection in 2021 but, like so many other events, it too was cancelled due to COVID restrictions. Well that talk has been rescheduled and will take place in Melbourne on 22 June. The talk is called Kristian Fredrikson. Theatre designer extraordinaire. More information and bookings at this link.
Michelle Potter, 28 February 2022
Featured image: Poster for BOLD 22 featuring patron Elizabeth Cameron Dalman. Photo: © Jen Brown