I recently had the pleasure of recording an oral history interview for the National Library with Marilyn Jones. I first interviewed Jones in 1990 as part of the Esso Performing Arts and Oral History Archive Project, so this 2015 interview was a follow-up after 25 years. The image below captures, I think, the essence of Les Sylphides and Jones' ability to dance that elusiveness.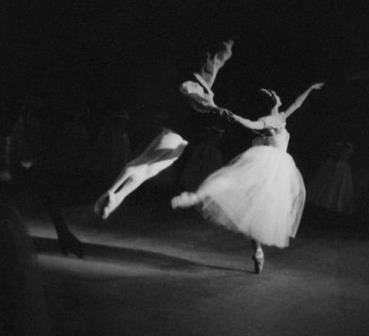 The interview requires written permission for use so will not be available online, but in many respects oral history is for the future. I certainly have become more and more aware of its intrinsic value as time passes. The full story of the Australian Ballet strike of 1981, for example, which took place during the artistic directorship of Jones, is yet to be told. Several interviews in the National Library's collection give a variety of perspectives and await the historian.
Other dance interviews I have recorded in the past six months have been with Peter Bahen, Lisa Pavane and David Deverelle-Hill.
On the subject of the Esso Performing Arts material, there are 41 interviews, not all of which are dance-related, in that collection and a list can be accessed via the National Library catalogue. Many are available online.
It came as something of a shock to learn that Juliet Burnett is leaving (has already left I think) the Australian Ballet. She has given me, and I'm sure many others, such a lot of pleasure over the past few years. Just recently, her performances in the leading roles in Graeme Murphy's Swan Lake and Maina Gielgud's production of Giselle have suggested wonderful things to come. But let's hope that wherever the future takes her she will find much happiness. My posts mentioning Burnett are at this link.
'Visiting dance troupe's double bill a triumph.' Review of Quintett and Frame of Mind, Sydney Dance Company. The Canberra Times, 2 May 2015, p. 19. Online version.
'Circus acts unmissable.' Review of 'Le Noir: the dark side of Circque.' The Canberra Times, 8 May 2015, ARTS p. 6. Online version.
'Magical production of a great Giselle.' Review of the Australian Ballet's Canberra season of Giselle, The Canberra Times, 25 May 2015, ARTS p. 6. Online version.
Michelle Potter, 31 May 2015