Canberra Dance Theatre (CDT) is about to celebrate its 45th birthday and part of its celebrations will take place in Civic Square in Canberra City on 15 October. Amongst other activities, CDT is staging a Great Big Community Dance at 2:15 that afternoon. The media release says: 'There's no need to learn our fabulous dance first. Simply join the group, check out who the leaders are and follow along. It's all about participating, connecting with others, sharing a joyful experience and having a great time.'
The Canberra drumming ensemble Tanamasi will be playing live music and the community dance has been choreographed by Gretel Burgess, Max Burgess, Rachael Hilton, Levi Szabo and Jacqui Simmonds.
Canberra Dance Theatre grew out of the National University Dance Ensemble (NUDE), established by Graham Farquhar in 1970. In 1977 it became Canberra Dance Theatre and was under the leadership of Diana Shohet, Lorna Marshall and Graham Farquhar. Its artistic directors since then have been:
Dr Stephanie Burridge (1978–2001)
Amalia Hordern (2002–2006)
Megan Millband (2007–2009)
Liz Lea (2010–2016)
Jacqui Simmonds (2020–current and Artistic Coordinator from 2018-2019)
The company has had a remarkable history of collaboration over its 45 years and has included collaborations with Aboriginal & Torres Strait Islander Dance Theatre Student Ensemble, Mirramu Dance Company as led by Elizabeth Cameron Dalman, and a list of individual artists too long to mention but who include Phillip Adams, Jennifer Barry, Julia Cotton, Patrick Harding-Irmer, Russell Page, Paul Saliba, Cheryl Stock, and Jade Dewi Tyas Tunggal.
CDT is also the home of the GOLDS, Canberra's much admired group of dancers over the age of 55.
Jack Riley and Nikki Tarling
Once again a portrait of dancer Jack Riley, this time with fellow dancer Nikki Tarling, has made it to the finals of the Art Gallery of New South Wales' prestigious prize, the Archibald. The portrait, reproduced below, is by artist Marcus Wills. Read a little more about it here.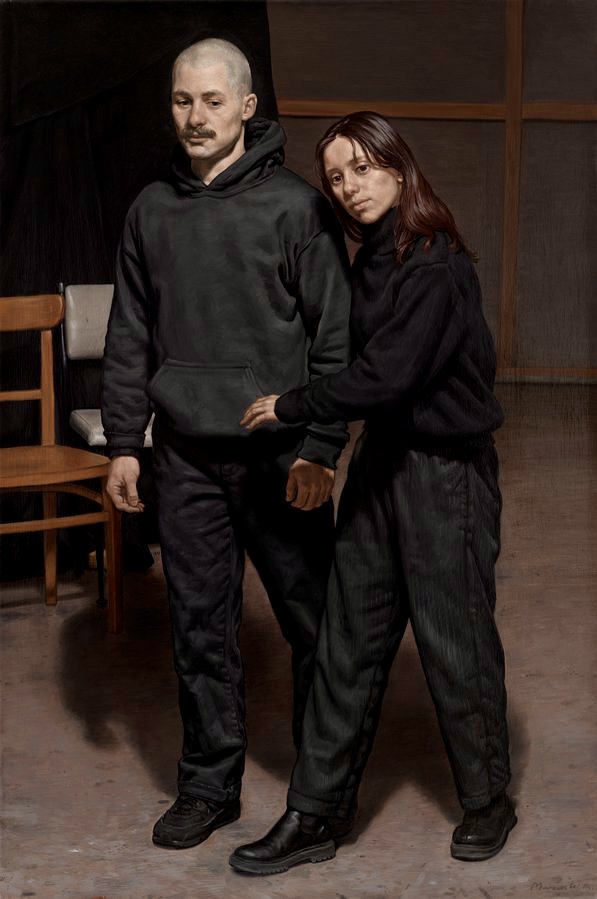 Jack Riley was the subject of another portrait, also by Marcus Wills, which reached the finals of the Archibald in 2020. See this link.
I don't usually write about football or football players on this site, but Ron Barassi, Australian Rules footballer, coach and mentor, is an exception. Barassi died on 16 September 2023 aged 87. His connection with dance goes back to the 1960s when he was responsible for input into Robert Helpmann's then iconic creation The Display. Barassi was called in to ensure that the male dancers in the ballet, who were passing a football amongst each other, were doing so correctly. Barassi is recorded as saying: In 1964 I had the great pleasure of coming to know Robert Helpmann through my involvement on his ballet 'The Display'. In the dance there was quite a lot of football played and Robert asked me to attend rehearsals and advise the ballet dancers on the correct ways of playing Victorian Rules. I did so and although the dancers were impressively athletic, I immediately noticed that they were throwing the football around the room like rugby players. I told Robert this and he was absolutely mortified. From there he worked solidly to get every detail right, as his demand for excellence and accuracy was uncompromising.
Further discussion of various aspects of The Display are at this link.
I bought myself a Bangarra YES T-shirt ahead of the forthcoming referendum on the Voice to Parliament. It was quite expensive as T-shirts go but 50% of the profits from the sales will be donated to the Mangkaja Arts Resource Centre in Fitzroy Crossing, Western Australia. The T-shirt features artwork by Lynley Nargoodah and I can attest to the quality of the product and the beauty of the artwork that adorns the word YES. I think the supply is almost sold out but check here where there is more information about the design.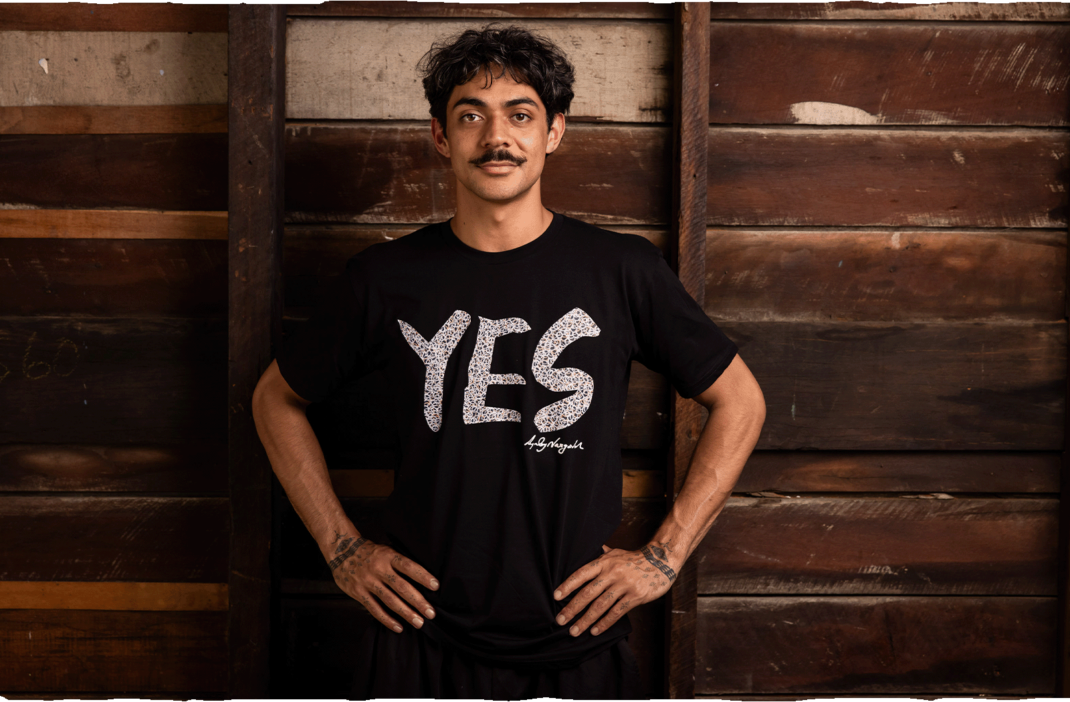 More on Strictly Gershwin
To close this months dance diary here is another photo from Queensland Ballet's fabulous Strictly Gershwin, which I can't get out of my mind! Read my review here.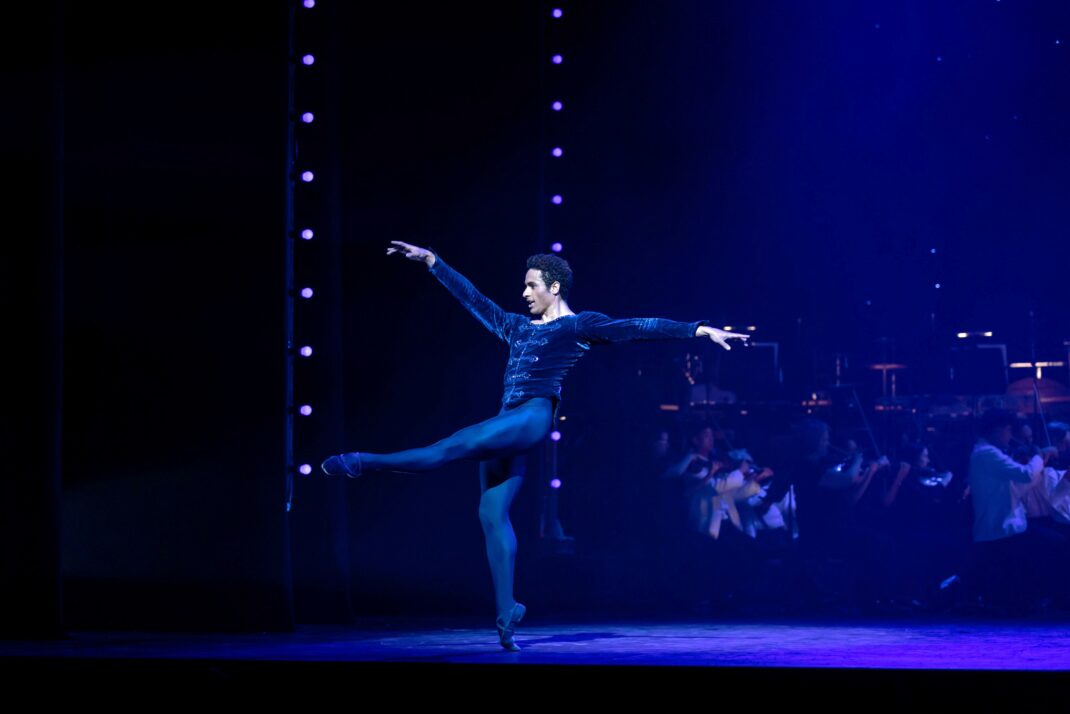 Michelle Potter, 30 September 2023
Featured image: Promotional image for Canberra Dance Theatre's 45th birthday celebrations. Photo: © Jacqui Simmonds