Recently, arts writers and critics for The Canberra Times were asked to choose their top five shows for 2016 for publication immediately before and after Christmas. We wrote and filed our stories in mid-December and, for various reasons I chose only four productions.
But mid-December was before the names of successful applicants for artsACT project funding were made public. The announcement made it very clear that a massive cutback had been made to project funding (more than 60% less money was made available for arts projects than in the previous round). Just one dance project was funded: James Batchelor received $30,000 to develop 'a large-scale new dance performance' at the Playhouse, Canberra Theatre Centre. Had I written the story a little later I would have changed one part of my article. Rather than saying, as I did, But locally made dance has been particularly strong this year and may that continue as well, and be recognised by local and national funding bodies, I would have written 'But locally made dance has been particularly strong this year, and it is a sad indictment of the current ACT government that it has not chosen to recognise the vibrancy of dance being produced in Canberra by locally-based artists, artists who have worked tirelessly to show that Canberra is a place where dance can flourish throughout the year.'
Perhaps I would also have changed my final sentence as well, but that would have assumed that locally-based artists might have given up. But dancers don't give up. They find ways to keep moving right along.
Here is my Canberra Times story as published this morning, although slightly altered to include what was cut and, for variety, with a slightly different selection of images. The story is also available online at this link.
Much of the dance that audiences have seen in Canberra in 2016 has been refreshingly 'underground' in that it has been a little non-conformist in terms of where it has been performed and who has performed it. Our national cultural institutions have, for example, been active in hosting small dance performances, sometimes, as with the National Portrait Gallery, as an adjunct to their various exhibitions or acquisitions. We have, of course, seen Bangarra Dance Theatre and Sydney Dance Company, who, to our ongoing pleasure and gratitude, continue to visit Canberra and bring with them their outstanding, more mainstream work. Let's hope that such visits continue as they have done over the past several decades. But locally made dance has been particularly strong this year and may that continue as well, and be recognised by local and national funding bodies.
Without a doubt the dance highlight for me was Great Sport! a site-specific production that took place in various parts of the National Museum of Australia, including outdoors in the Garden of Australian Dreams. The brainchild of Liz Lea, the production was a celebration of movement and sporting history. It continued the focus Lea has had since arriving in Canberra in 2009 on working in unusual spaces and, in particular, on using the Canberra environment and its cultural institutions as a venue, and as a backdrop to her work.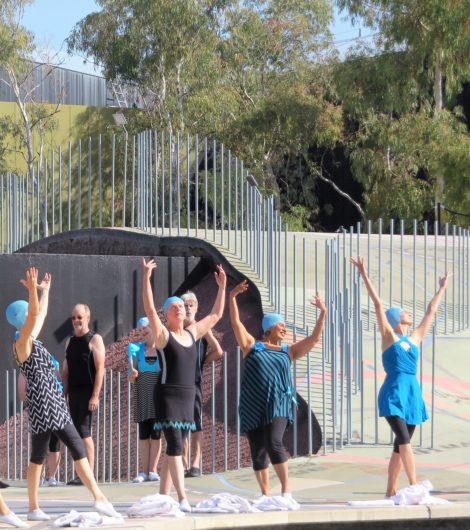 The show had its first performance on World Health Day and, given that the program featured Canberra's mature age group, the GOLDS, as well as two Dance for Parkinson's groups, Great Sport! was also a program that focused on healthy living through movement. Great Sport! showcased the work of several professional choreographers, some from Canberra, others from interstate, all commissioned by Lea to make different sections of the work. One of the most interesting aspects of Great Sport! was, in fact, the way in which the choreographers, all very different in their approaches and choreographic style, were able to maintain and make visible those inherent stylistic differences, while working with community groups in which movement skills were, understandably, quite varied.
What we saw was innately theatrical: outrageous at times, more thoughtful and serious at others and bouquets are due to Lea for her persistent focus on Canberra as a place where dance happens. Great Sport! was an exceptional piece of collaboration and a spectacularly good event.
Then, in a major development for dance in Canberra, Alison Plevey launched a new contemporary company, Australian Dance Party. Plevey has been active as an independent artist for some time now but has often spoken of the need for a professional dance company in Canberra. In 2016 she made this vision a reality and her new contemporary dance company has already given two performances to date: Strings Attached, the opening production staged in collaboration with several musicians from the Canberra Symphony Orchestra in a pop-up theatre space in the Nishi building, and Nervous, a work staged in a burnt-out telescope dome at Mt Stromlo. Again, Plevey is committed to making dance in Canberra and has been persistent in her drive and determination to make this happen.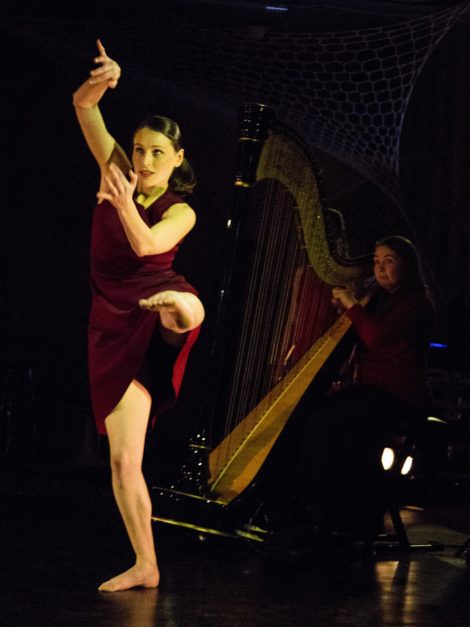 Beyond locally created dance, and of the more mainstream live ventures to come to Canberra, Queensland Ballet's Nutcracker was a pre-Christmas treat. This Nutcracker was danced to perfection by Queensland Ballet now directed by the highly-motivated Li Cunxin, who has moved the company from a not-so-interesting regional organisation to one that has everything to offer the most demanding dance-goer. Queensland Ballet's Nutcracker was a heart-warming performance of a much-loved ballet and it was thrilling to see Queensland Ballet as a major force in the world of Australian ballet. May the company return many times to Canberra.
Beyond the live stage, Canberra dance audiences had the opportunity to see Spear, a film from Bangarra Dance Theatre's artistic director, Stephen Page. Following showings at film festivals in Australia and elsewhere, Spear had a season at the National Film and Sound Archive early in 2016. It was a challenging and confronting film that used dance and movement as a medium to explore the conflicting worlds of urban Aboriginal people: it touched on several serious issues including suicide, alcoholism, substance abuse and racism. Cinematically it was breathtaking, especially in its use of landscape and cityscape as a background to the movement. It was tough, fearless, uncompromising and yet quietly beautiful.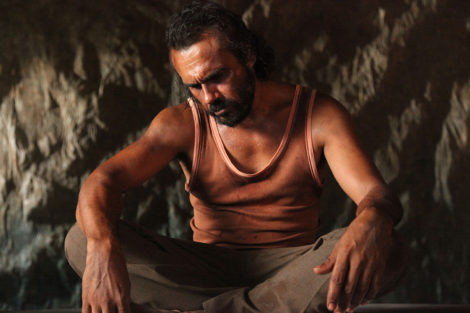 Art attracts art. Dance attracts dance. The dance scene in Canberra is looking more exciting than it has for many years.
Michelle Potter, 27 December 2016
Featured image: The GOLDS in a scene from Gerard van Dyck's 'First and Last' from Great Sport! Photo: © Michelle Potter