14 October 2023. The Long Hall, Roseneath, Wellington
report by Jennifer Shennan
On Saturday 14 October, this past weekend, a gathering at The Long Hall in Roseneath marked the birthdate of Douglas Wright, arguably the most remarkable dance artist this country has ever known. Douglas died on 14 November 2018. Here is a link to my obituary.
If you google the name Douglas Wright, you find 92 million hits. They're not all for our Douglas of course—though they could be, so prolific was his choreographic, literary and visual arts output.
Google cites: Douglas James Wright MNZM (14 October 1956–14 November 2018) was a New Zealand dancer and choreographer in the New Zealand arts establishment from 1980.
The arts establishment? It's s surprise to read that since I doubt many, including Douglas, would see him as a member of The Establishment, whatever that means. (It sort of implies someone on salary in a sinecure job in arts administration, which Douglas certainly never was. All his work lurched from one project to another, and unbelievably his company was never offered secure funding. That was everybody's loss).
Just as hard to fathom is an ACC listing (that's Auckland City Council, not Accident Compensation Commission) of rooms for hire: 'The Douglas Wright Room, which faces onto the carpark at the back of the building, can be booked in combination with the Leslie Comrie room.'
Who is Leslie Comrie, you ask. Born in Pukekohe 1893 (where Douglas was also born, 56 years later), Comrie, a University of Auckland graduate, became an astronomer and pioneering computer engineer. He died in London in 1950, 9 years before Douglas was born, I am not making this up. Perhaps we should hire both rooms for an Auckland party sometime to celebrate both Douglas-es?
The entries for others with the same name include an agricultural researcher, an American playwright, an experienced graduate architect with a passion for narrative design approaches, a commercial cleaner, a professor of medicine at Harvard specialising in Anaestheology and Perioperative Medicine. and a senior lecturer in Actuarial Science and Business Management in London. Perhaps the strangest of all is a 2009 listing in The Times of India 'Douglas Wright, New Zealand dancer—a surprise seminar for teachers' (I think the surprise would have been Douglas'), and the linked profile of someone appointed chief judge of a forthcoming Bollywood dance competition.
'Enough' I hear you cry. But the best of it is that Douglas would have been quite pleased to be listed alongside these illustrious others, since there's a little bit of each of them in him, and the themes in his many works covered or referenced each of their callings, well, most of them.
Thanks to the kindness of Megan Adams, fastidious executor of Douglas' choreographic legacy, we were able to watch video of The Kiss Inside, the last of his full-length works, made in 2015. Recognisable in it are many motifs referencing others of his choreographies so in a sense he is archiving himself as he goes,.
All the cast are knockouts—but Sarah-Jayne Howard, Craig Bary and Luke Hanna, all graduates of New Zealand School of Dance, were just as astonishing as we remember them eight years ago. The film is archival quality only, since there would not have been budget to make that broadcast quality. Here's where the value of dance reviews come in—after the viewing we read Bernadette Rae's very fine review from NZ Herald (it's on line), and my own review at this link. You could also treat yourself to the astonishing photographs by Pippa Samaya of the work. (Two images from Pippa Samaya's exceptional work are below.)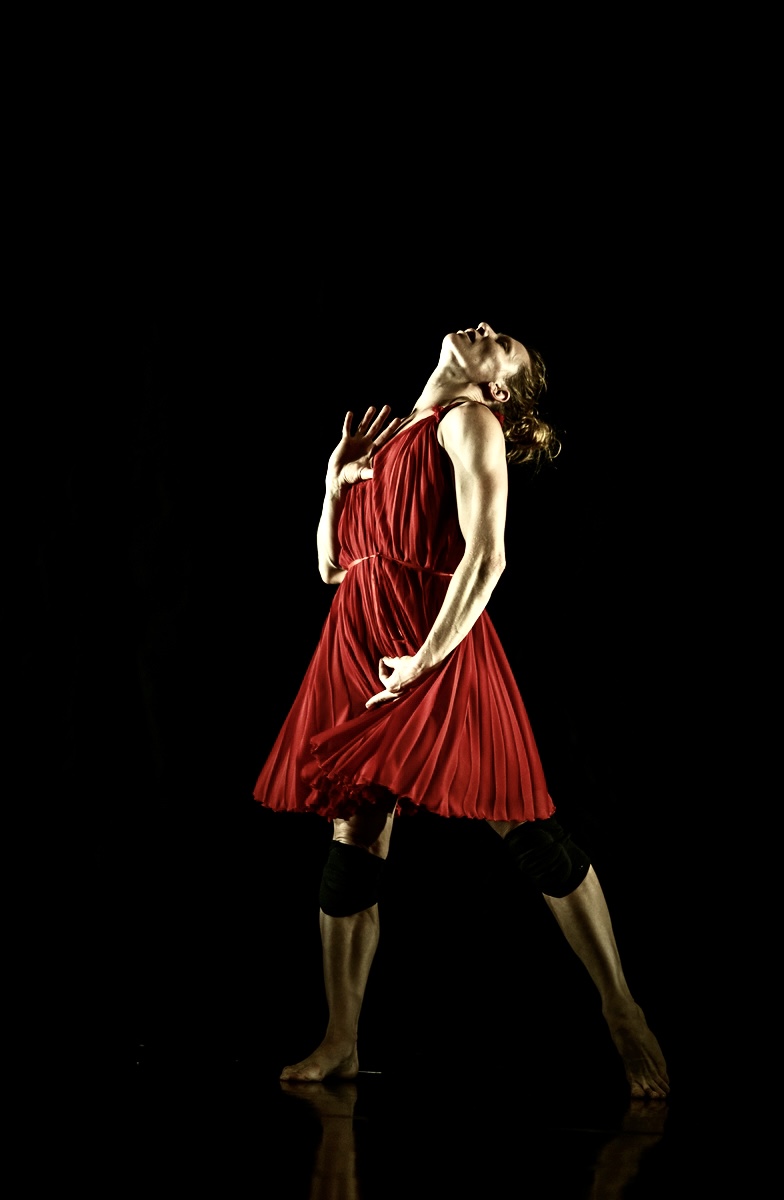 Sarah-Jayne Howard in two moments from The Kiss Inside, 2015. Photos: © Pippa Samaya

Leanne Pooley's documentary, Haunting Douglas, (the word is verb, noun and adjective) is a fine record of Douglas' life and work to 2003, when it was released. It's up to us to remember the works made after that date. Black Milk, fortunately for us, is documented by Douglas in his book Terra Incognito, and also in the superb collection of photographs from the work, by the same name in a handsome edition by Potton Burton publishers.
Tessa Ayling-Guhl was smitten by seeing Black Milk as a youngster. Years later, when studying photography in Berlin, she was driven to request of Douglas that she might photograph him. He eventually agreed, and danced for her in the garden of his Mt Roskill home in 2015, the same year The Kiss Inside was made. The resulting images capture his body and his spirit. A set of these photographs were exhibited, as Geist Dance, in Hunters & Collectors shop gallery in Cuba Street, owned by Chrissie O, long-time friend of Douglas from the years before he became a dancer. Tessa's photographs were again exhibited at The Long Hall so we felt Douglas' presence at the gathering. We are inviting koha towards the purchase of one of the images for permanent display.
Robert Oliver (viola da gamba) Noelle Dannenbring (piano) and Lucas (violin) made special music, David Long and Prue (mother of Lisa) Densem spoke tributes, and messages were read from Roger Steele, Patricia Rianne, Raewyn Hill, Taiaroa Royal and Sean Macdonald.
It has been an easy decision that we should mark every 14 October from now on with a gathering to explore different aspects of Douglas' choreographic legacy. We'll call it Many Happy Returns, Douglas. Please save the date.
Jennifer Shennan, 17 October 2023
Featured image (detail): Douglas Wright, 2015. Photo: © Tessa Ayling-Guhl