As I mentioned late last year, James Batchelor had an unexpected response to performances in Canberra of his work Island. He was offered a chance to be part of an international research expedition to Antarctica. Batchelor left last month, January 2016, on the RV Investigator and now news has arrived from the Southern Ocean on the progress of the expedition. Each day Batchelor has been dancing, writing and drawing in various parts of the ship.
In a recent media release Batchelor says:
'This is an incredible opportunity to be experimental and competely redefine how and where my dancing takes place. It is overlapping the practices of arts and science in a unique way. Being part of this expedition is challenging: it is a complete immersion in a foreign world, where new systems of navigation and communication are constantly being constructed and deconstructed.'
Also aboard the RV Investigator is visual artist Annalise Rees, currently undertaking a PhD at the University of Tasmania. Rees and Batchelor will collaborate on a new work, set to premiere in 2017, based on their experiences and knowledge gained as part of the expedition.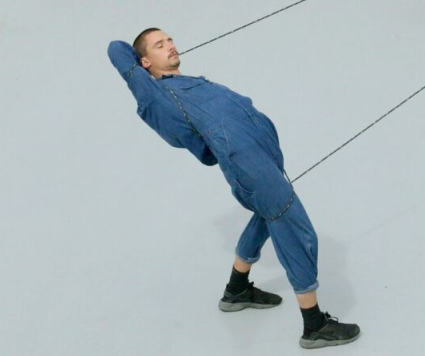 All photos James Batchelor on board the RV Investigator, 2016. Courtesy of the University of Tasmania
Michelle Potter, 9 February 2016
Featured image: James Batchelor on board the RV Investigator, 2016