Laurel Martyn, one of Australia's most eminent dancers, choreographers and dance educators, has died in Melbourne on 16 October, three years short of her 100th birthday. Born in Toowoomba, Queensland, as Laurel Gill, Martyn received her early dance training with Kathleen Hamilton in Toowoomba and Marjorie Hollinshed in Brisbane and in 1933 left Australia for further training. In England she studied with Phyllis Bedells and in 1934 won a choreographic scholarship from the Association of Operatic Dancing (later the Royal Academy of Dancing) with her first composition Exile. She passed all her Royal Academy exams to Solo Seal and in 1935 won the Adeline Genée gold medal, the second Australian to do so in the then short life of the competition, which began in 1931. In 1935 Martyn also arranged the dances for a production of The Waltz King and in the same year received second prize in a choreographic competition, the Pavlova Casket, for her ballet Sigrid.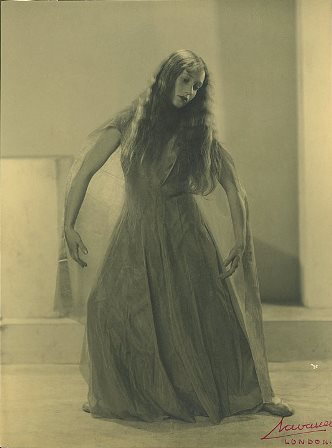 Martyn joined the Vic-Wells Ballet (later Sadler's Wells Ballet) in 1936. She was the first Australian woman to be accepted into the company and by 1938 was a soloist. While in England she changed her name from Gill to Martyn, also a family name. She danced in many of Frederick Ashton's early ballets including Horoscope, Nocturne and Le Baiser de la fée and also spent time in Paris studying with the Russian émigré ballerinas Lubov Egorova and Mathilde Kchessinska.
Martyn returned to Australia in 1938 following the death of her father and took up a position in Melbourne with well-known teacher Jennie Brenan. While teaching for Brenan she was offered the dancing lead in Hiawatha, a pageant produced by T. E. Fairbairn and choreographed by Brenan, which opened in Melbourne's Exhibition Building on 21 October 1939. The ballet cast of 80 was led by Martyn, Serge Bousloff and Lawrence Rentoul. While performing in Hiawatha Martyn was noticed by Edouard Borovansky who persuaded her to join his fledgling Borovansky Ballet, which she did in 1940. Martyn was one of Borovansky's principal artists in the early days of the Borovansky Ballet, along with Edna Busse and fellow Queenslander Dorothy Stevenson. Martyn danced and created leading roles with Borovansky until 1945, including the Spirit of the River in Borovansky's meditation on his Czech homeland, Vltava. While with Borovansky she also restaged Sigrid and reworked what is probably her best known work, En Saga, which premiered for the Borovansky Ballet in 1941.
Martyn left the Borovansky Ballet after her marriage to Lloyd Lawton in 1945. But in 1946, at the request of the Melbourne Ballet Club, Martyn took on the directorship of Ballet Guild, as the Melbourne Ballet Club had renamed itself. She was its director for an extended period. Ballet Guild became Victorian Ballet Company in 1963 and Ballet Victoria in 1967. Martyn was at the helm until 1973. She also established a school associated with Ballet Guild and students from the school augmented professional dancers in Ballet Guild productions. Martyn created many original works for Ballet Guild and Ballet Victoria productions and collaborated with Australian composers, including Dorian Le Gallienne, Margaret Sutherland, John Tallis, Esther Rofe, and Verdon Williams, and Australian designers, including Alan McCulloch, Len Annois, and John Sumner. Some of her works also had specifically Australian themes, notably The Sentimental Bloke (1952) and Mathinna (1954). Other significant works that Martyn made in this period included L'Amour enchantée (1950), a full-length Sylvia (1962), Voyageur (1956) and Eve of St Agnes (1966).
Martyn developed a specific method for teaching dance to children, the principles of which she published in Let them Dance (1985). She also was instrumental in forming the Young Dancers' Theatre, for which she choreographed several works in the 1980s, and the Classical Dance Teachers Australia Inc, which provided in-service training for dance teachers. She was on the steering committee for the Australian Institute of Classical Dance in the early years of its development. Martyn guested with the Australian Ballet as Mar in The Sentimental Bloke in 1985, as the mother of James in La Sylphide also in 1985, as Berthe, Giselle's mother, in Giselle in 1986 and as Miss Maud in The Competition (Le Concours) in 1989. In 1991 she reproduced Michel Fokine's Le Carnaval for the flagship company. In 1997 she was the recipient of the award for lifetime achievement at the inaugural Australian Dance Awards.
Martyn was interviewed for the National Library of Australia's oral history program in 1989 and the interview is available online at this link. See also 'Inspiring Mentors: Valrene Tweedie and Laurel Martyn' published in July 2002 in National Library of Australia News. In addition, a special issue of Brolga: an Australian journal about dance—Issue 4 (June 1996)—was published in honour of Martyn's 80th birthday. It contains the following articles:
Laurel Martyn OBE: a voyager ahead of her time by Janet Karin
In her own words: excerpts from an oral history interview with Laurel Martyn
The choreography of Laurel Martyn, 1935–1991
The smile of Terpsichore: notes on Laurel Martyn as choreographer by Robin Grove
Dancing the Bloke by Geoffrey Ingram
Laurel Martyn and her composers, 1946–1956 by Joel Crotty
Also published in Brolga, in its first issue of December 1994, and under the title 'Silent stories', is Robin Grove's incisive discussion of Martyn's Sylvia.
Laurel Martin Lawton: born Toowoomba, 23 July 1916; died Melbourne, 16 October 2013.
Michelle Potter, 19 October 2013
*This brief biography draws on original research I carried out, first for the National Film and Sound Archive's Keep Dancing! project between 1997 and 2001 and then as part of the early stages of the National Library of Australia's Australia Dancing project beginning in 2002.
Featured image: Laurel Martyn as Remorse in Fantasy on Grieg's Piano Concerto in A Minor, Borovansky Ballet, 1945. National Library of Australia