While in New Zealand to see Royal New Zealand Ballet's Cinderella, I had the pleasure of engaging in an extended conversation with choreographer Loughlan Prior. Not unexpectedly, much of the conversation focused on his production of Cinderella, a production dense with allusions of various kinds.
One aspect of the production that intrigued me was the references to Swan Lake that were noticeable during the show. The first was not enormously obvious, but perfectly clear to anyone who had seen Swan Lake multiple times. It happened quite early in the first act when the image of a bird flew across the digital backdrop. Prince Charming, who was somewhat frustrated by his domineering mother, the Queen, gathered up his hunting gear and set off, clearly with the intention of shooting the bird. Shades of Prince Siegfried in Swan Lake as he sets off after his birthday celebrations to shoot swans! But Prior's Cinderella changes the story when the Queen, in an act that demonstrated her overbearing behaviour, shot the bird first. I learnt later that the bird was a magpie and, to emphasise the Queen's reaction and her overbearing behaviour, a black and white magpie decoration was layered onto the dress she wore to the ball in Act II.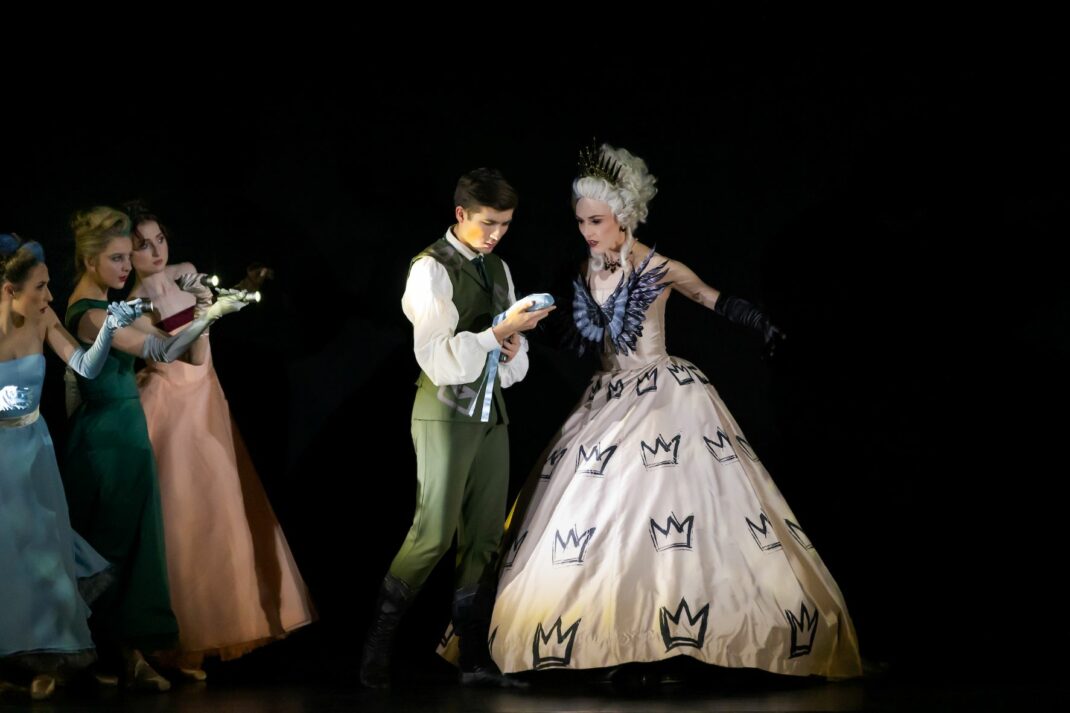 A much more obvious reference to Swan Lake appeared in the second act of Prior's Cinderella, when guests at the ball were dancing and generally cavorting.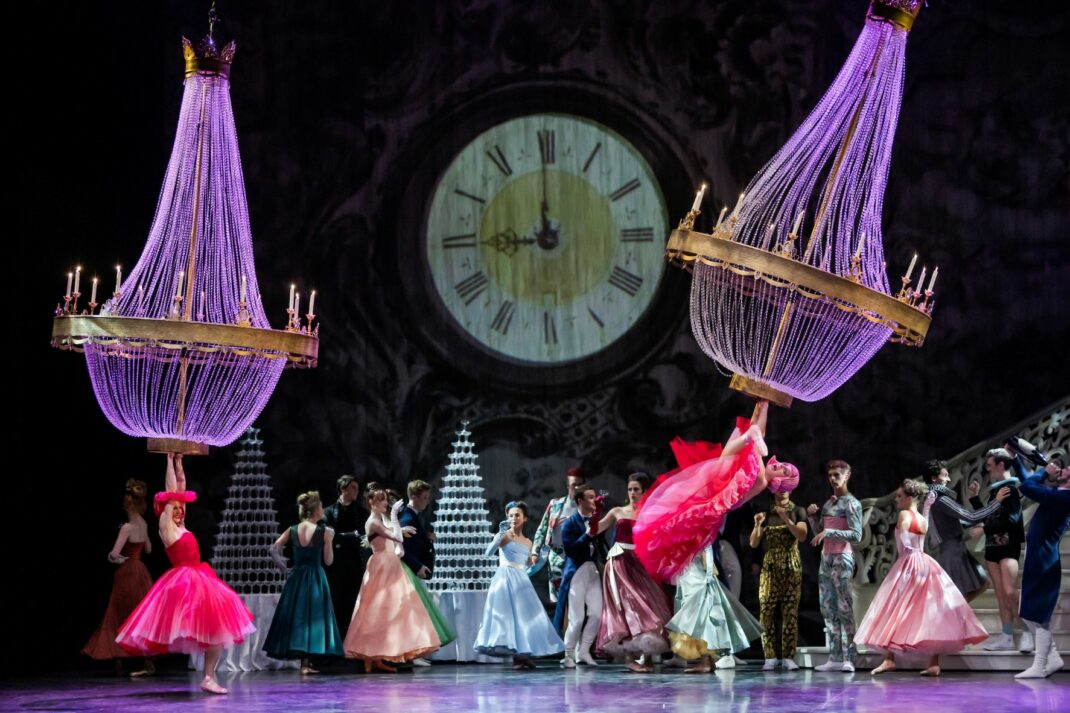 The two Step-Sisters, whose behaviour became more and more outrageous as the night wore on (swinging from chandeliers for example), linked arms and performed steps in a manner that was instantly recognisable. If the arms and movements weren't recognisable to some then the music (performed in this production by a brass band) certainly would have been. Those Step-Sisters were dancing (or trying to dance) the so-well-known Dance of the Little Swans from Swan Lake. Why I wondered?
Prior tells me he had Matthew Bourne's Swan Lake in his mind and also Christopher Wheeldon's Alice's Adventures in Wonderland in which Wheeldon had the Queen of Hearts parody the Rose Adagio from The Sleeping Beauty. But he also added that the Little Swans in this case also referred back to the Stepmother who, he said, was 'an ultra stage-mum' who had had her daughters taught a fabulous dance that they were not capable of doing properly.
'This show is quite irreverent,' Prior explains. 'It pokes fun at various things.' He also uses the words 'eclecticism', 'flamboyant', 'many cultural references' and 'set in a world of excess'. As I wrote in my review, one viewing is definitely not enough to absorb everything about this multi-faceted production.
Prior also spoke of his admiration for and ongoing collaboration with Claire Cowan, composer of the score for Cinderella. 'Claire is not afraid to use unusual instruments,' he says. 'She loves percussion, and there are also four recorders in the orchestra [for Cinderella] giving a medieval feel at times.' With Cowan he has also established a company called Lo Co Arts and the first full-length work from Lo Co Arts will premiere at New Zealand's next Tempo Festival.
Prior, now a dual citizen of Australia and New Zealand, plans to work across Australasia (and beyond). To date his major works have been in New Zealand but he is quite clear that he has to be able to work elsewhere as well. 'It's crucial for me to be working around Australasia,' he says. 'There's not enough work to be choreographing full-time if I'm just in New Zealand.' But, going back to Cinderella, he remarks, 'My real passion is in storytelling. I'm really pleased with what the company has let me do. They trusted me to follow a particular journey.'
Loughlan Prior's journey is one to follow I suggest. See my review of Cinderella at this link.
Michelle Potter, 20 August 2022
Featured image: Loughlan Prior rehearsing Joshua Guillemot-Rodgerson and Shae Berney for Cinderella. Royal New Zealand Ballet, 2022. Photo: © Stephen A'Court