My first encounter with the choreography of Melanie Lane was in 2019 when her work WOOF was part of a Sydney Dance Company triple bill called Bonachela/Nankivell/Lane. WOOF, which two years earlier had been a hit in Sydney Dance Company's New Breed program, was for me the outstanding work on the 2019 triple bill. I had also seen Lane perform, along with Lilian Steiner, in Lucy Guerin's SPLIT in 2018. But really I was way behind the times. Lane had already established herself as a choreographer and performer well before I had the chance to see her productions.

Lane was born in Sydney but grew up in Canberra and undertook intensive training with Janet Karin at the National Capital Ballet School. Lane recalls with pleasure and admiration the influence Karin had on her development and remembers in particular a program Karin staged in 1989 for the school's National Capital Dancers. It featured newly choreographed works by Joe Scoglio (Midstream), Natalie Weir (The Host) and Paul Mercurio (A Moment of Choice). 'Janet was so supportive of new choreography,' Lane says. 'I really got connected with contemporary movement as a result.'
After completing her school studies at Canberra's Stirling College, Lane went to Perth to study at the Western Australian Academy of Performing Arts (WAAPA) from where she graduated with a Diploma of Performing Arts, and where she developed further her interest in contemporary dance and choreography. Between 2000 and 2014 she worked with a range of companies and in a range of cities and venues in Europe as both a performer and choreographer. Now Lane is back in Canberra and her newest work, Metal Park, will be performed by Quantum Leap, Canberra's youth dance company, in a triple bill named Terra Firma.
After the opening in Vienna in April of The Trojan Women, a theatre piece directed by Australian Adena Jacobs with choreography by Lane, and following a brief stint in Heidelberg doing preliminary work on a dance theatre piece due to open next year, Lane arrived in Canberra just two weeks before Metal Park's opening night. I wondered how she would go about teaching the new work, and preparing the dancers of Quantum Leap for the experience.
'I began working with Quantum Leap on Metal Park, which is the first work I have created in Canberra, in January of this year,' she says. 'We had an intensive two and a half weeks of development time. It was a little challenging because of the pandemic, which was at a peak. We had dancers in lockdown, dancers zooming in and a number of other difficulties. Then I had to go back to Europe. But now I'm here and I am looking forward to getting back to work in person with the dancers. I find working with young people quite inspiring. There is something magical about the sense of imagination and creativity they have, and their level of enthusiasm and energy is thrilling.'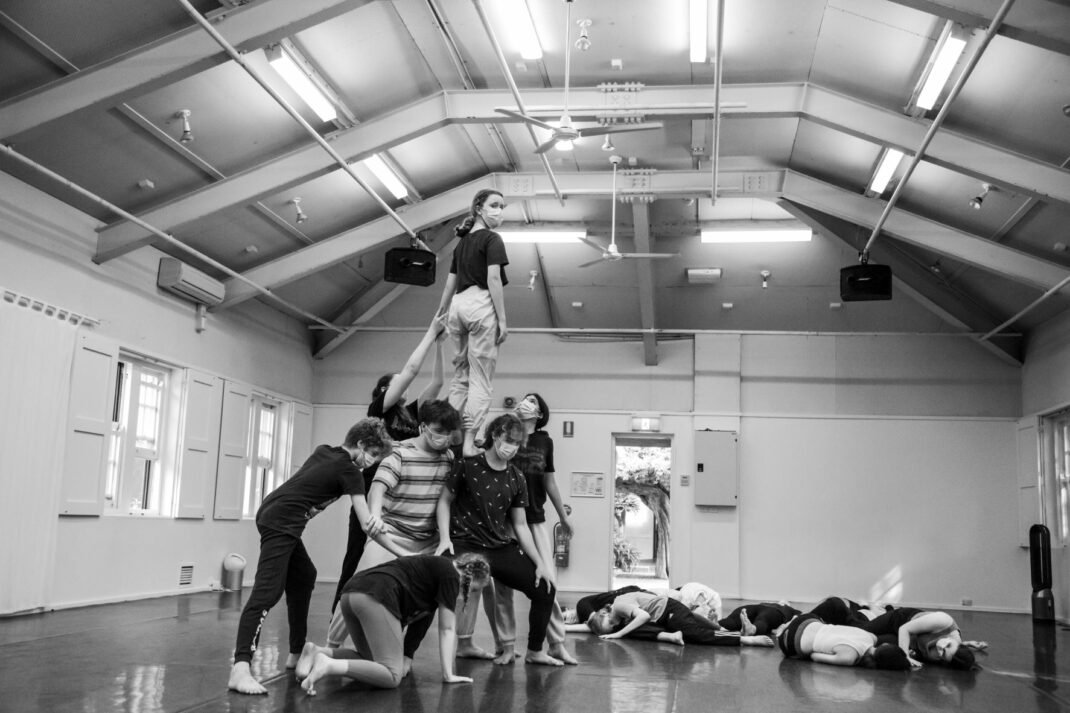 Metal Park is an extension of aspects of some of Lane's earlier works in which she has examined links between the body and objects or props. 'It's about zooming in on everyday reactions we have with materiality,' she explains, 'and using those reactions to question how we relate to our environment. It is a way too of encouraging the dancers to work with materials—objects of various kinds— as part of their practice.' Metal Park will be performed to a sound composition by Lane's partner, Christopher Clark, and will have lighting by Mark Dyson.

We can look forward too to further work from Lane in Canberra. In June she will be appearing at the National Gallery of Australia with Jo Lloyd (details to be confirmed). Also in June the Brisbane-based Australasian Dance Collective will present her work Alterum at the Canberra Theatre Centre as part of a triple bill, Three. She will also shortly start preliminary work on a future production in collaboration with the Canberra Symphony Orchestra. Stay tuned.
Terra Firma, which will include works by Cadi McCarthy and Steve and Lilah Gow in addition to Lane's Metal Park, is at the Playhouse, Canberra Theatre Centre, from 26 to 28 May 2022.
Michelle Potter, 15 May 2022
Featured image: Melanie Lane conducting a summer intensive for her new work Metal Park, 2022. Photo: © Lorna Sim