21 June 2015, Joyce Theater, New York
The Polish National Ballet holds a certain fascination for many Australian dance-goers, given the Polish company's previous connections with Léon Woizikowsky and Raisse Kuznetsova, both of whom toured to Australia at various times. Kuznetsova, of course, also established the Polish-Australian Ballet, which was operational from 1939 into the 1950s. The company's present director, Krzysztof Pastor, also has Australian connections having worked with the Australian and West Australian Ballets. So it was with some interest that I bought myself  ticket for the company's final New York performance.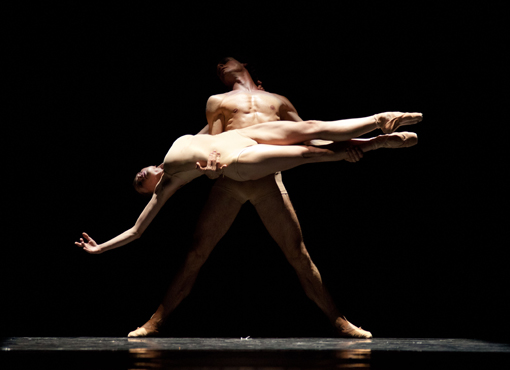 Pastor's current company is composed of strong dancers, if those who came to New York are a guide, and, in addition, the company has been well rehearsed so that their unison work is a pleasure to watch. Choreographically, however, the works performed were rather uneven. Of the three I found Pastor's own Moving Rooms, the final offering on the program, the most satisfying. It began with a male solo of staccato-style movement where arms and legs stretched and bent with incredible speed so that, aided by the lighting design, the dancer's movements often seemed to look blurred. The solo was very powerfully performed by Kristóf Szabó. The duets, solos and unison sections that made up the rest of the work were dynamic and mostly interesting to watch. I'm not sure, however, that 'a pure play of moods and emotions', which Pastor spoke of in his program notes, was evident during the work. But it was good, strong dancing.
The middle work was entitled Rite of Spring and it did indeed use the Stravinsky score. But with that any similarities to what we know of other Rites of Spring ended. This Rite of Spring was the work of choreographer Emanuel Gat, again someone whose work is known to some Australians. Made for five dancers, three women and two men, it seemed inspired by salsa dancing, and even the jitterbug. One woman was always without a partner and the changing partnerships sped along before our eyes. But its constant repetitions, and a lot of walking around a very dark stage area, were hypnotic to the point of being soporific. I found myself thinking of other things and drifting off. That is until, towards the end, I was shaken from my weariness by Aleksandra Liashenko, one of the company's principals, who moved towards a rectangle of red light in the centre of the darkened stage and became possessed, arms moving wildly, body shaking. I wanted more but, as Liashenko moved away, another dancer (Marta Fiedler I think) slowly began to wind her long hair into a bun and secured it at the back as she moved into the centre and lay down in the red light. Then the work was over and I wondered what had been the point.
The program opened with another of Pastor's compositions, Adagio & Scherzo, to music by Franz Schubert. Again Pastor commented in his program notes that he was focusing on emotions, but again it was hard not to think of those emotions being highly artificial. The adagio section constantly looked rather grim and the scherzo was filled with forced smiles. But again the dancing was strong and the set design by Malgorzata Szablowska quite beautiful with the back cloth becoming a changing canvas of Rothko-esque projections.
I wondered why this company of such strong technicians in the end did not look as satisfying as it might have. Perhaps it comes down to the choreography. Pastor seems to have created hard-edged movements and, even though those movements flowed nicely, they had little lyricism. There needs to be some variation I suspect.
Michelle Potter, 23 June 2015