9 November 2019. Brisbane Powerhouse
Bespoke is the generic name given to an initiative started by Queensland Ballet a few years ago to encourage new choreography. This year, which is the first year I have managed to catch the show, the selected choreographers were Lucy Guerin, Amy Hollingsworth and Loughlan Prior. Briefly, Guerin is a well-established artist working out of Melbourne, Hollingsworth has recently been appointed artistic director of Brisbane's Expressions Dance company, taking over from Natalie Weir, and Prior is an Australian-born dancer/choreographer currently working with Royal New Zealand Ballet as that company's resident choreographer. Dancers in the Bespoke program were from Queensland Ballet's main company along with the company's Jette Parker Young Artists.
Prior's work, The appearance of colour, opened the program. It began with the dancers, dressed in skin-coloured, body-hugging costumes by William Fitzgerald, grouped tightly together in a circle of light that grew in size over the first few minutes. The choreography was fast and full of sharp movements. At first there was little use of the stage beyond the circle but gradually a wider area of the stage was used and the dancers began to manipulate small square blocks of white, and later coloured, light, which they occasionally used to form geometric patterns in the darkness that surrounded them.
The second section, the most exciting choreographically, began with a duet between a man and a woman and was distinguished by slow motion lifts and movements where bodies drifted across and around each other. The two dancers were later joined by a third, another man, giving more capacity for bodies to be transferred across, around and over each other. As the section came to an end, the woman was left alone on the stage and we witnessed quite suddenly the arrival of coloured light washing across the stage floor.
In the third section the space was filled with colour in clear contrast to the first two sections where black and white light predominated. The choreography once again returned to faster movement, and we again saw a larger cast of dancers.
The arrival of colour was an interesting idea that Prior says was inspired by thoughts of 'human responses to colour emerging from darkness'. The lighting, designed by Cameron Goerg, was quite mesmerising and for me overpowered the dancing much the way the use of film footage so often does when used as part of a dance work. Prior's choreography for the duet/trio in the second section gave most insight into his choreographic talents, but I hope he can avoid having certain features of a work overpowering the choreography.
Guerin's pointNONpoint occupied the middle part of the program. Whatever Guerin might have written about it, I could only think, throughout the entire piece, of the subtitle of Peter Oswald's biography of Vaslav Nijinsky—A leap into madness.
pointNONpoint began with a single female dancer wearing a simple translucent grey dress/overshirt and moving her fingers. Progressively she was joined by more and more dancers, some on pointe (including some of the male dancers), others barefoot. Their movements were usually highly eccentric, and often included odd hand and finger movements. Some dancers had red-coloured fingers. But the choreography was also often predictably balletic—échappés to second position, simple retirés, arabesques and other easily recognised on pointe ballet vocabulary. To say it was a mish-mash of movement is something of an understatement.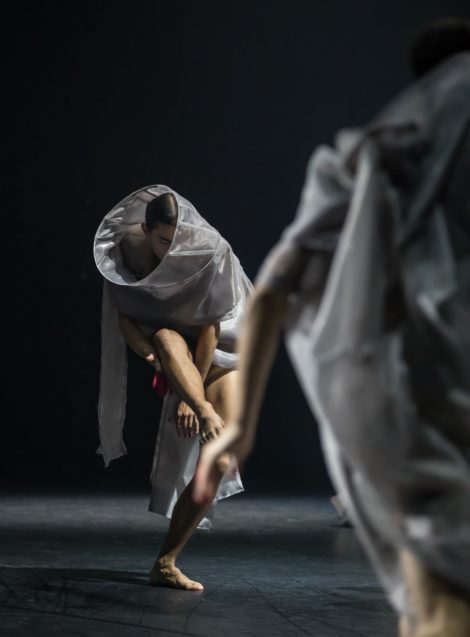 The costumes, designed by Andrew Treloar, got more complicated as each group of dancers joined in. Various kinds of trailing items were attached to the back of the overshirts, while collars, some stiffened and heightened so they almost obscured the dancer's face, were added. On one or two occasions the stage and dancers were suddenly engulfed by red light, and just as suddenly the red light was removed. To me this work was about accumulation and the progressive arrival of dancers into the group, and the build up of items to the costumes both developed this idea. But there were may facets of pointNONpoint that seemed not to add to anything other than eccentricity.
Hollingsworth's contribution, From within, occupied the closing section of the program. After struggling with the vagaries of pointNONpoint it was a relief to see something that was a little easier to watch. It was meant to be an immersive experience and the unoccupied white chair, complete with its own spotlight, situated in an upstage corner was (I assume) meant to be for us, the audience. From within also contained the best performance of the entire program, a beautiful solo from Vanessa Morelli. It was danced almost on the spot but Morelli's exceptionally smooth, flowing dancing was an absolute joy to watch as it coursed through her body.
Choreographically, however, I have to say From within reminded me a lot of what we see from Sydney Dance Company, where movement is meant to evoke emotion. Hollingsworth worked with Sydney Dance under Rafael Bonachela for a number of years as a dancer and then as Dance Director. But despite what seemed like a strong choreographic connection with Bonachela's style, Hollingsworth's directing experience is perhaps why From within looked so focused, so beautifully rehearsed and so easy to watch, with its lovely bursts of humour as Siri, everyone's assistant, was called upon at various times.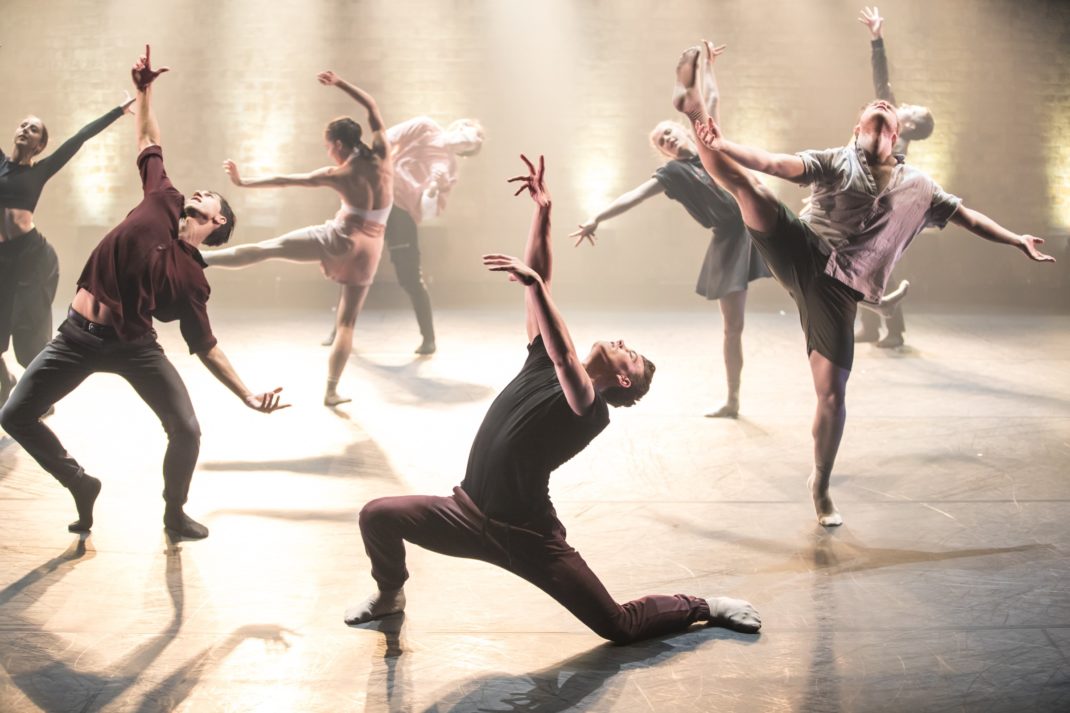 Bespoke 2019 was not the most exciting dance event I have been to this year (or any year). But it's a great initiative and deserves applause for what it might achieve—if not this time.
Michelle Potter, 12 November 2019
Featured image: Scene from Loughlan Prior's The appearance of colour. Bespoke, Queensland Ballet, 2019. Photo: © David Kelly