14 October 2022. Canberra College Theatre. The Chaos Project, 2022
The Chaos Project for 2022 had some features that were a little different from previous Chaos seasons. The most obvious difference, and one that had an effect on how the show appeared (at least to me), was the age range of the dancers. In 2022, QL2 Dance opened its classes to a new, young age range—those aged 5 to 8—and some of the dancers in Big Little Things looked very young. Not only that, the oldest dancer was about 18 whereas on previous occasions dancers in their early twenties had appeared. I have nothing but praise for the way all the dancers performed—and there were many moments of interaction between the age groups. In fact some of the very young ones were extraordinarily theatrical in the way they approached the performance. But the performance definitely had a different feel. Although the Chaos Project has never been regarded as a pre-professional event, there has always been a feeling that some dancers performing in the project were destined to move ahead. That feeling didn't emerge so strongly on this occasion and I couldn't help wondering why?
Big Little Things was in seven sections, although the performance, as it always is with Chaos, was a continuous one with beautifully smooth and logical connections between the end of one section and the beginning of the next. Each section looked at different ways in which we all connect with each other and choreography was by five different artists—Ruth Osborne, Alana Stenning, Patricia Hayes Kavanagh, Stephen Gow and Lilah Gow—always in collaboration with the dancers.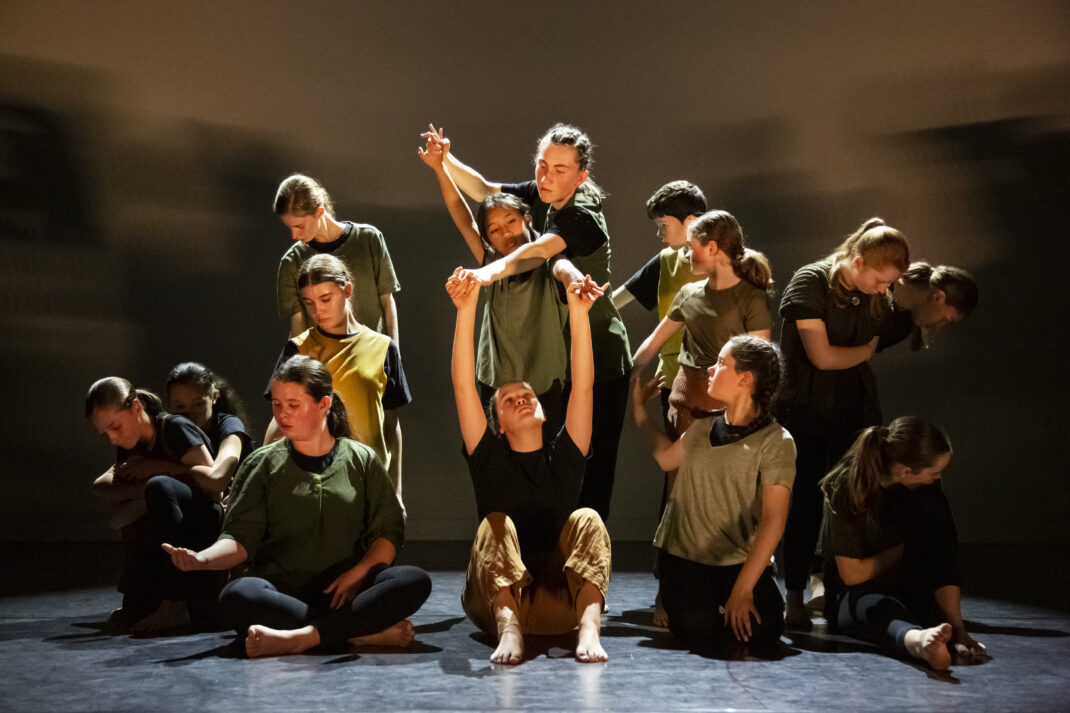 I especially enjoyed the opening section 'Ripples in the Pond', choreographed by Osborne. Its beautiful circular patterns gave real momentum to the section. But Stephen Gow's 'Broken Telephone', made on the male dancers only, was also a highlight. It focused on 'Truthless speculations, diminishing or exaggerating facts. Rumours'. It had some interesting groupings as dancers moved together and whispered to each other. It was subtle and yet obvious and contained some exceptionally fluid and expressive arm movements. I was not so thrilled with the section made for the female dancers only. Called 'I have something to say', it was inspired by protest and the 'power of the voice'. A commendable subject for sure, but the very loud shouting of the sentence 'I have something to say' went on for too long. The point was made instantly and more dancing and less shouting would have been preferable. Ruth Osborne created the finale cum curtain call section, which was, and always is, great entertainment.
Despite a few frustrating aspects to this year's Chaos Project, I always come away with the thrill of seeing young dancers being initiated so well into techniques of stage performance. They are always beautifully trained in how to enter and leave the stage, in how to work as a group, in how to acknowledge each other, and so on. They are always a real credit to those who work with them to produce the show.
Michelle Potter, 16 October 2022
Featured image: Scene from Big Little Things. The Chaos Project 2022, QL2 Dance. Photo: © Lorna Sim