29 February 2016, Rosyln Packer Theatre, Sydney
My review of Sydney Dance Company's double bill CounterMove, comprising Alexander Ekman's Cacti and Rafael Bonachela's Lux Tenebris, has been published on DanceTabs at this link.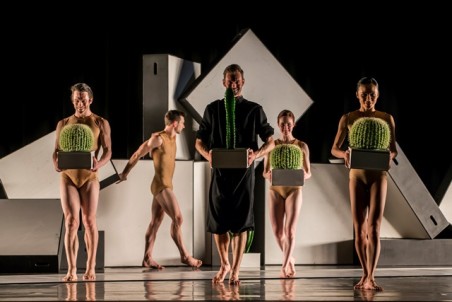 Cacti is making its second appearance in Australia. It was first seen as part of Sydney Dance Company's De Novo season in 2013. This year, however, it will be seen in many more venues. Following the Sydney showing, which concludes on 12 March, Cacti will be seen in the following cities/venues, along with Lux Tenebris, as part of the CounterMove season:
Canberra Theatre Centre, 19–21 May
Southbank Theatre, Melbourne, 25 May–4 June
Regional tour 17 June to 27 August
New South Wales
Wollongong, 17–18 June
Orange, 22 June
Newcastle, 25 June
Port Macquarie, 29 June
Queensland
Rockhampton, 2 July
Gladstone, 6 July
Cairns, 9–10 July
Gold Coast, 15–16 July
Northern Territory
Darwin, 29 July
Western Australia
Geraldton, 3 August
Mandurah, 6 August
Albany, 9 August
Bunbury, 13 August
New South Wales
Bathurst, 20 August
Griffith, 24 August
Dubbo, 27 August
Later in the year Lux Tenebris will be set on the Dresden Frankfurt Dance Company, ahead of a premiere European season in September.
Michelle Potter, 4 March 2016
Featured image: (l-r) Nelson Earl, Holly Doyle, Fiona Jopp and David Mack in Lux Tenebris, Sydney Dance Company, 2016. Photo: © Peter Greig