13 October 2017, Theatre 3, Canberra
This year the annual Chaos Project from young Canberra dancers aged from 8 to 18 had the theme of difference. Alison Plevey, currently acting artistic director of QL2 Dance while Ruth Osborne is undertaking research overseas with a Churchill Fellowship, writes, '…it explores how we are the same, what makes us different, how do we feel about being different, do we feel pressure to do, think and look the same, and ultimately Not like the others celebrates the joy and power in difference. For young people, being able to be themselves and to feel comfortable in doing so, is critical and the dancers, whether they were 8 or 18, and whatever their level of emotional maturity, embraced the seven separate sections that made up Not like the others with gusto. Using dance as an educative tool is one of the great strengths of QL2 Dance
This year the three choreographers working on the show, Alison Plevey, Steve Gow and Jack Riley, made sure that in each section the theme was very clear. The younger group had a strong section, Square Peg, in which there was an exploration of how they saw themselves. 'I was born in Canberra' said one young dancer, and all those who identified in this way grouped themselves with her. Another dancer said 'I can whistle through my teeth' and the same thing happened, with appropriate accompaniment. And so on. It was a simple, but effective exploration of the theme, and was the work of Plevey.
I especially enjoyed the section by Steve Gow for an older group of dancers. Called 'Virtual Identity', it looked at social media as a way of conforming to expected notions about who we are: 'Get the perfect picture', 'Write the perfect post' and so on. Visually and choreographically Gow made an arresting statement about conformity and I admired the use of masks to get across the idea of conformity and the lighting (Kelly McGannon) of this section. Gow's use of groups of dancers in constantly changing arrangements made this section simple but powerful.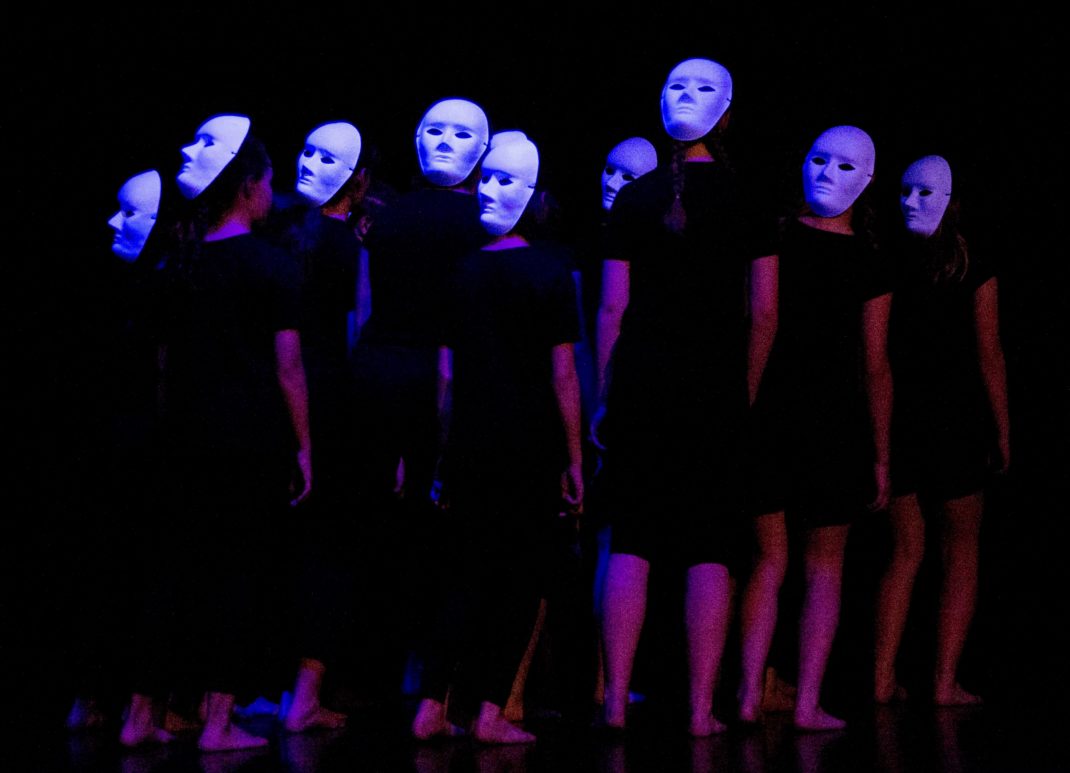 Probably the most sophisticated section was Jack Riley's 'Allone'. It explored the idea of the power one person can have in society. Riley used probably the most senior of the dancers to examine this idea and made use of long wooden sticks as props to symbolise the roles one might have in society. I have admired Riley's shorter works on previous occasions. In these situations, he has the ability to structure a work carefully and intelligently, and to use his widely varied movement experience to get his ideas across. 'Allone' was admirable and I suspect its relative brevity was to Riley's benefit.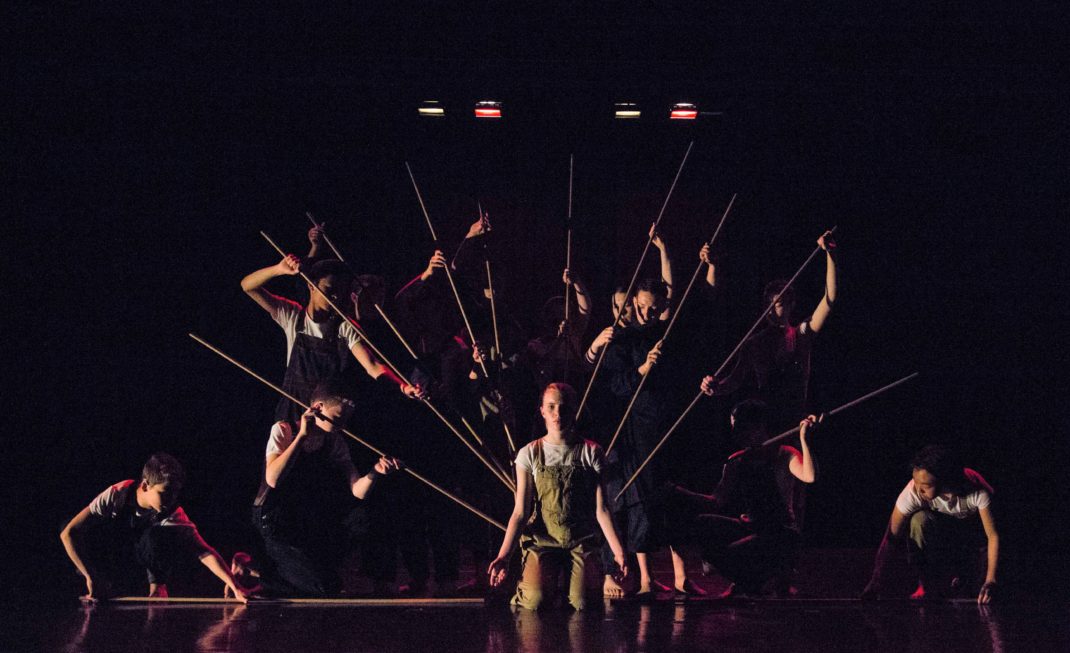 As ever, the closing sections of the QL2 show were expertly choreographed as a continuous part of the show. But the highlight of Not like the others was the strength of its message. Having a good idea for a show is one thing. But being able to put it across to an audience with the power that Plevey, her collaborators, and a bunch of young dancers did deserves much respect.
Michelle Potter, 14 October 2017
Featured image: Dancers of QL2 Dance in 'Square peg' from Not like the others, 2017. Photo: © Lorna Sim