Transports exceptionels. Spring Dance Season, Sydney Opera House, 9-12 September 2010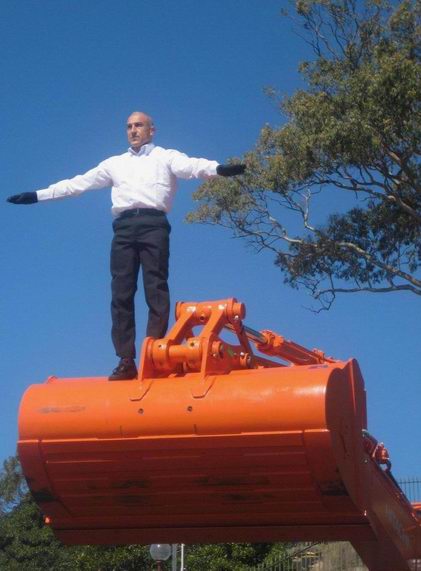 A perfect Sydney spring  day
A large, orange earthmover with driver
The remarkable voice of Maria Callas
A dancer, Philippe Priasso
Billed as a duet for dancer and earthmover, this free event on the Sydney Opera House Forecourt was a remarkably moving occasion as the dancer, Philippe Priasso, engaged fearlessly with a huge piece of machinery. He bowed before it, chased it (and it chased him), stood on top it, lay across it and otherwise moved with and on it. But despite the amazing sound of Callas filling the air, the sun glinting on the tiles of the Opera House sails and the daredevil activities of Priasso, the earthmover and its unnamed driver were the stars. This huge, clunky looking machine danced with such lyricism as its driver made it swing, swoop and swirl. Theatrical!
Listen to Philippe Priasso talking about performing this remarkable 20 minute dance (with excerpts from the dance itself). * (See note below)
Michelle Potter, 11 September 2010
*Postscript, May 2011:  Sadly the Sydney Opera House interview mentioned above is no longer available online and I have removed the broken link. I found a brief clip from a performance in the UK on You Tube. Nothing like the stunning Sydney venue, which also impressed Priasso as he discussed in the interview, but it does give a vague idea of what the work was like.
Photos: Michelle Potter