15 July 2023. Gorman Arts Centre, Canberra
Stars in 3D was yet another innovative program directed by Liz Lea and, as we have come to expect from Lea, it bridged barriers in so many ways. It was performed by Lea's recently established inclusive dance group, Chamaeleon Collective, and was part of a new Canberra arts and innovation festival, Uncharted Territory. It was made in collaboration with two academics working in the field of Astronomy, Professor Susan Scott and Dr Brad Tucker from the Australian National University, with input from the Australian Research Council's ASTRO 3D Centre, and supported by Recovery VR and QL2 Dance.
Stars in 3D was preceded by a talk and discussion with Scott and Tucker, which gave us a background to how Lea's work was constructed and visually presented. Her program notes tell us that it is 'A celebration of the Universe, from chromosomes to mapping the galaxy.'
The performing space, the QL2 black box area in Gorman Arts Centre, was an immersive space with three walls being used for the projection of images of a variety of matter from space. The images, and they were quite extraordinary shots, surrounded the dancers throughout the evening and often had words of explanation superimposed on them.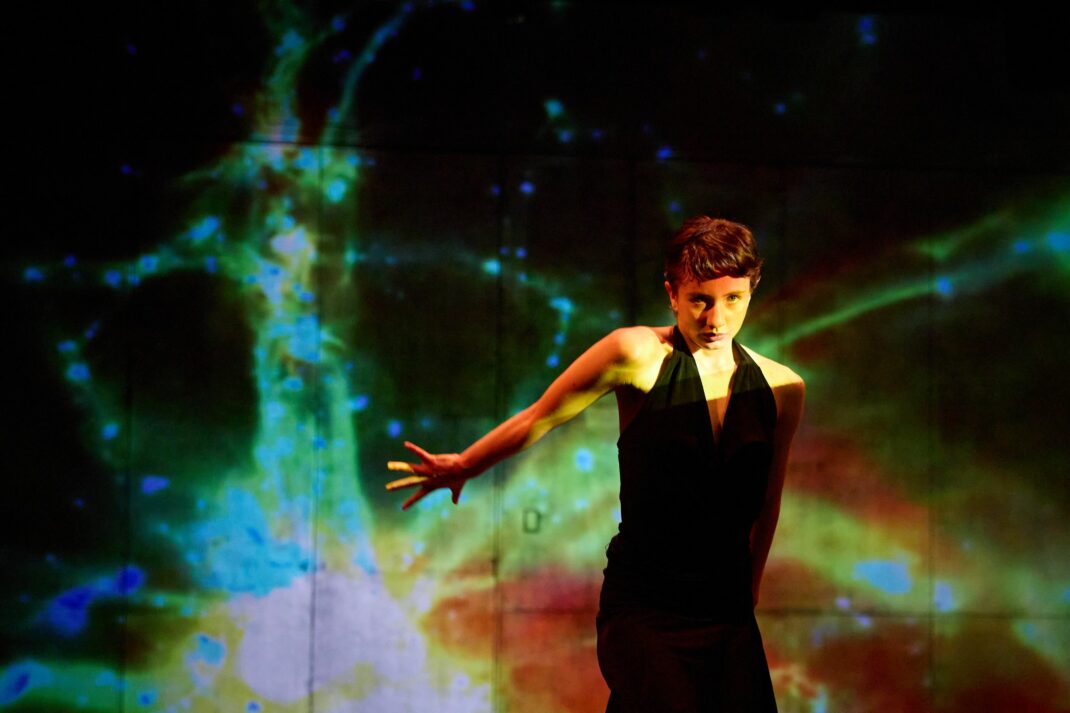 The work began with a solo from Jareen Wee who had been brought up from Melbourne as a guest artist with the Collective. With her beautifully fluid technique and expressive body she was the standout dancer of the evening and her opening dance recalled a solo she performed in Lea's 2021 work The Point.
A highlight was the duet between Lea herself and Katie Senior, a dancer living with Down Syndrome, in which Senior's thoughts on her life and activities were discussed through dance, communication, and film. This duet also looked back, this time to a work Lea and Senior made together in 2017 called That extra 'some. It did, however, take on a new perspective within the context of Stars in 3D and had been extended, I think, with some extra film (there was film there that I don't remember from the 2017 performance!). Perhaps I am wrong on that point but it was a special, and different experience to see it this time.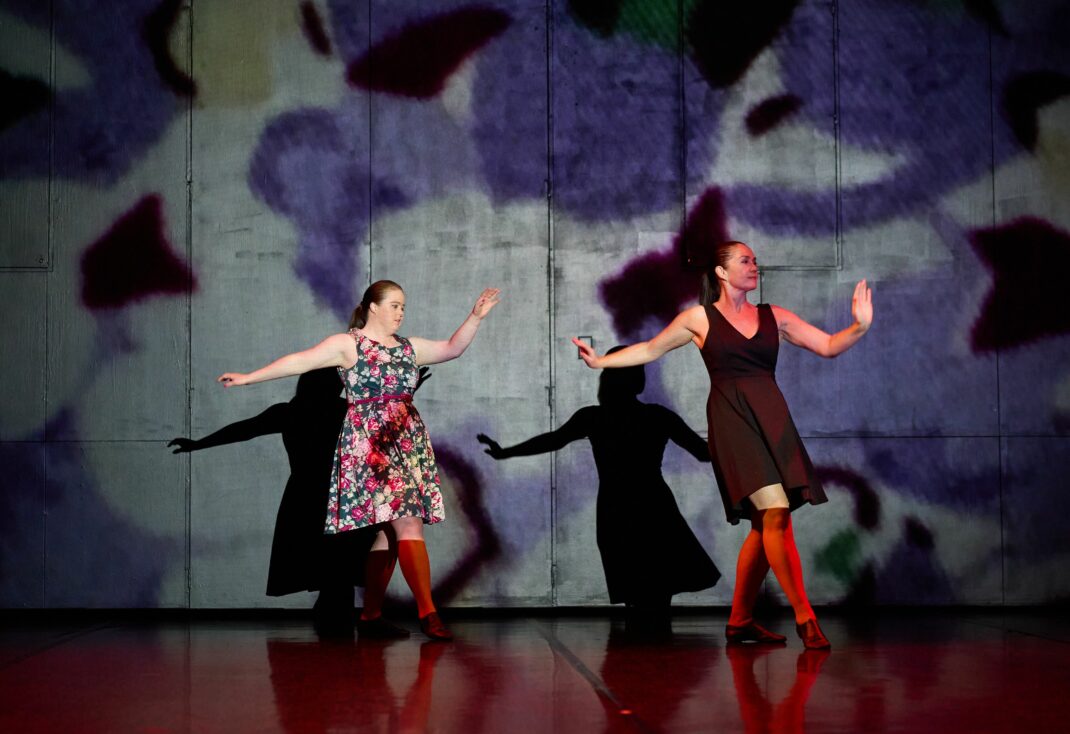 Surrounding the Katie Senior/Liz Lea duet there was a variety of dancing from the Collective, with dancers dressed sometimes in appropriately starry, glittering costumes as they promoted and simulated the astronomical discoveries that we heard about in the pre-show lecture.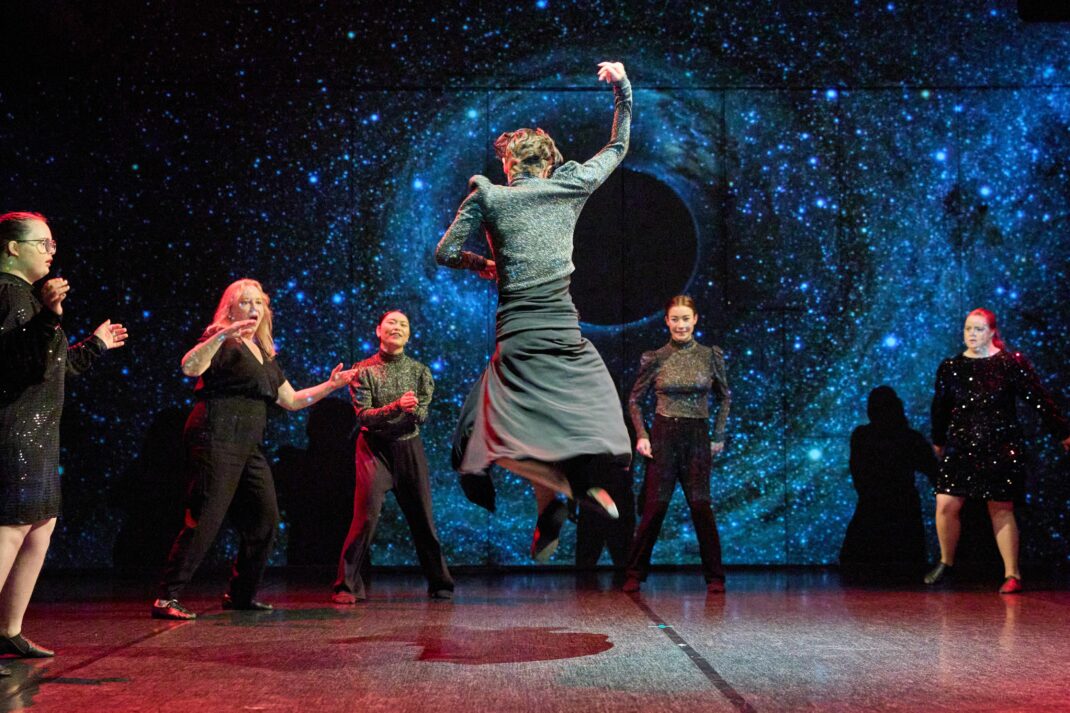 In a brief interlude towards the end of the evening, Lea explained to us how to use the VR glasses we were given at the start of the show. For those who were able to get the glasses working using links on their mobile phone, some films in 3D were available to watch. (Don't ask!)
All in all Stars in 3D was an unusual night, full of new experiences complemented by a diverse range of dancing, and filled with incredible images of a world beyond what we know well. Dance and science—a long-standing theme for Lea since she arrived in Canberra.
On a concluding note, for some time I wondered why the name of the group was Chamaeleon Collective, with that second 'a' in the spelling of the word. I was used to the word chameleon, the name of a lizard family known for its range of colours and ability to change colour and brightness. So why was there an extra 'a' in the name of the group? Eventually I asked Google and it turns out that Chamaeleon is the name of a small constellation in the deep southern sky named after the lizard family. The lizard family is sometimes spelled with that 'a' in there and its scientific name has the 'a' as well. So things became a little clearer and, all things considered, the spelling Lea uses is especially appropriate in the context of Stars in 3D given its connection with investigations into the nature of the universe.
Michelle Potter, 16 July 2023
All images: © Andrew Sikorski