22 & 23 September 2018. National Portrait Gallery, Canberra
The National Portrait Gallery in Canberra has once again supported dance as an adjunct to its exhibition program. In conjunction with So Fine, an exhibition celebrating work made by contemporary women artists, Ruth Osborne has created four short dance pieces under the umbrella title Strong and Brave. The four works reflect selected works from So Fine and use dancers from QL2 Dance—Oongah Slater, Alana Stenning, Serene Lorimer, Akira Byrne and David Windeyer. It perhaps helps to see the exhibition before watching the dance. My observations about the relationships between the art and the dance may not coincide with those of others.
The opening item was, I decided, a reflection on the art of Valerie Kirk who expressed, in captions accompanying the exhibition, her interest in 'textile tradition and culture'. It was a lovely bit of choreography for three women who often worked together but often also separated from each other and became absorbed in the full skirts of the costume they were wearing. It was eminently watchable dancing, and in the end it didn't matter so much about the reference.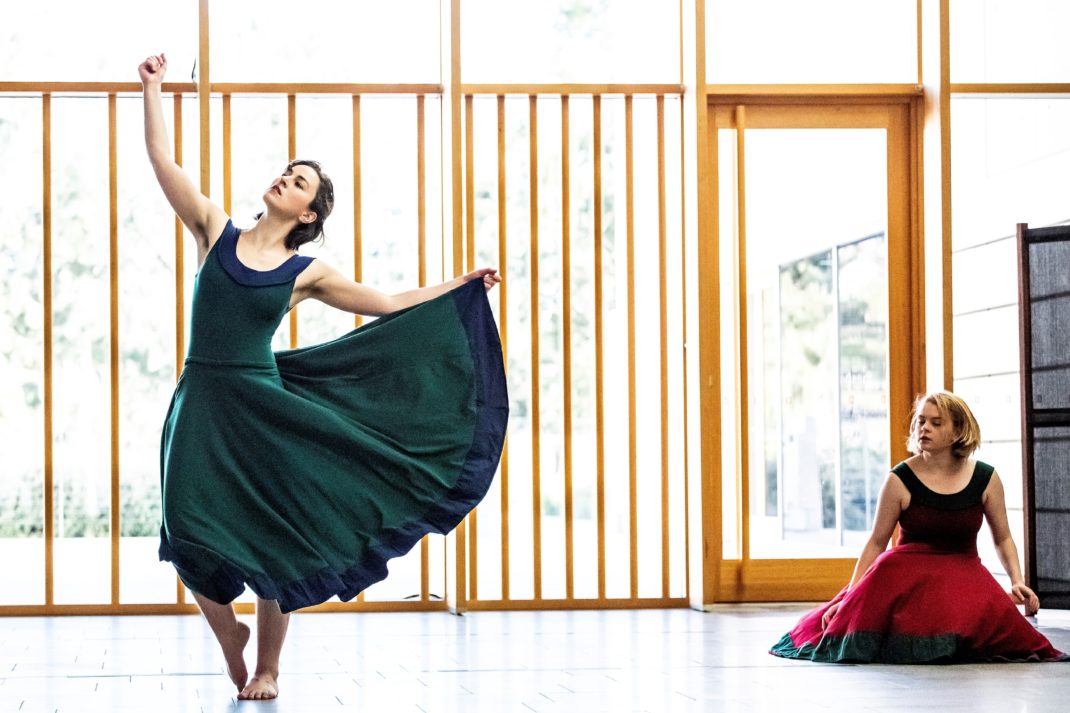 (above) Scene fromStrong and Brave, QL2 Dance 2018. Photo: © Lorna Sim;
(left) Art by Valerie Kirk. So fine, National Portrait Gallery, 2018
The most moving dance item for me was the second piece, which clearly related to images by Fiona McMonagle referencing Britain's child migration scheme by which thousands of children were sent to Australia for 'a better life'. Two young dancers interacted with pleasure and excitement, two grown ups offered comfort on the one hand, but demanded conformity and obedience on the other. Bouquets in particular to the two young dancers who met, interacted and stood together through it all.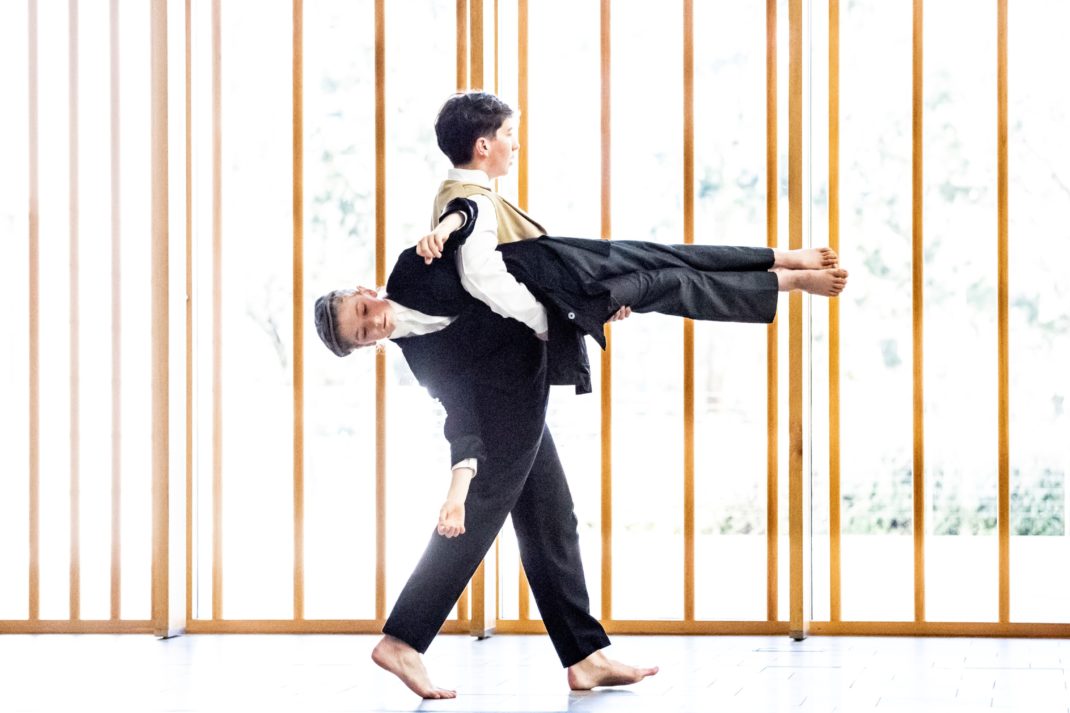 The third work on the program was also moving, although in a somewhat different way. It was largely a solo and seemed quite introspective. It appeared to reflect the art work of Leah King-Smith whose portraits of her Aboriginal mother are presented in the exhibition as layered works using photographs taken by her father, The original photographs have been subjected to a range of contemporary techniques and the finished works have achieved a softly distorted appearance. King-Smith calls her work 'photography dreaming'. Osborne has used a piece of white, gauzy material to achieve a similar look and the work is dreamlike and emotionally affecting.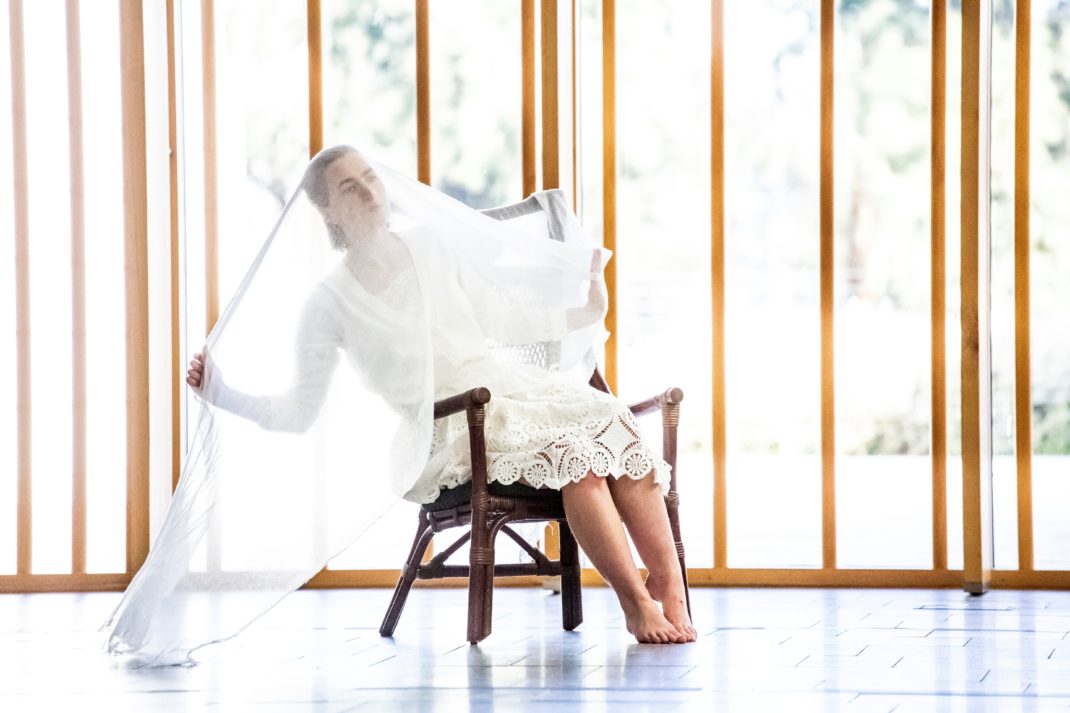 The final work was the least successful, largely because it lacked the subtlety of the previous three works. It reflected the art work of Linde Ivimey who accompanied a friend on a voyage to the Antarctic and made a series of small sculptures based on that journey.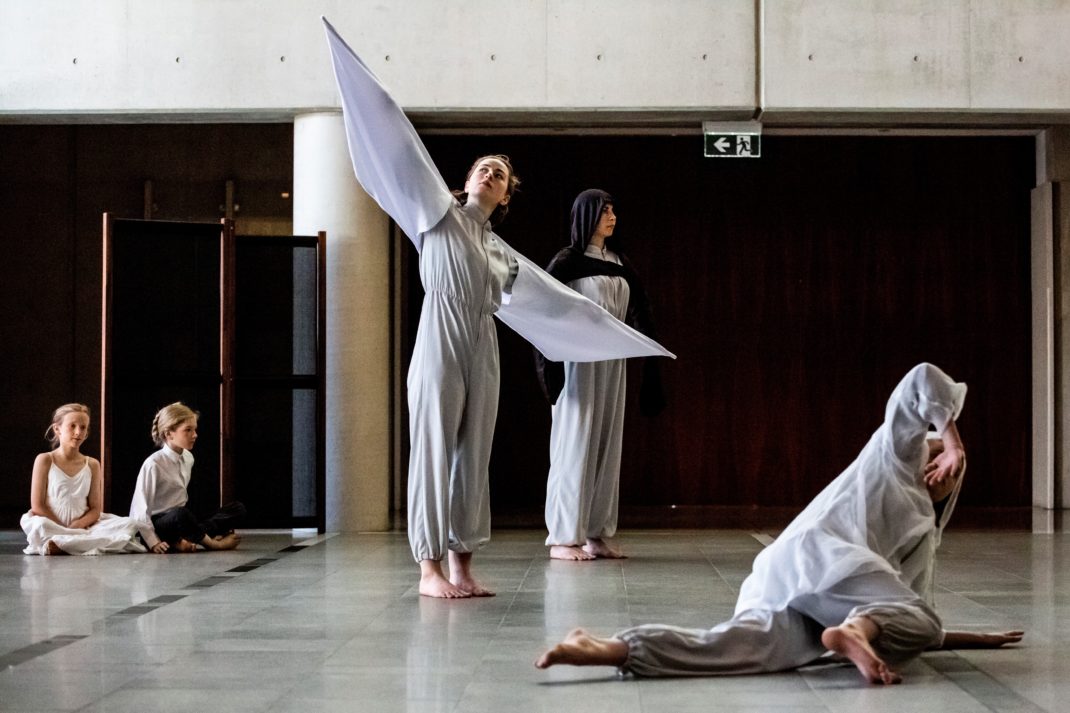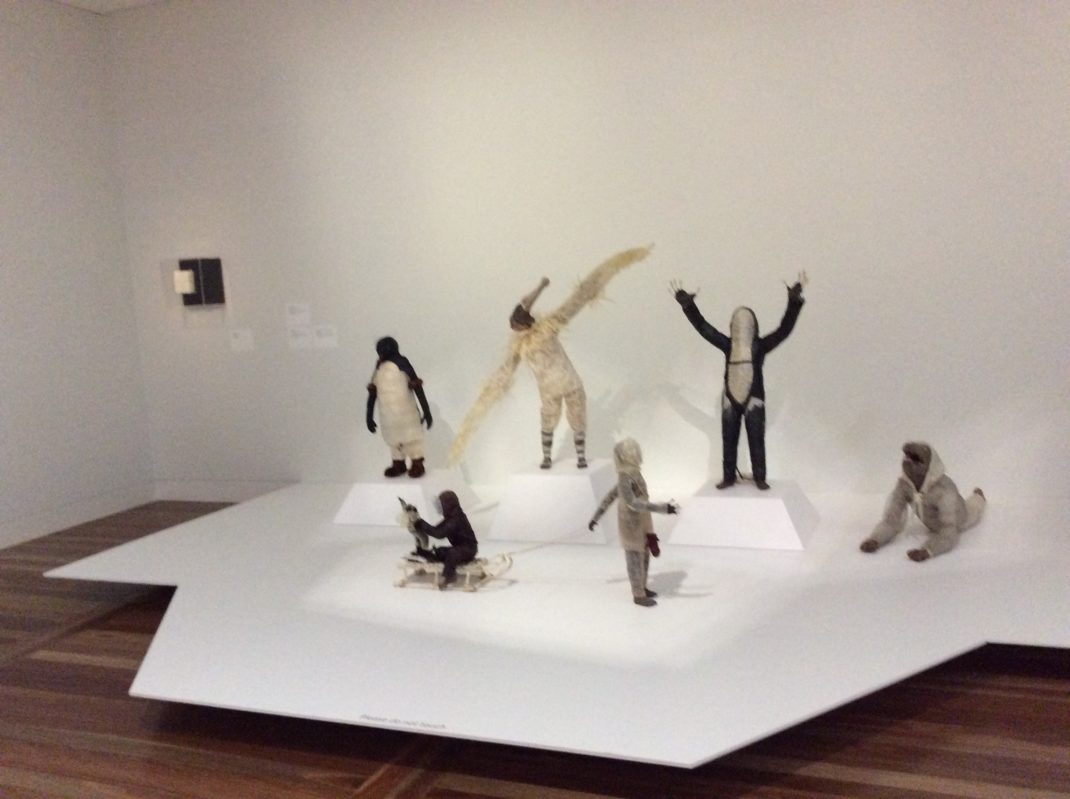 It is a privilege to have seen several of the collaborations that have developed between the National Portrait Gallery and Canberra's dance organisations. The Gallery now has a new director and will also be closing for several months in 2019 for renovations to the building. I hope in these renewed circumstances dance/art collaborations will continue. It gives us an opportunity to ponder about art in both its visual and performing genres. That can only be a good thing.
Michelle Potter, 26 September 2018
Featured image: Two young migrant children in the second movement of Strong and Brave, 2018. Photo: © Lorna Sim