2 September 2017, National Portrait Gallery, Canberra
Canberra's National Portrait Gallery has done it again—commissioned a short, totally captivating dance piece in conjunction with one of its current exhibitions. This time the company involved was the Australian Dance Party, led by Alison Plevey. She gathered together a great mix of young (and not so young) dancers to present an outdoor work on the gently sloping walkway leading to the gallery entrance. The dancers were accompanied by two musicians guesting from the Canberra Symphony Orchestra, Tim Wickham and Alex Voorhoeve, who at times sheltered in an alcove on the side of the building but who, at others, strolled around the dancers and were incorporated into the choreography.
The inspiration behind weave, hustle and halt was Dempsey's People: A folio of British street portraits 1824–1844, a show of miniature portraits in watercolour by British artist John Dempsey of those who plied their wares, or who engaged in other activities, in the streets of London and elsewhere in Britain in the nineteenth century. Plevey has not tried to replicate the portraits in any way but has set out, successfully indeed, to give the audience a feel for the way people might interact with others on the streets today, or at any time really. Yes, there was weaving of bodies, a bit of hustling and some halting as people stopped to observe others.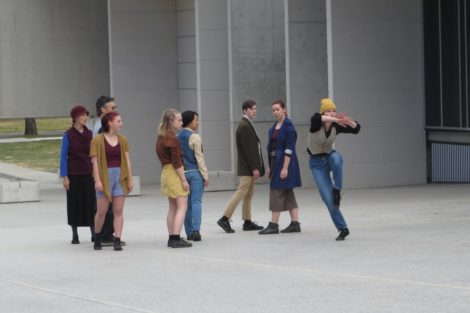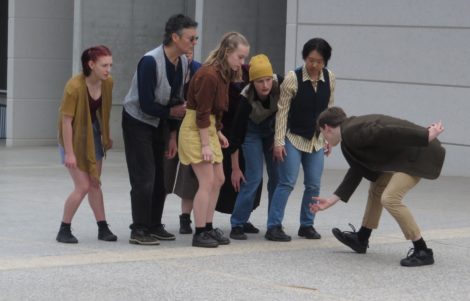 The sound score was an exciting accompaniment with the major part being played on an electric violin and an electric cello. But along with this part of the score there were various street sounds—including the sound of cars in the street and the noise of car horns. In addition the score began with the sound of Big Ben chiming, a beautifully evocative sound and a link back to the original portraits.
Plevey goes from strength to strength with her innovative ideas and her commitment to using Canberra as a backdrop for her work. Her performers did her proud and we can only continue to thank the National Portrait Gallery for coming to the party and bringing us such an enticing presentation.
Michelle Potter, 3 September 2017
Featured image: A moment from weave, hustle and halt, Australian Dance Party, 2017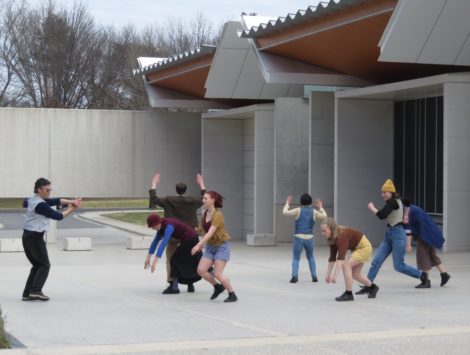 All photos: Michelle Potter