6 November 2017, Royal Opera House, Covent Garden, London
Two new works and one revival made up the Royal Ballet's most recent triple bill. The opener, Twyla Tharp's The Illustrated 'Farewell' should perhaps be described as new-ish rather than new, since it also drew on material Tharp had made way back in 1973 in a work called As time goes by. Tharp's work was by far the most attractive item, in a choreographic sense, on the program.
Sarah Lamb and Steven McRae made spectacular, separate entrances, covering the stage with expansive grands jetés and bringing their trademark joyous approach to their dancing. Such a pleasure to see them. They then proceeded to dance the first two parts of Joseph Haydn's 45th (so-called 'Farewell') symphony, scarcely stopping throughout the two movements to catch their breath. They were perfectly matched as partners, executing Tharp's twisting, turning, demanding movements and making the most of her playful approach at times. A swirl of ballroom steps and even a high-five appeared amongst the more classical moves. It was a virtuoso performance.
Lamb and McRae were a hard act to follow but Mayara Magri held the stage In a solo before the music for the third movement began. Hers was a remarkable display of dancing that showed off both Tharp's expansive yet intricate choreography and Magri's strong technical skills. Then, as the music began, Magri was joined by a corps of dancers, who seemed to appear from nowhere. Both this third movement and the fourth were filled with intricate groupings of dancers sometimes dancing in unison but mostly working separately from each other so the overall patterning looked scattered.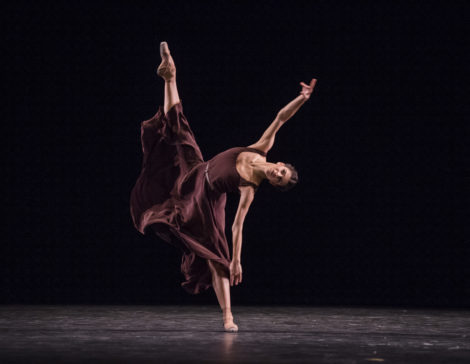 The work finished beautifully with Lamb and McRae appearing unexpectedly upstage on a raised black platform against a black background. They kneeled in a kind of homage and then disappeared into the black, while below Joseph Sissens, in white trunks and long-sleeved white shirt, melted to the ground in a poignant farewell.
Arthur Pita's work The Wind, danced to a commissioned score by Frank Moon, followed as the middle piece. Based on a story by Dorothy Scarborough written in 1925, which was subsequently made into a silent movie, the ballet follows events in the life of a young woman from Virginia, Letty Mason, who arrives in Texas in the 1880s and is tormented in mind, body and soul by the wind and the bleakness of the landscape. The story is complex and includes, on an obvious narrative level, marriage, rape, and eventual revenge by Mason. But The Wind suffers from Pita's condensing of the story and his efforts to include a dimension beyond the obvious. To achieve this latter he introduces two characters, Cynthia (Wild Woman) danced by Elizabeth McGorian, and Mawarra (the Lost) danced by Edward Watson, who appear to represent Mason's mental state.
In all this Pita leaves little time for including much dancing. In the role of Letty Mason, Natalia Osipova makes a sterling attempt to develop the role but she is given far too little dancing in which to do it. And so it is with the other leading characters—Thiago Soares as the cowpuncher Lige Hightower, who marries Mason; and Thomas Whitehead as Wirt Roddy, a cattle buyer who rapes her.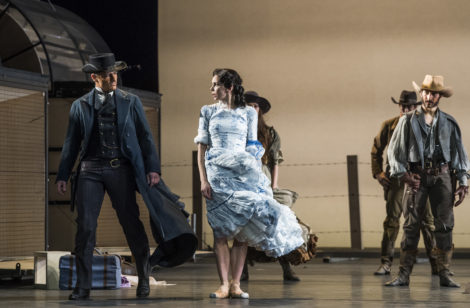 Then there were those three large wind machines that took up a lot of the performance space and blew air across the stage throughout the ballet. I thought they were obtrusive and promoted the idea of the relentless quality of the wind rather too pointedly. Nor am I sure that we needed to see so much wind being generated by the machines. Having Osipova struggling at one stage to keep her wedding veil from either escaping or engulfing her was a little too much.
There was, however, something fascinating about The Wind. Despite the lack of dancing given to some of the Royal Ballet's strongest artists, there was something powerful about the way Pita had distilled the story. There was a starkness to the work, although perhaps this came more from Jeremy Herbert's minimal set (apart from the overpowering presence of the wind machines), and a strong lighting design by Adam Silverman, as much as anything else. It reminded me a little of Agnes de Mille's work, especially her Fall River Legend, and I suspect that The Wind could be revised to have a similar impact as Fall River Legend.
The evening closed with Hofesh Shechter's Untouchable, a work concerning 'moving with the herd' first seen in 2015. There was a lot of militaristic moving around in groups with the occasional breakout by a few dancers to form separate groups. Occasionally I had the feeling that the movement was referencing a folk idiom. The best part was probably the atmospheric lighting by Lee Curran.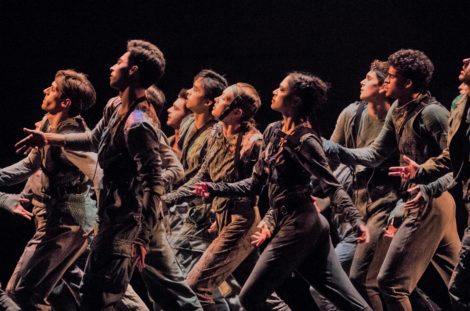 Michelle Potter, 10 November 2017
Featured image: Sarah Lamb and Steven McRae in The Illustrated 'Farewell'. The Royal Ballet, 2017. © The Royal Opera House. Photo: Tristram Kenton.