11 February 2017, Royal Opera House, Covent Garden
The printed program for Wayne McGregor's Woolf Works gives the piece a subtitle: A Triptych. It is a perfect subtitle since Woolf Works consists of three separate pieces but, like a religious triptych, each separate part tells us something about an overall subject. In the case of Woolf Works this overall subject concerns the innovative, poetic writing of the early twentieth century novelist Virginia Woolf. And the work begins with the voice of Virginia Woolf talking about language in a recording made for the BBC in 1937. Her talk was called 'On craftsmanship' and, as she speaks, writing (hers presumably) appears in white on a black front screen. As her voice continues, the writing transforms itself into various white shapes. The lighting changes and the screen lifts. The first section begins.
Although the informative program, innovative in concept and design, never seeks to say what Woolf Works is 'about', for me McGregor brilliantly distills each of the Woolf novels he has chosen to work with into certain intrinsic elements. The first movement, I now, I then, inspired by the novel Mrs Dalloway, shows us the changing nature of relationships across a lifetime, even though the novel takes place in just one day. The second section, based on Orlando and called Becomings, examines the trajectory of the universe across time, just as Orlando takes place over several centuries. It might be called a study in time travel and has something approaching science fiction as an intrinsic element. The third section, Tuesday, is inspired by The Waves and seeks to show us the concept of inevitability.
Of the three sections I now, I then seems to me to be the strongest. If you know the novel, you will recognise the main characters of Clarissa Dalloway; Jenny Seton, the close friend whom Clarissa famously kisses; Peter Walsh, the man Clarissa didn't marry, perhaps to her ongoing regret; and Septimus Warren Smith, the shell-shocked former soldier who eventually commits suicide, never being able to overcome his thoughts about the death of a soldier friend in World War I. But such knowledge isn't entirely necessary as I now, I then stands on its own as a work about relationships of many and varied kinds.
In I now, I then, Alessandra Ferri plays a meditative, slightly distant Clarissa, lost in her thoughts. It was a pleasure to see her back onstage. In another cast, however, I saw Mara Galeazzi in the role and I preferred her performance. She seemed more emotionally involved in the role and, without wishing to detract from Ferri's strong technical performance, I admired the way Galeazzi was able to embody the choreography, giving it quite beautiful shape and fluidity. The various pas de deux between Clarissa and the two men in her life (played by Federico Bonelli and Gary Avis in one cast and Ryoichi Hirano and Tomas Mock in the other) were highlights in both casts.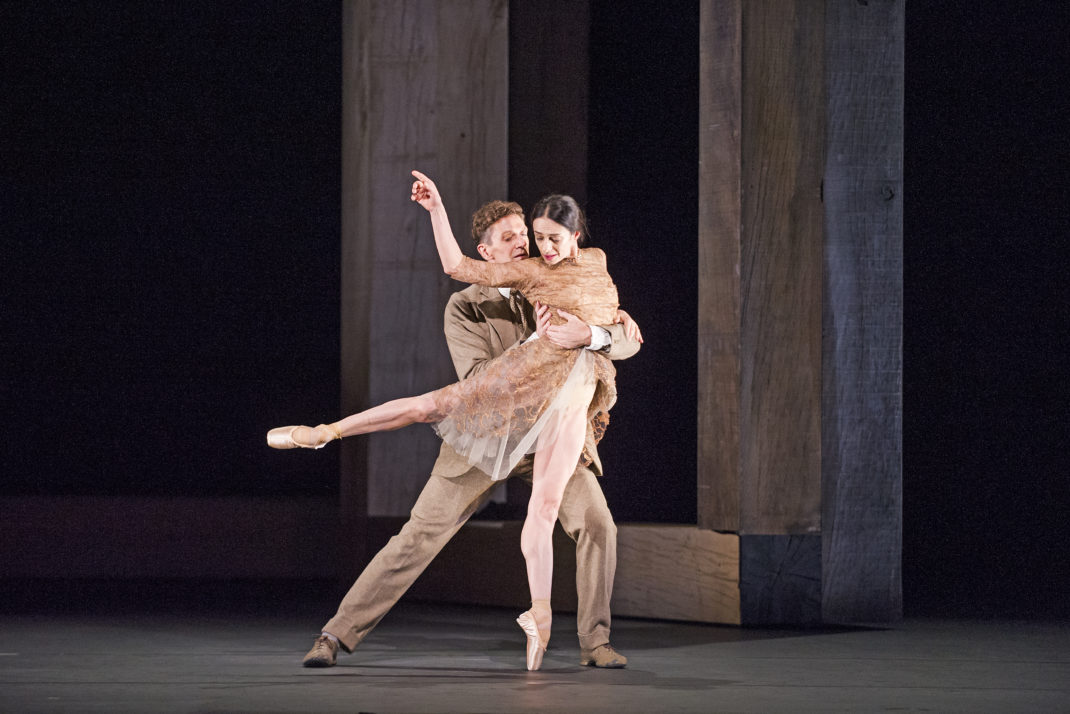 Clarissa as a younger woman and Jenny her friend, played by Beatriz Stix-Brunell and Francesca Hayward (and in the other cast Yasmine Naghdi and Mayara Magri), had some gorgeous choreography, sometimes performed in unison, often fast and joyous, and always full of the pleasures of youth and friendship. They engaged too with Peter, Clarissa's early love interest, while the older Clarissa stood thoughtfully in the background. Again pleasure in relating to others was at the heart of the choreography.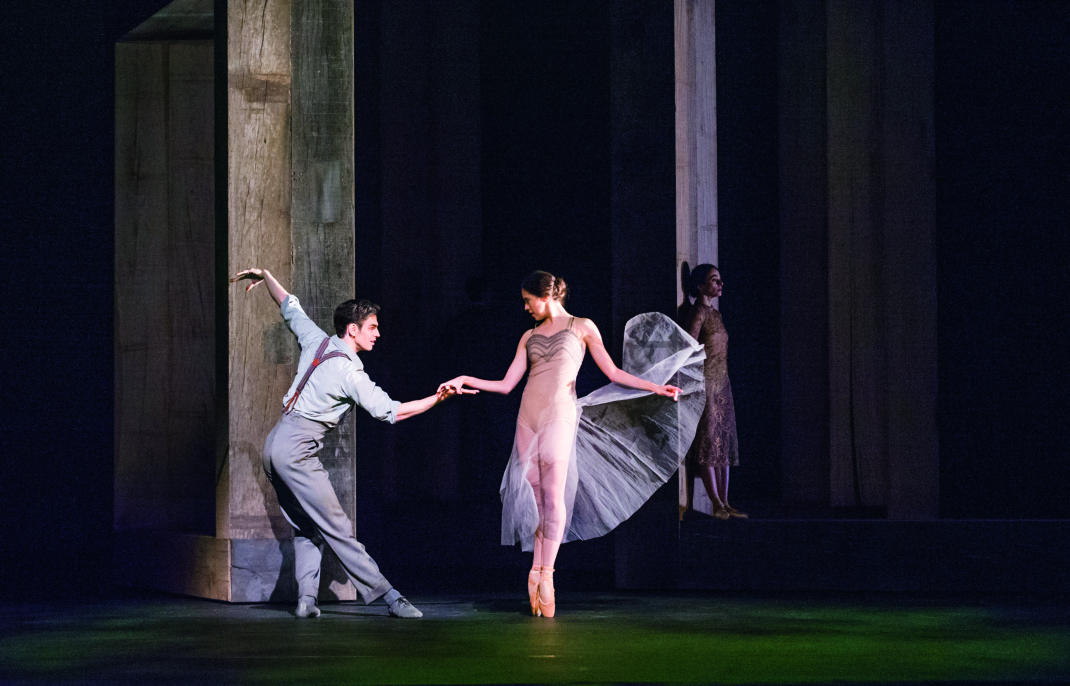 Another exceptionally powerful performance came from Edward Watson as Septimus, whose problematic mental state was made clear as he executed the writhing, twisted choreography.
Strong visual elements in the form of film footage (film designer Ravi Deepres) washed across the performing space and over the set, which consisted of the perimeters of three large, wooden, movable square structures. The footage showed London scenes from the 1920s and, sometimes, the garden of Virginia Woolf's home and, with Max Richter's score occasionally interrupted by the sound of Big Ben chiming, the setting was an evocative one.
Becomings was distinguished by some astonishing lighting effects from Lucy Carter. Although her work is an important and quite beautiful element in all three sections, in Becomings it is nothing short of sensational—as innovative as anything Woolf wrote. It sometimes divides the stage space, other times it beams out into the space of the auditorium. It colours the space, and darkens it too, and laser beams occasionally shoot across the stage.
Among this spectacular light (and darkness as the stage is often submerged in near blackness), dancers appear, clad in an assortment of black and gold costumes that range from Elizabethan garb—Eric Underwood at times wears an Elizabethan-style dress that would have delighted Queen Elizabeth I—to contemporary attire (costume design Moritz Junge). There is some spectacular dancing. Legs stretch and extend in seemingly impossible ways and partnering sometimes takes the breath away. Natalia Osipova and Steven McRae stand out, especially in an early pas de deux where the gender of Orlando is explored (perhaps?). Both also stand out elsewhere in this second section, as does Sarah Lamb who always looks good executing McGregor's flashy, super-extended style.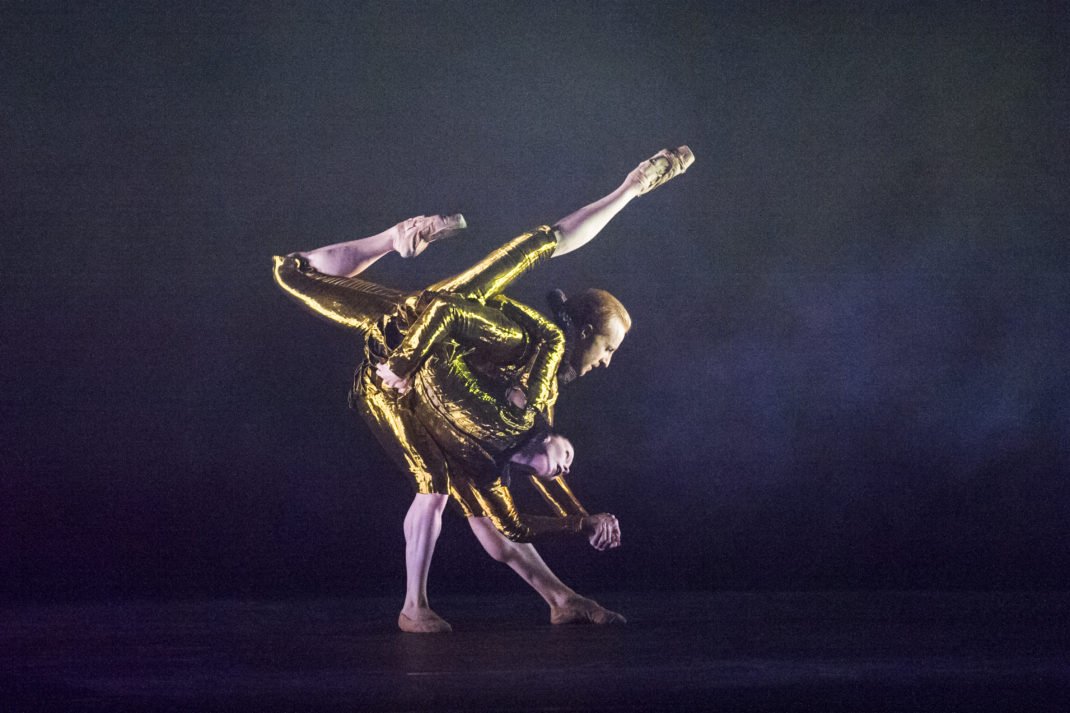 Despite the dancing and the mesmerising lighting display, Becomings did not have the same attraction for me as I now, I then. It was harder to feel where Woolf fitted in for one thing, even given the emphasis at times on gender issues, which Woolf explores in Orlando. But then perhaps the link is that Woolf was always experimenting, exploring, finding innovative ways to use language, as McGregor and his collaborators are examining how collaboration across the arts can give new insights?
The third and final section, Tuesday, begins with half the stage space being taken up by film footage of very slowly breaking waves. A voice-over reads Woolf's suicide note left for her husband before she stepped into the river Ouse, her pockets weighed down with stones. After the glitz and glamour of Becomings, Tuesday was quietly reflective and we felt the slow motion of the waves and the inevitability of time passing.
Clarissa appears alone on stage at the beginning of Tuesday. But her memories continue to fill her mind. Children appear from the darkness beneath the images of waves. They run to her. She is joined by Sarah Lamb (as her sister, Vanessa Bell?). Voices are heard over the music and the names of Vanessa's children are mentioned—Quentin, Angelica, Julian. The corps de ballet dances in wave-like movements. Clarissa stands and watches. Bonelli joins her and they are left alone. Clarissa slips to the floor and the waves retreat.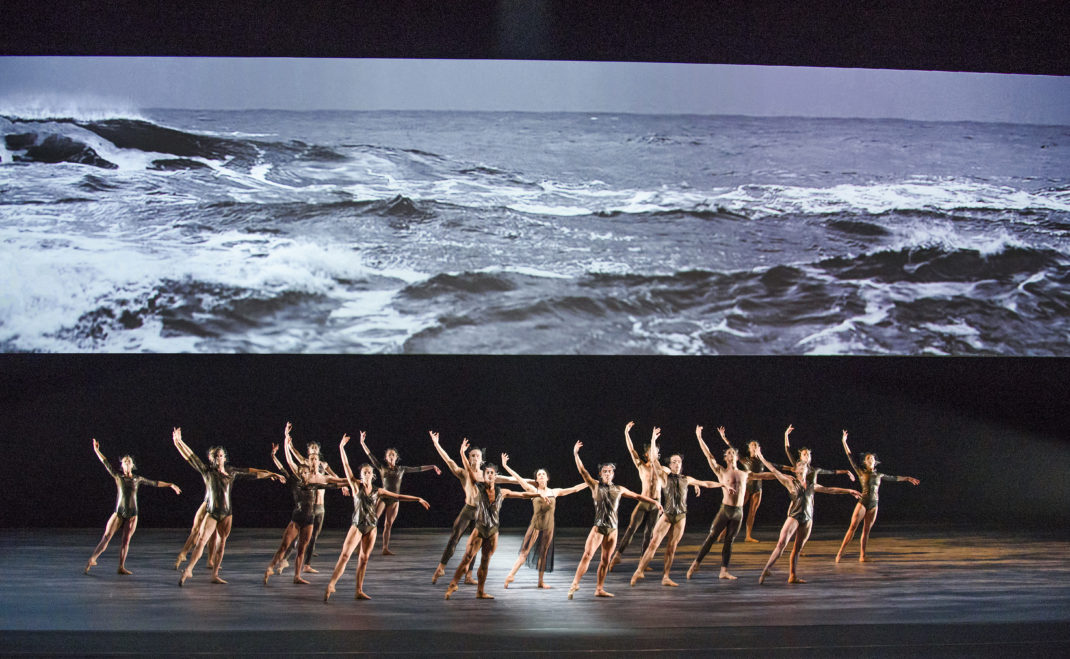 I found Woolf Works a hugely moving work. I'm sure I missed many of the nuances. But I love that I could make up an interpretation (my own if not McGregor's) that sent me out of the theatre fulfilled and wanting to see the work many more times. It is an exceptional collaboration with intelligent minds behind it, including that of a dramaturg (Uzma Hameed). This is how dance should be.
Woolf Works is directed and choreographed by Wayne McGregor and first took the stage in 2015. Its revival in 2017 is part of the Royal Ballet's celebration of McGregor's ten years as the Royal's resident choreographer and the work will be part of the Royal Ballet's repertoire on its tour to Australia in June/July 2017.
Michelle Potter, 13 February 2017
Featured image: Alessandra Ferri and Francesca Hayward in I now, I then from Woolf Works. The Royal Ballet, 2015. Photo: © Tristam Kenton