12 February 2017, Sadler's Wells, London
It has been a while since I last saw Tanztheater Wuppertal live, so it was with some interest that I bought a ticket for Masurca Fogo (Fiery Mazurka). What struck me, pretty much instantly as the show began, was that there might be a lot of dancing in Masurca Fogo. And in fact there was. It seemed as though every one of the twenty dancers in the cast had a dancing solo, and every one of them performed strongly and skilfully. This, I felt, was a company of dancers, which isn't always a conclusion one might draw when watching some other works by Bausch.
What was interesting, however, was the sameness that permeated the solos—lots of emphasis on fluid arms and upper body for example. I couldn't help wondering what the inspiration for the choreography was. Did Bausch, since Masurca Fogo premiered in 1998 when Bausch was still well and truly alive, set tasks for the dancers (a regular part of her choreographic process) from which the movement evolved? Did it involve questions that required focus on the upper body? Whatever was the process involved, it generated, along with the excellent execution of the movement, some rather repetitive moments.
Other dancing moments included a scene where the whole cast crammed into a makeshift beach hut for a dancing party. I also enjoyed the lines of dancers snaking their way across the stage on a couple of occasions, even if this kind of line formation is not uncommon in works by Bausch.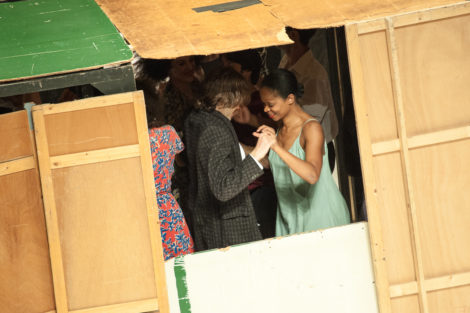 But of course Masurca Fogo also contained all those elements we have come to expect from a work by Bausch—personal stories recounted with all kinds of action, surprising happenings, non-sequiturs, water on stage, women in high heels, men in suits, cross-dressing, and so on. Then there were the animals—in Masurca Fogo we had a live chicken picking at pieces of water melon, and a walrus (not real) lumbering its way across the stage.
But what was the essence of the work? Made as a result of a research period in Portugal and presented at Expo 98 as the fifth work in the World Cities series, it was very 'beachy' in its approach. Swimsuits, sunshine and a summery feel were predominant, but love and desire were at the heart of it all. There were various sexual allusions throughout the piece, including in the closing moments when we saw footage of flowers unfolding as the dancers lay on the rocky hillside that made up the set. It reminded me of Georgia O'Keefe to tell the truth.
I prefer Bausch in her darker moods. She has more to say then that is worth contemplating. But it was good to see the dancers dancing.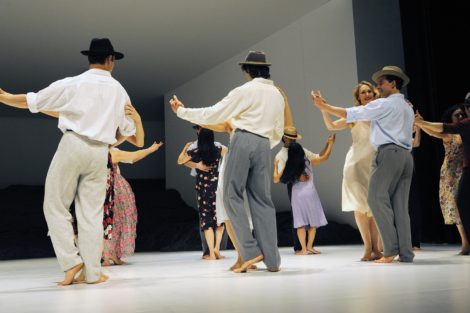 Michelle Potter, 14 February 2017
Featured image: Regina Advento in Masurca Fogo. Tanztheater Wuppertal Pina Bausch. Photo: © Laszlo Szito