Based in Canberra, Australia, Michelle Potter is an independent dance writer, historian and curator with a doctorate in Art History and Dance History from the Australian National University. She is the recipient of two Australian Dance Awards, Services to dance in 2003 and Outstanding achievement in dance on film in 2001. She was inaugural Curator of Dance at the National Library of Australia, 2002–2006, and Curator, Jerome Robbins Dance Division, New York Public Library for the Performing Arts, 2006–2008.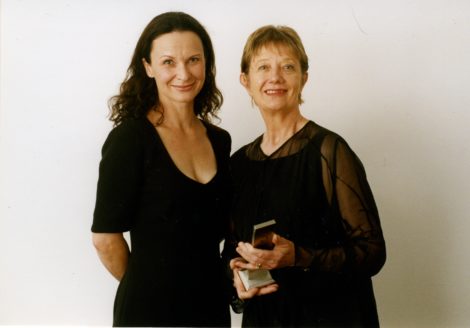 With Australian actor Tara Morice at the Australian Dance Awards, 2001. Photo: Richard Merchant
As a dance writer her reviews and features were published regularly in Dance Australia between 1993 and 2001, have appeared in The Canberra Times between 1990 and 2006 and again since 2010, and continue to be published as chapters in books and in magazines, newspapers and scholarly journals in Australia and around the world including in the United Kingdom, the United States, Germany and New Caledonia. Between 2013 and 2016 she wrote occasional reviews and stories for DanceTabs, thus continuing the writing she did between 2002 and 2005 for ballet.co.uk. Her biography of Dame Margaret Scott, Dame Maggie Scott: a life in dance, was published by Text Publishing, Melbourne, in October 2014. It followed her biography of Meryl Tankard, Meryl Tankard: an original voice, self-published in 2012. She is currently writing a biography of stage designer Kristian Fredrikson.
As an oral historian she has recorded over 130 interviews with personalities in the world of the arts, working for the National Library of Australia, the National Film and Sound Archive, and the Jerome Robbins Dance Division, New York Public Library for the Performing  Arts.
As a curator she has been responsible for two major exhibitions—Dance people, dance (1997–1999), an award-winning, touring exhibition for the National Library of Australia, and INVENTION: Merce Cunningham and collaborators (2007), which she co-curated with David Vaughan and Barbara Cohen-Stratyner for the New York Public Library. She has also curated several smaller shows beginning with Australian Stages (1993) for the National Festival of Australian Theatre directed by Robyn Archer. While working at the National Film and Sound Archive between 1997 and 2001 she co-scripted, researched and directed three dance documentaries, The Ballets Russes in Australia, the award-winning Boro's Ballet, and The Australian Ballet: Opening Act.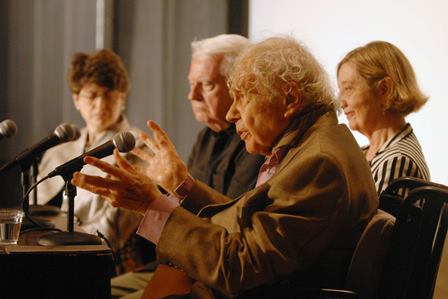 Press conference, Jerome Robbins Dance Division, New York, June 2007. Merce Cunningham (foreground) and (l-r) curators Barbara Cohen-Stratyner, David Vaughan, Michelle Potter
In 2005 she helped choose the winner of the Telstra Ballet Dancer Award and in 2015 joined the selection panel for the Australian Dance Awards. She gave the keynote address at the 2018 RAD Conference in Brisbane in January 2018, delivered the inaugural Russell Kerr Address in Wellington, New Zealand, in February 2018, and in July 2018 participated in the panel discussion Reflections on Marie Rambert at the Cecchetti Conference in Melbourne.
For a more detailed biography, a list of publications, presentations given since 2006, and a list of oral history interviews see the following links: Biography. Publications. Oral histories. Presentations.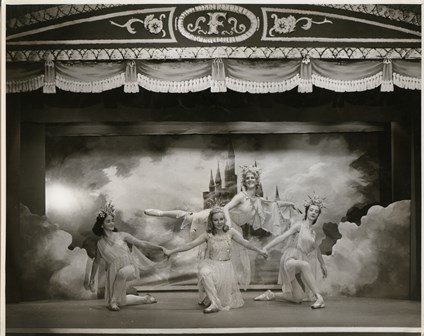 (far right) In 'Cloudland Ballet' from Jack and the Beanstalk, Sydney 1962. Photo: Phil Ward Studios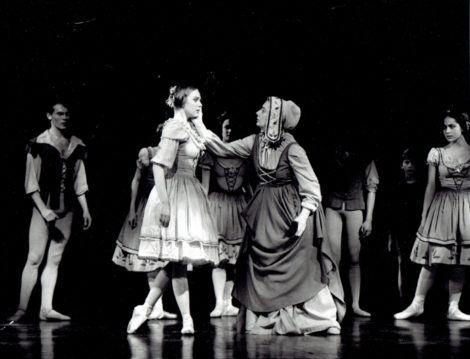 As Berthe in Giselle, with Annabel Reid as Giselle, National Capital Dancers, 1994. Photo: © Alan Chapple
(l–r) Photos by Kay Shortt (1983); Irene Lorbergs (2000); Loui Seselja (2006)
Featured image: Michelle Potter, Canberra 2017.