James Batchelor's performance installation, Island, developed as part of a Housemate Residency at Melbourne's Dancehouse and presented in Canberra in April 2014, has had some outstanding critical response. It received a Canberra Critics' Circle Award in 2014, was lauded by two separate reviewers in the Dance Australia Critics' Survey for 2014, and was shortlisted for a 2015 Australian Dance Award in the category Outstanding Achievement in Independent Dance.
But it was also noticed by an academic, Professor Mike Coffin, from the University of Tasmania's Institute of Marine and Antarctic Sciences, who happened to be in Canberra during the season of Island and chanced to go along to a performance. Professor Coffin contacted Batchelor after the show and the ensuing conversation so impressed Coffin that he invited Batchelor to accompany a research voyage to the Southern Ocean.
Batchelor and visual artist Annalise Rees, who is undertaking a PhD at the Institute, will set sail with a team of international scientists in January 2016 on board the RV Investigator heading towards Heard and McDonald Islands. The scientific aim of the voyage, Batchelor says, is to produce three-dimensional, high-resolution maps of the seafloor surrounding the islands to reveal relationships between submarine volcanoes and biological activity in the Southern Ocean.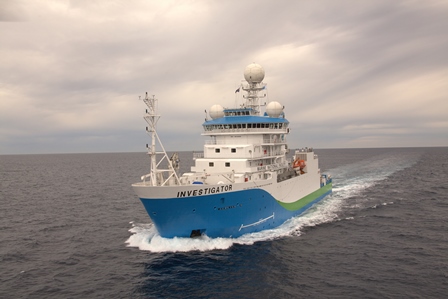 Batchelor completed his degree at the Victorian College of the Arts only in 2012 and, for a choreographer in such an early stage of his career, this invitation is an astonishing event. He hopes to develop a new performance work based on the experience and says of his and Rees' participation in the voyage:
Our roles as artists will be to document and analyse processes taking place on the voyage and to form a creative dialogue about ways research findings can be interpreted and communicated.
Batchelor's work emerges from unusual and often highly intellectual thought processes. Island, for example, set out to investigate the role of structure in how we perceive and respond to the environment. He says his question as he prepares to undertake this new adventure is: Can the environment be constituted into another physical language? He hopes that he and Rees can create a mapping system that utilises movement, sound and installation.
If Batchelor's previous work is anything to go by, the performance work that will no doubt emerge as a result of the voyage is likely to be exceptionally accessible, notwithstanding its intellectual framework, and visually fascinating as well.
My review of Island is at this link.
Michelle Potter, 24 October 2015
Featured image: James Batchelor and Amber McCartney in Island, Canberra 2014. Photo: © Lorna Sim