Some time ago now I posted a photo from Walter Gore's ballet, The Crucifix, as staged for the National Theatre Ballet The photo had always fascinated me while working at the National Library of Australia and Athol Willoughby had some interesting words to say about it. Here is a link to the post.
Well, another photo, also from the days of the National Theatre Ballet has also always held a fascination. It is of Joyce Graeme as the Queen in Act III of the National's full-length Swan Lake, the first ever full-length production to be presented in Australia. The stage presence of Graeme floods out of the picture and recalls the words of Keith Bain quoted in an obituary for Graeme: 'once seen, never forgotten'.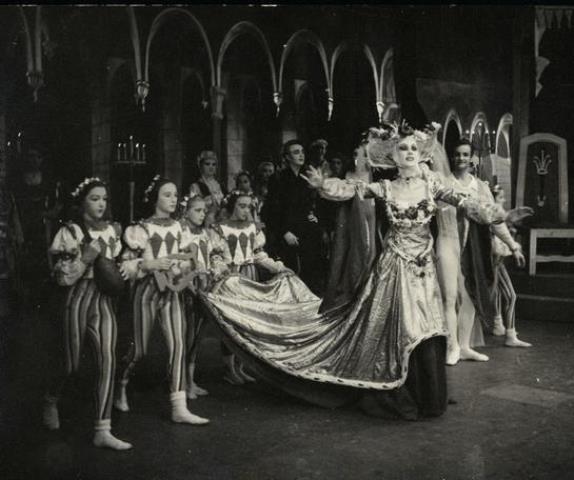 The costumes for the pages are rather unusual and, while looking through the Rex Reid Collection at the Artscentre Melbourne, I came across a note that describes the costumes. In a folder of material relating to Ann Church, the designer of the momentous full-length Swan Lake, I found the following, in handwriting that appears to be that of Church: 'The Queen's pages had scarlet and white jerkins, crimson-pink-and white striped tights'.
On the same scrap of paper there was also a description of costume for the 'Queen Mother'. 'This was a black taffeta coat, lined and faced with crimson satin. The sleeves, also lined with crimson, were jagged and also reached the floor, and the train was cut in points like a star. It fastened beneath the bust and the wide neck was trimmed with coq feathers. Underneath, the bodice was mauve jersey, outlined with black velvet and pearls. The sleeves were mauve jersey, covered with black net; black velvet points with pearls, over the hands. The underskirt was mauve taffeta covered with black net. The black net skirt was criss-crossed with black ribbon with large tassels at the joins'.
That description also conjures up a striking item but unfortunately it doesn't accord with the costume Graeme is wearing so maybe it is her costume for Act I? Perhaps someone who was part of the production may be able to help?
Michelle Potter, 16 March 2014